A total annihilation by Germany, the score could have been 13-2 but for some luck and some great goalkeeping by Sreejesh. The initial impression of this team and its improvement under Nobbs completely went out of the window, giving us a distinct sense of superiority of its predecessor - the Brasa coached team, its cohesiveness, balance and its irrefutable successes. If this continues as it is, then the above fact will be further cemented, that a change of coach and new attacking philosophy has not improved the team, but made it weaker. Particularly disturbing is Mr Nobbs' comment that senior players aside from Sardara are undisciplined and mere passengers, more interested in having an Olympian label rather than do their duty to fulfill the obligation of the country's uniform they wear.
Here is a quote from Pargat Singh , Hockey administrator of Punjab Govt, Olympian, hockey player, MLA, Punjab -
What needs scrutiny is whether the team's interests have been compromised by the outdated knowledge of personnel involved in crucial matters like the national squad's selection.

From its performance, this team does not seem to have been trained physically or mentally for competing against top sides. And so much money has been spent by the government and the national federation in arranging preparatory camps, participation international tournaments and international staff.

What is clearly evident now is that the India team was not fortified to play top-class opposition.
Defensive lapses all over the pitch continued to trouble the Indian team and hurt them massively. For once, the defence which has been steady so far let them down badly. Most of the German goals came from defensive mistakes, particularly Danish Mujtaba being the culprit again along with Manpreet Singh, allowing Fuchs to go through by wrongly marking him and thus helping him on the way to his hatrick. In fact, except for a few runs, Manpreet did not belong at this stage and I wonder what the selectors saw in him to draft him at this level rather than train him more through the junior rank. Not only was his inexperience obvious, but also his extremely poor defending glaring.
Even though the midfield appeared steadier, lots of precision passes by the Germans allowed the attackers access to India's soft belly behind the defenders, to get directly at keeper Sreejesh who kept nearly a dozen shots out. Only 3 players played in the Indian team yesterday – Sardara, Sunil & Sreejesh. Rest of them had a completely off day.
Overall, all this lead to a very easy victory for the Germans.
Forwards: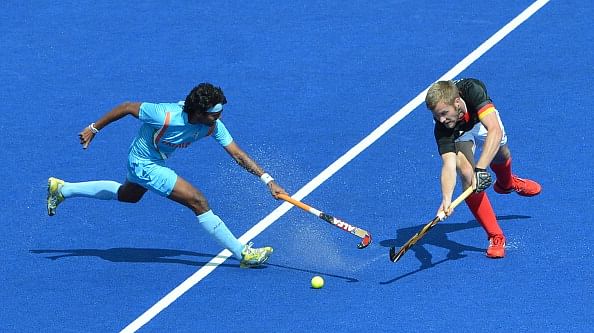 The whole bunch of them had a terrible game. Among several mis-traps, terrible play by Shivendra, Tushar and Chandi continued. Plenty of opportunities were wasted, as the tendency of holding onto the ball crept in. First time and accurate passing was at a premium. Senior players continued the reverse stick, receiving disastrous results and chances were missed in plenty. Midfielders joined in the prodigality around the "D" – Birendra and Danish adding more notoriety to their already poor defensive resume. Sunil was the only man working ahead and giving fits to probably the best defender in the world, Mueller. Many of his defence splitting moves were wasted by his partners.
Midfield: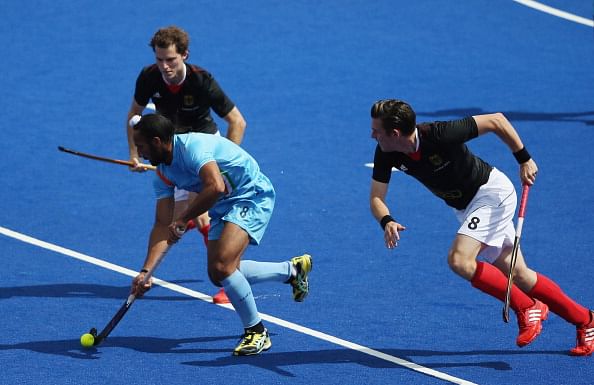 Surprisingly, in spite of the big margin at the end, they played reasonably well in position, even though the Germans continued to give them fits with their cross-field passes and hard accurate hits. They were a trifle too late in passing and held onto the ball far too long. Sardara was also a culprit. Defensively, they continued to be poor as a unit. But they were responsible for the team getting 3 of 5 PCs. One really wonders what the rationale is of replacing Ravipal, Halappa and Mahadik with this bunch, who certainly appear inferior in all aspects of the game including intelligence, tactics, defense as well as passing. Gurbaj continues to be the most deficient half-back. Sardara strove manfully to get the team going but his timing also was off a little bit.
His decision making was late and on occasions, allowed the German defenders to get into position as his mis-steps led to some very dangerous counter attacks on the Indian D.
Defense: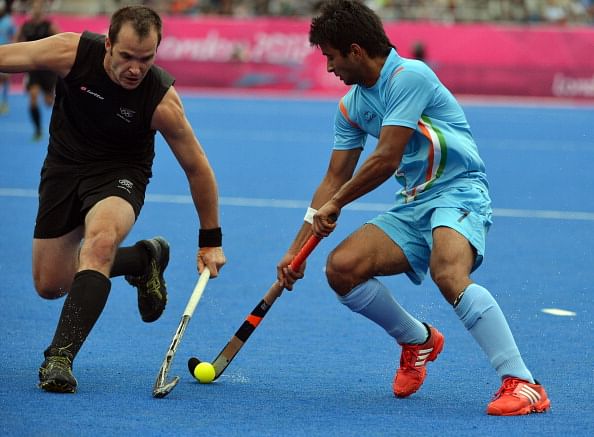 It was simply atrocious. Man marking was wrong and ball watching lead to at least 2 goals and many near misses. Sandeep finally proved his reputation as a disaster in the making. He was terrible all over the pitch and could do nothing right. His PCs were also downright bad. Ignace was caught ball watching and missing the German through balls, though Raghunath was steadier. And of course, Sreejesh was fabulous.
It will do us no good to assign individual blame for this performance since it was a collective failure. But one cannot help mentioning a few players particularly responsible for glaring lapses such as Manpreet who was responsible for 2 or maybe 3 goals, Danish for 1 and Sandeep being terrible overall.
More seriously, some soul searching will have to be done by the think tank and coaching staff about what is lacking in Indian Hockey. To the observer, it is the midfield and poor defensive skill-set of all the players, particularly the senior players who do not have much mileage left. Serious questions need to be asked of selectors as to why the younger players have been selected who obviously are not ready for this level. Dharamvir appears lost and Danish may need to be played up front. Manpreet is way out of his elements and it is doubtful whether he will be ready for the Indian Junior team unless he shapes up and improves. Sandeep is a real problem and time has come to look for a new drag-flicker like Gurjinder. Ignace is on his last legs and Raghunath, though improved, is slow. Some of the senior players have already been called out by the coach for a lack of effort befitting a participant in an Olympic event.
It is difficult to see any way out of this with this current group of personnel - Indian Hockey needs to go back to the drawing board again.