An Open Letter to Rafael Nadal
5.24K //
25 Nov 2012, 14:44 IST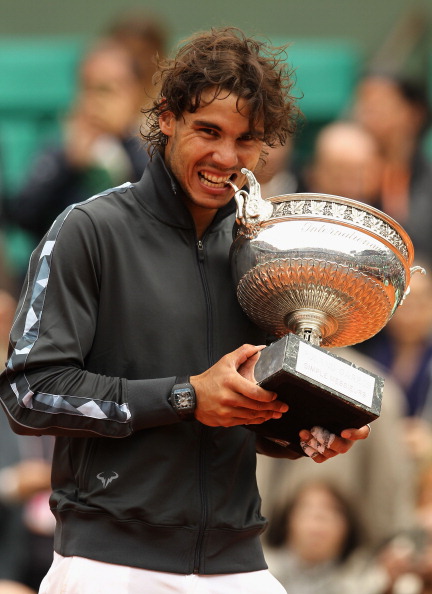 Dear Sir,
Four years back, when you stuck Spain's flag in the men's division of SW19, I would have willingly followed you to Majorca and maimed you. Don't get me wrong, I have nothing against your country. The only culture of pure hatred I have managed to cultivate for someone has been for the Australian Cricket team, and of courseyou.
I could tolerate the massacre at Paris your forehand inflicted on the person I have worshipped on and off court since I was old enough to lift a racket. Though the bagel last set was tough to swallow, I managed to bury it deep within the crevasses of my brain because I never really expected you to lose. But to see you snatch the Wimbledon cup from his hands and actually sink your teeth in the one item reserved in my head for a certain man born in Switzerland was nothing short of self-inflicted torture. You made me cry Rafa. I do not forgive people who make me cry.
I have watched every important match of yours since 2005 hoping you'd lose. Being a tennis player myself, I tried hard in the past to find weaknesses in your game. You could imagine my frustration when I found none. I'd try to find flaws in your demeanor as a player. But no! You were far too well-mannered to smash rackets, scream on court or abuse the opponent. The only thing I could target was your rigorous routine before and between matches. The sole excuse I had back then was to criticize how you walked between points, because you were too good to have a weakness while playing them.
I've adored Federer, but I know his limitations. Flawless and fluid though his game may be from every angle, I know there are minute chinks in his mental and shot armour that have been taken advantage of. But when you're in the peak of your health, I have never noticed even the hint of a dent when you play. This is something that makes me want to smash a watermelon on my own skull even today. While your game lacks the polish or 'cleanness' of so many players, it is perfect in theory. It's how I'd want to play if I wanted a textbook game to win matches. I've seen you hit winners off balls that would be absurd to even follow with the naked eye for most other players.
When you won against Fernando Verdasco in Melbourne Park, there was no way in hell I thought you'd even wake up in time for the final. As my sources told me, hell actually froze over, and I watched in utter disbelief as you fought your way through those sets, knees taped and all, to win your first Aussie open. As Federer broke down in tears, you rubbed salt in my wounds by hugging him (with the trophy in your hands). It hurt more because it looked heartfelt.
Yet, your absence at Wimbledon the following year was noticeable. Not that it made Roger's life any easier. Roddick gave me eye ulcers for 50 straight games. It just seemed incomplete that those two majors he bagged in 2009 weren't taken from your racket. Somewhere deep down I wanted you to compete.
You had your dream year in 2010. I had grown up enough to appreciate the magnitude of what you had achieved as a 25-year- old.  I read your book and felt a grudging respect at how level-headed you seemed to be.
This year, when your match with Djokovic in Australia made me question whether life is actually an illusion and whether your legs were made of steel, I found myself supporting you. I never thought it would happen. But after those many hours of war, it felt natural to support the one person who I've given so much thought to for over 7 years. Though I didn't feel bad that you lost, I lay convinced that the game of tennis couldn't have a better ambassador.
Not that my opinion matters, I am an insignificant writer and an insignificant tennis fanatic in an insignificant part of the world.
The emotion a person shares for sport is something only a fellow sports fan would understand. I wouldn't mind if someone took a heinous dig at my religion. But I'd be more than happy to go the full Monty with a chainsaw if he besmirched my favourite club or player. That's how pure the attachment is. It's unconditional love of a completely different kind.
Where I come from (India), cricket is the only sport that has the capacity to spark riots or destabilise governments. You've been here so I know you'll understand. If you think Cristiano Ronaldo enjoys a massive fan base in Portugal, it would be humbling to see how my country would forget every political/religious/racial difference to protect Sachin Tendulkar even if a mosquito dared to prick him.
You've been out of the circuit for 6 months now, and I can freely say I've missed you. It would really please a lot of us to see you back on the court, attempting to find a satisfactory position for your shorts before hitting the trademark buggy forehand.
I'd want my son to play like Federer, but I'd teach him to fight like you.
Not a fan, just another observer.