And this year of tennis belongs to...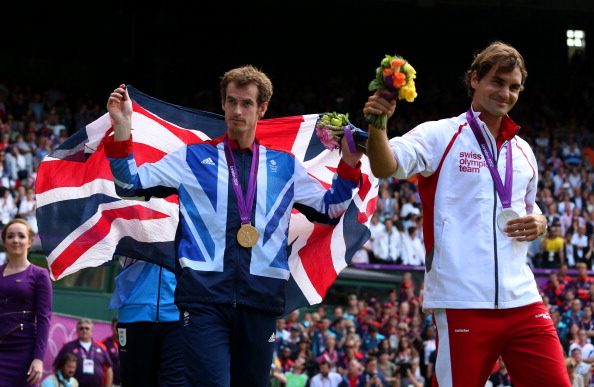 The last eight years have been really boring for tennis fans. Unless you are a Roger or a Rafa fan you would not have enjoyed the happenings very much. The Swiss and the Spaniard had the major share of Grand Slam titles from 2004 onwards till 2010. The year 2011, though, was spared from the domination of the duo; Djokovic ended up conquering that year. The tall Argentine Juan Martin Del Potro and the mercurial Russian Marat Safin were the only fortunate ones who were able to sneak in and capture a Grand Slam each. We were almost able to make out who would reign supreme at the end of every Grand Slam.
Thankfully though, the current year has turned out to be entirely different. The victory of Andy Murray at the US Open last week has ensured that no single player has walked away with more than one Slam this year. As a result, four different players won four different Slams. I can't recall the last time the major Slams stood evenly distributed among the top four players the way we have seen this year. Does that mean the ongoing year belongs to no one? The season is not yet over by any means. The top four players have still lots more to play for. But as it stands now, whose year has this really been? Let's discuss and dissect the matter through this article before pronouncing a final judgment.
The Serb, at the beginning of this year, had 10 titles to defend following a fairy tale season in 2011. After a successful title defense in Melbourne at the Rod Laver Arena, it looked as though he was all set to recreate last year's magic. Unfortunately, we did not expect him to suffer from vertigo with the sort of form he was in. Djoker's problems started to pile on further as he failed to defend his ATP 500 title in Dubai and also lost to the eventual runner up John Isner in the semifinals of the Indian Wells Masters.
The way the ATP rankings system works, Novak Djokovic could have gained nothing in terms of points till the start of the French Open. Since he was undefeated last season for more than 40 matches leading up to the semifinals at Roland Garros, he was required to reclaim every title ending with Madrid Masters so as to not lose points. But as it turned out, his losses in Dubai and Indian Wells resulted in him losing out on points. However, he managed to retain his title in Miami after successfully beating Andy Murray in the final. That, incidentally, was only his second title of the year.
Things did not work out for him in the clay court season the way he would have liked, as he failed to win any of the tournaments starting from Monte Carlo till Madrid. The level of equanimity seemed to have gone down for Nole as he kept on expressing his dissatisfaction over a disputable line call which was quite evident from the way he played the final of the Rome Masters. He was also trounced in four sets by Nadal in the French Open, thereby destroying his hope of holding all four Grand Slams at the same time.
After a hard-fought clay court season, the grasscourts seemed to behave no differently for the Serb, who was the defending champion at Wimbledon. He was shown the door in the semifinals by Roger Federer and in the Olympics as well he had to return empty-handed without a medal after he was beaten by Del Potro in the bronze medal match. Though he climbed up the ranking ladder slightly by winning the Rogers Cup in Toronto, he was soon brought down to the ground in the Cincinnati final, where he was dominated in the first set by Federer. And once again, his Grand Slam quest was laid to rest, when Andy Murray shocked him in the five setter final at the US Open.
Therefore, this has not been the year for Nole at all. With only three titles against his name so far, he has to do something extraordinary to prove this season belongs to him. But after analyzing the other three big names, we will come to a conclusion where exactly he stands today as far as his achievements are concerned.
The Spanish Armada did not win a single title last year after his victory over Roger Federer in the French Open.  But though 2011 looked worse for Nadal on paper, we need to remember he appeared in six finals last year, in addition to winning the Barcelona Open, Monte Carlo and the French Open. Had he won at least half of those finals he would have had a very decent outing last year. But Djoker was in the form of his life last season which was the reason behind Nadal's title drought for nearly a year.
He lost his seventh straight final to Novak when he went down in a six hour grueling match against the former in this year's Australian Open. Then he took a break for a month or so and was demolished in Indian Wells by Roger Federer. When the clay court season finally started, he proved his point. He won four of the five titles this year on clay courts, which included his seventh Grand Slam title at Roland Garros.
The only title which he could not win on clay was at Madrid where the surface was made blue for the first time. Nadal was incensed after seeing the slippery nature of the court. He was stunned by Fernando Verdasco who came back to win the match in the final set after falling behind with two breaks down. However, the then World No.2 ensured he got all other titles on clay under his belt. After that point though, his ranking started to slope downwards. Two upsets on grass, one in Halle at the hands of Philip Kohliskreiber and the other in the second round of Wimbledon at the hands of Lukas Rosol, really quelled his desire to seek more titles which surfeited after a comprehensive defense at Roland Garros.
That was the last time we saw Nadal on the ATP circuit this year. His knee injury, probably a major one, has kept him away from all the tours which followed, including the US Open. Currently, it seems he will not be taking part for the rest of the season. In fact, Murray's first Grand Slam title has pushed him down to No. 4 in the ATP rankings. Now, without a doubt, Nadal comes in at the bottom of our list too, for this year, among the top 4.
Roger Federer:
He turned 31 this year but he is proving to be an ageless wonder. Just when everyone started writing him off after the Grand Slam drought which ran from 2010 January, he silenced his critics by winning this year's Wimbledon. That was his seventh title in the All England Club in the last ten years. Though he withdrew from Doha because of a back problem in the semifinals, he reached the last four stage in the Australian Open only to be defeated by his nemesis Rafael Nadal.
He chose to play in Rotterdam this year and got 500 points by winning the same. He followed his good run by winning in both Dubai and Indian Wells. Surprisingly, Federer lost to his bunny Andy Roddick in the third round of Miami. Since he wasn't defending any title at the beginning of this year, whatever he was able to win this year fetched him much needed points to go on top of the rankings. Though he was ousted in the semifinals in Rome by Djokovic, he went on to clinch a title in Madrid after exceling in a tricky surface. His eagerness to go for the second title at Roland Garros was put to rest after he was shrunk in straight sets by Nole.
The grass court king then moved to Halle where he faced his good friend and former World no.2 Tommy Haas. But an unexpected loss raised the eyebrows of the tennis critics again as they questioned the ability of the Swiss to win a Grand Slam title. But, like I said, the doubters were left humiliated as he went on to win his most favourite title on grass. This victory enabled him to return to the top of the ATP rankings replacing Djokovic. He was bundled out though, in straight sets in the gold medal match at the Olympics by the same opponent he defeated at Wimbledon, Andy Murray. But Federer came back to win in Cincinnati by prevailing easily over Djoker.
He moved on to the hard courts of New York as a favourite to win the US Open but his hopes were pulverized as he lost to Tomas Berdych in four sets. But even now, by virtue of winning 6 titles plus Wimbledon, he is still No. 1 in the rankings. He is sure to surpass 300 weeks as No.1 pretty soon. So, with only a handful of tournaments remaining to be played, has he already proved himself better than the rest of the top guys? I will address the issue after analyzing the performance of the last player player on the list.
Andy Murray:
The British No.1 did one thing perfectly correct at the onset this year. That was to bring in former World No.1, Ivan Lendl to train him. He was continuously under pressure because the people from Britain wanted him to win a Grand Slam title badly, the one which was eluding them for the last 76 years. Though he was in three Grand Slam finals previously before this year, he was not able to win even one, although he was always reckoned as someone who had the requisite talent to win a Grand Slam. And the introduction of Lendl as coach helped Murray to serve his purpose.
When Wimbledon arrived, he faced the toughest of the draws. However, he put a brave face against all his opponents and reached the final in the first Sunday of July. He won the first set but somehow was unable to finish it big. Federer went on to take the next three sets thereby leaving Murray in tears. However, Andy did not keep himself in distress for too long as he won the gold medal in the Olympics at Wimbledon, taking revenge on Roger Federer for his loss a month ago.
It was then that everyone began to believe in Murray. Though he withdrew himself from the Rogers Cup and lost badly in Cincinnati, against all odds he overcame Novak Djokovic in the US Open final, fetching his first ever Grand Slam title. That was a final which was played with extreme passion and spirit by both the players. However, it was Murray who had the last laugh as he annihilated the defending champion in five sets. With this effort, he elevated himself in the rankings as he moved to No.3 displacing Nadal.
Now, having gone through the successes and fiascos of the top four, it is time to announce who has had the best year so far and who looks to end on top at the end of the year. Since Nadal is not going to play anymore for the rest of the year I am placing him at the bottom most position, considering all of his titles have come only on clay courts. Djoker hardly looked like the player he was in the last year and amassed only three titles this year. So right now the competition stands between Federer and Murray.
Whatever title a person wins, it cannot be considered more special than Wimbledon and Federer has got that one under his belt this year. Plus, he has managed to get three consecutive titles this year starting from Rotterdam and he also won on a clay court which was coloured in blue (first of its kind). Similarly, Murray right from Wimbledon, under the most trying circumstances, has pushed everyone behind to reach the finals of Wimbledon and later, went on to win the Gold medal in the Olympics. Thereafter, he won what he badly wanted as a British national – a Grand Slam  title in New York. Between the two, I feel Murray's form seems to be the hottest right now having beaten many top players since Wimbledon and so I put him right on top, ahead of Federer as the one who has had the best year so far.
Now, coming to the question on who will finish the year on top, I suppose the battle for the rankings is between Federer and Djokovic. Nole has not finished last year well and so he is left with no title to defend. Since Federer has three titles to defend he cannot gain anything extra even if he wins each one of them. Infact, if he loses even one of those titles (and there is every chance of that happening because of the form Murray and Nole seem to be in) then he may struggle to finish at No.1 position. So, it is imperative for Federer to win in Shanghai first, an event which he skipped last year. If he does so, he will get 1000 more points which may help him to finish as No.1 again, subject to ordinary performances by Nole.
Any case, even if Nole finishes as No.1, I feel Murray is on course to win a few more titles for this year and he is likely to give Federer and Nole a run for their money. On the whole, according to my opinion, the year belongs to Andy Murray though the rankings will not suggest the exact scenario.