Roger Federer is a worldwide known name when it comes to sports. A world class professional tennis player, Federer is currently ranked world number 4 in the men's singles. With plenty of tournaments and achievements to his name, he has eight Wimbledons, six Australian Opens, five US Opens & one French Open to his name.
Having won all the four major grand slams in singles, he is among the few players to achieve the prestigious Career Grand Slam feat. As much as he has dedicated his time to playing tennis, Roger Federer is also known to be a loving husband and father and he adores his kids immensely. Federer and his wife Mirka are blessed with two sets of twins, girl and boy each.
Who are Roger Federer's Kids?
Charlene Riva Federer & Myla Rose Federer
The same year Mirka and Roger were married, Mirka gave birth to their identical twin girls - Myla Rose and Charlene Federer. Myla and Charlene were born on 23rd July, 2009, and are currently 10 years old.
Leo Federer & Lenny Federer
Roger and Mirka welcomed a second set of identical twins on May 6, 2014 - sons Leo and Lennart "Lenny" Federer. Due to this, Federer ended up pulling out of the 2014 Madrid Open.
Federer's Kids at Tennis Tournaments
Roger Federer's children do travel with him for most of the tennis tournaments. You could always see them in the gallery along with their Mom and grandparents. It was in July 2017, during Wimbledon, when all four of his kids basically stole the show. They were just that cute and adorable. In an interview, Federer told the BBC that his then 3 year-old boys had no clue of what was going on and thought it was probably a nice view and a nice playground. He added that as they grow up they will have a better understanding of what was happening. He also told how all this was very special to him.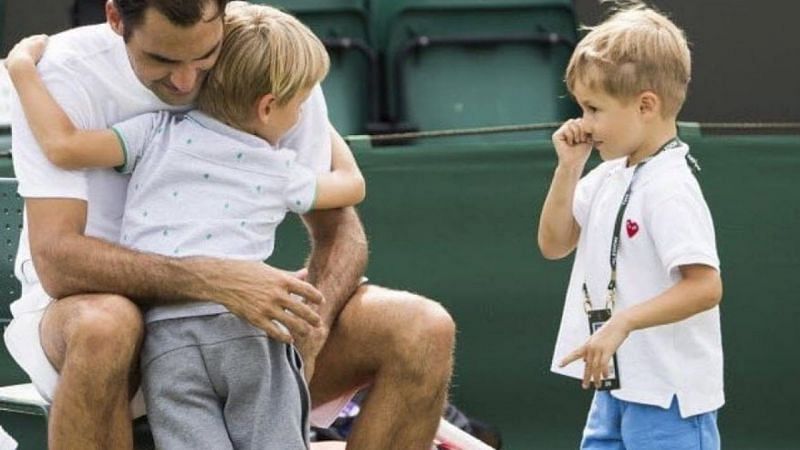 His daughters, on the other hand, who were nearly 8 at the time, seemed to have had a better grasp of what was going on. Federer said that they enjoyed watching a little bit and are excited to cheer for their Dad in the finals. It's mind-blowing how Roger Federer musters the energy to train and compete as a professional athlete while also being the Father that he is.
Do Federer's Kids consider Tennis as a Career Option?
Given that all four of Federer's kids accompany him on tour and are often seen in the stands cheering their father, the four of them reportedly are also learning tennis basics, along with their friends. The boys have often been spotted on the practice courts, hitting with the 20-time Grand Slam champion, and Federer had revealed in an interview that the boys have indeed gotten better in tennis.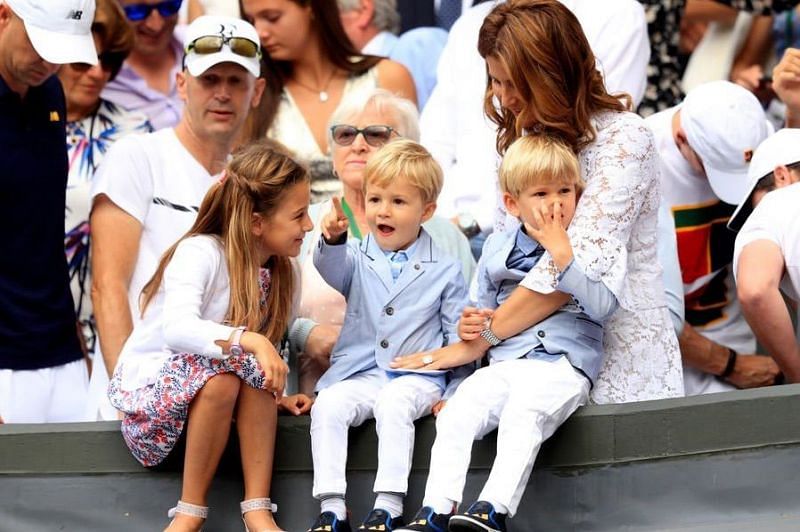 The 37-year-old told that his kids took up tennis only because the children of their family friends play the sport and he didn't want them to feel left out. In most of his interviews, he has maintained that he would be wary of his twins becoming professional players. He had stated that them becoming pro would only mean 25 more years on the tennis circuit, travelling across the globe. Being a supportive parent, he claims that he will support them, no matter what they choose.
How is the Federer Family Culture?
Roger Federer's kids are home schooled, and they can fluently speak Swiss and English, and a bit of German. Although an experienced dad, Federer has admitted that in the early days, he used to mix up his children, since it was even more complicated having two sets of twins. Federer's family are devout Roman Catholics, and he considers himself quite religious. He has visited the Vatican and Einsiedeln with the kids.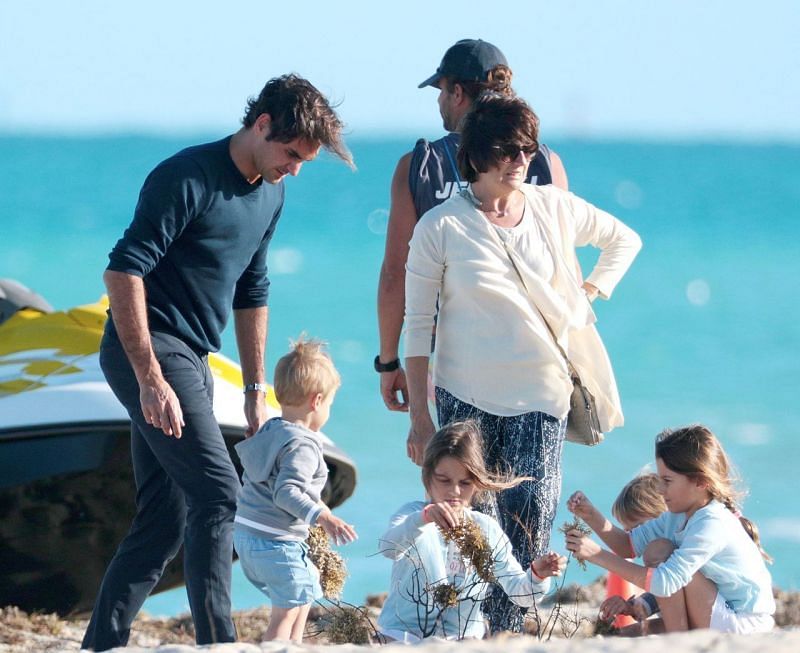 He wants his kids to be strong characters and spend each spare moment he's got with them, and genuinely appreciate the moment when they are all together. His family have been on a family caravan vacation around the Swiss countryside after his Wimbledon loss in 2019. He has also been to Ibiza and Africa. He admits that Africa holds a special place in his heart due to his maternal roots.
Other FAQs Related to Roger Federer's Kids
1. Does Federer have 2 sets of twins?
Yes, Federer has 2 sets of twins - girls Myla Rose and Charlene Federer, and boys Lennart and Leo Federer.
2. Do Roger Federer kids play tennis?
Yes, Roger Federer's kids took up tennis so that they could play with the children of their family friends and not feel left out. His sons have been spotted at the practice nets and have gotten better in the game.
3. Do Federer's children go to school?
No, as per reports all his four kids have been home schooled. That way they get to accompany him on tours and tournaments.