Interview: "I'm backing Nadal to make it 10 titles at Roland Garros," says legendary Arantxa Sanchez Vicario
The three-time French Open champion also spoke about Maria Sharapova's return to the tour.
Exclusive
21 Apr 2017, 18:17 IST
464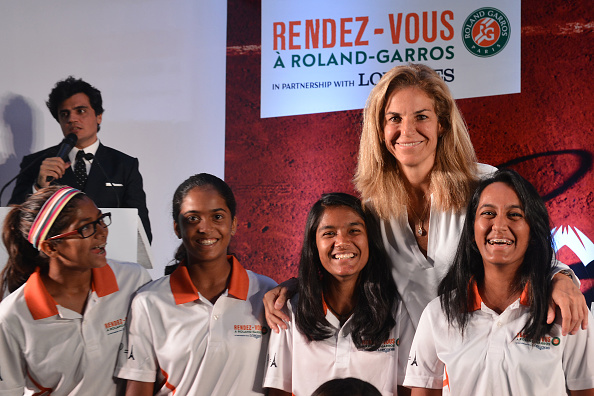 The clay season is underway in the tennis calendar with the ongoing Monte-Carlo Masters and will culminate with the French Open, which kicks off on May 22. Former Spanish player Arantxa Sanchez Vicario, a three-time singles champion at Roland Garros, was in New Delhi recently for the third edition of Rendez-Vous junior wildcard tournament held at the RK Khanna Tennis Stadium.
Sanchez is a former world No. 1 and won her first major back in 1989 at the age of 17, defeating Steffi Graf 7-6 3-6 7-5, in what is considered to be one of the most memorable Grand Slam finals of all-time. She would go on to win two more titles on the famed red clay in 1994 and 1998, coupled with another triumph at the US Open in 1994.
With the Spanish side, she lifted the Federation Cup five times and has a total of ten Grand Slam crowns in doubles – six in the women's doubles and four in the mixed doubles. She also holds the distinction of participating in five consecutive Olympic Games, winning two silver and two bronze medals in the process.
She spoke exclusively to Sportskeeda in an interview, where she talked about the future of women's tennis and who she expects to lift the Roland Garros title this year. Here are a few excerpts from the interview:
---
In your opinion, how important are tournaments such as the Rendez-Vous a Roland Garros for the development of players?
I think it's a great platform for young players from India as it gives them the chance to compete against the best players in the world from their age category. They also get the chance to build confidence by learning from the best coaches and then playing well.
What are your thoughts after watching the Indian players in the last few days?
These players have amazing talent, I must say. I have interacted with them and answered their questions, but the striking thing has been the technical knowledge they possess at such a young age. If given the right exposure and guidance, they can go a long way in their careers.
With the clay season underway, what are your predictions for it? Do you think Rafael Nadal can make it 10 titles at Roland Garros?
I think it will be an intense season of tennis this year. Roger Federer is also hopefully back to his best, but yes, I will be backing Rafa Nadal to do well at the French Open. He is the king of the clay courts and so I think he can make it 10 wins.
How do you think the women's game will shape up in a few years time after Serena Williams' eventual retirement? Will one or two leaders emerge or will we see multiple players fight for the world No. 1 ranking?
Well, I would first like to laud Serena for a wonderful career where she has been dominating the women's tennis scenario for so many years. In the future, I don't think there will be a clear No. 1, but instead, there will be four or five players who will be realistically in that position to be number one. It will also help the women's tennis as more players will aim for the trophies.
Your thoughts on the Maria Sharapova wildcard controversy? Should she be awarded one at Roland Garros and Wimbledon?
I think it would be right for the respective federations and the player herself to decide what is in the best mutual interest. Maria has been a terrific player so I hope whatever happens is in the best interest of the sport.