Chennai Open will continue to be hosted: Karti Chidambaram
893 //
11 Dec 2012, 16:45 IST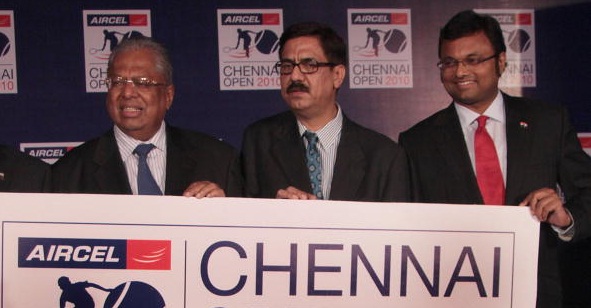 In November, Sportskeeda published an article on whether the Chennai Open would continue to be held in India, or if the event would be moved to China.
On Monday, Karti Chidambaram, the vice-president of All India Tennis Association and also the Tamil Nadu Tennis Association (TNTA) cleared the air, saying that this wasn't a mere speculation and that there was a threat of the event being moved. Though he confirmed that the ATP event would be continued to be played here in India, in Chennai, he pointed out certain issues that pose as a major threat to the event.
Excerpts from an exclusive interview:
There was a buzz that the Chennai Open could be moved to China?
Yes. China and Turkey were very keen on hosting this event and they profusely bid for it too. But as long as we can host the event and until we declare that we can't substantially run the event every year, only then the event will go to one of these countries. It would be a real shame if we can't hold on to this event.
Why is the Chennai Open under threat?
The event has gotten dull. I can notice it myself this year. You know, when there are major ATP events happening in Doha and Melbourne around the same time, it's very difficult to draw attention to the event in Chennai and get top players here to play. Would you believe it that most of the international players don't event step out of the hotel building even to have a snack outside. It's not the case in other major international destinations that host big events. Players also enjoy playing in such cities. Here, players can't even take a walk for a break simply because there are no sidewalks even. Chennai is not at par as such destinations.
What about the infrastructure?
Even the infrastructure isn't good. It's a government run stadium, and it was built in the 90s to host SAF Games. So, you can imagine its state. The TNTA does some touch-up work around the time of the event but that's not enough. The players can't even shower in the stadium after the matches. It's quite bad for an international venue.
But can't the TNTA renovate the place?
How can we renovate when it's owned by the government? The TNTA has just been given the premises to have an office. We don't have the authority to renovate, and most importantly we don't have the money to do it.
Are we going to see some of the local youngsters in the event?
Yes, we intend to give wildcards to some of the youngsters. It would be some good exposure for them. We are yet to finalise the names.
Vishnu Vardhan has joined the TNTA lately?
Yes. Vishnu Vardhan moved from Andhra Pradesh to Tamil Nadu last year, and we are funding his training in Germany. We have a handful of players who are really good and we are taking care of their training programme abroad. Sriram Balaji and Mohit Mayur are a few of them.
Players like Sanam Singh were being funded by the ministry, but post the Olympics, it's been stopped. Without sponsors, won't it be hard for youngsters to keep their careers afloat?
It's not easy to get sponsors for these guys. Why would a corporate want to sponsor or endorse a Sanam Singh? If you were a marketing head for a company, tell me if you would endorse Sanam Singh. In India, even Leander Paes and Bhupathi haven't had endorsements. If you are a Sania Mirza, then people would be interested in signing you for endoresements.