Djokovic leaves Ferrer adrift in the desert
623 //
28 Dec 2012, 20:47 IST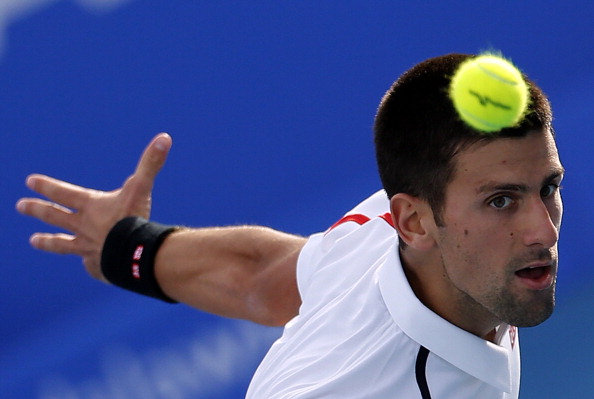 Someone must have told the amiable Spaniard, David Ferrer, that the Mubadala World Tennis Championship was but an exhibition event – a nice little warm up event with a lucrative pot of gold to line those tailored pockets but without the baggage of points. He might not have been forewarned about the punishment that lay in store for him at the hands of a certain Novak Djokovic. The top dog handed out a merciless 6-0, 6-3 pounding to the consistent yet incomplete Ferrer to lay down the marker for the season that has barely begun.
The eclectic crowd made up of an ensemble of multi-cultural fans had barely warmed their comfortable seats. But it was enough time for the Serbian world No.1, who was busy burnishing the sparkling blue court with searing forehand winners past the hapless Ferrer to race away to a 4-0 lead. Ferrer mounted his resistance late, but at 40-0 in the sixth game it seemed that the consistent warrior would finally make a mark on the scorecard.
Djokovic isn't one to let go and in a show of early season form and resilience, he pounced on his opponent. A couple of forehand winners from the Serbian unnerved the Spaniard. Ferrer let the game slip into a deuce when he swiped a feeble forehand cross court into the bottom of the net. A procession of four deuces later, Ferrer finally surrendered the set when he sprayed yet another forehand wide. It was a 27 minute annihilation at the hands of the world's leading tennis player. If you are a Djokovic fan, feel assured that neither the break nor the Christmas feast has done any damage to the marauding ways of the dominant Serbian.
Ferrer made Djokovic sweat some at the beginning of the second set as he pushed him to a couple of deuces before the Serbian could hold serve. At 1-1, Ferrer finally found some good fortune in the desert when a couple of double faults from Djokovic gifted a much needed break. Alas, it only turned out to be a mirage. Djokovic set about restoring order immediately and a rattled Ferrer made consecutive errors off the backhand to fall back to 2-2. In the next game, Ferrer fell behind 0-40 and the writing was on the wall. The world No. 5 fought valiantly for a little bit, but eventually succumbed to relentless onslaught to surrender the break after battling through five deuce points.
The decisive break in hand, Djokovic cantered home to a commanding victory in an hour and 10 minutes. If the Friday mauling of Ferrer was any evidence, the Serbian seems to have retained his insatiable hunger for continued dominance even after two straight seasons of prolific accomplishment. It is still early days, but unless Ferrer finds his stride quickly he might have to resign to his fate of being the eternal best mate to the men that corner coveted grand slam glory.