Novak Djokovic to face Stan Wawrinka in Australian Open semis
Melbourne, Jan 28 (IANS) World No.1 Novak Djokovic will face Stanislas Wawrinka in the Australian Open semi-finals after defeating Milos Raonic 7-6(5 ...
News
28 Jan 2015, 19:45 IST
1.78K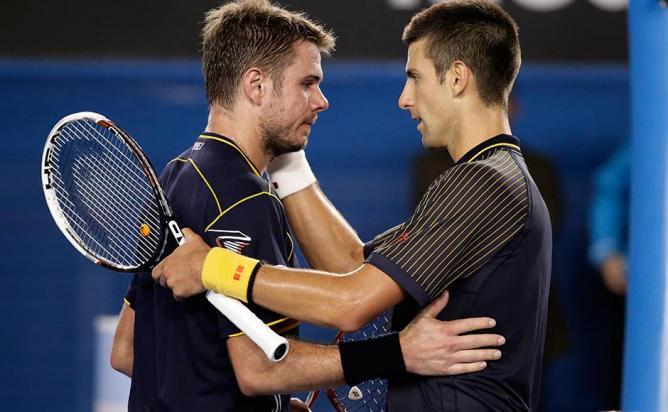 Melbourne, Jan 28 (IANS)
World No.1 Novak Djokovic will face Stanislas Wawrinka in the Australian Open semi-finals after defeating Milos Raonic 7-6(5), 6-4, 6-2 here Wednesday night. Fans will be hoping for another epic as Djokovic and Wawrinka clash for the third year in a row at Melbourne Park.
Two years ago, Djokovic denied Wawrinka 12-10 in the fifth set of their fourth-round clash, but last year the Swiss got his revenge with a 9-7 fifth set victory in the quarter-finals.
"I take a lot of confidence (into the match). I try to carry that in every next match, next challenge. Obviously I'm going to play Stan, who is the defending champion here. We played five-set matches at the 2013 and '14 Australian Opens," said Djokovic.
"I'm going to be ready for a fight. But knowing that I have raised the level of performance tonight, and probably playing the best match of the tournament so far is affecting my confidence in a positive way. Hopefully I can carry that into next one."
The 27-year-old Djokovic is bidding to become the second man in history to win the Australian Open for the fifth time, joining Roy Emerson.
The Belgrade native won his first major title in Melbourne in 2008 and followed with three successive victories in 2011-13. He has a 48-6 match record at the Melbourne Park.
Djokovic is yet to drop a set in a ruthless run. The right-hander is through to his 25th Grand Slam semi-final, one behind Andre Agassi on 26, the fourth most in the Open Era.
The top-seeded Djokovic improved to a 5-0 ATP career meetings record against Raonic as he dismissed the Canadian in two hours.
The Serb was not at his best in the first set, not quite finding his timing under the lights on Rod Laver Arena. But a costly forehand unforced error from Raonic at 5-6 in the tie-break - having just saved two set points - gifted the Serb the opener.
From there, Djokovic was clinical. He lost just two points on serve in each of the second and third sets, while breaking Raonic three times in total.
"It was a close first set, but I thought I had more chances in the first set than him. I managed to stay tough and win the crucial first set. Obviously winning it in a tie-break and making the break of serve first game of the second set was definitely huge for me," said Djokovic.
"I could start swinging through a little bit more, be more aggressive into the court. After that first game of the second set I played a great match."
The 24-year-old Raonic was looking to become the first Canadian in history to reach the Australian Open semi-finals. The Toronto native reached his first Grand Slam semi-final last year at Wimbledon, losing to Roger Federer.
"I just think (the first set) gave him a bit more belief. I wish I would have served better in certain moments, but I didn't lose because of my serve. He just didn't allow me to organise my game," said Raonic.
"Even when he was returning well, by the end of the match he was doing a good job of playing deep and never allowing me to go forward. Obviously if you watch the footage, he was pretty much on the baseline the whole time and I was further back."