French Open 2013: Men's Semi-Finals Preview
The stars have lined up for the weekend at Roland Garros.
Along the way, a few old-timers threatened to break through, and a Frenchman actually managed to disturb the perfect symmetry of a Top 4 seeds face-off, but the final four men who remain have been, by all accounts, the most consistent in the tournament, and the most worthy to be there. This was exemplified in the quarter-finals, where each of them turned in impeccable performances, playing their best tennis with almost a sense of entitlement to be in the last four.
As a result, we have two very well-balanced and incredibly hard-to-call semi-final matches on the line. The match-up that everyone has been talking about ever since the draw came out (and before), and the match-up that could either thrill or break a million French hearts.
Here is a preview of both, analyzed along four dimensions that could be pertinent to the outcome – Surface, Head-to-head, Occasion and Trending Form. A SHOT analysis, if you will.
Novak Djokovic [1] vs Rafael Nadal [3]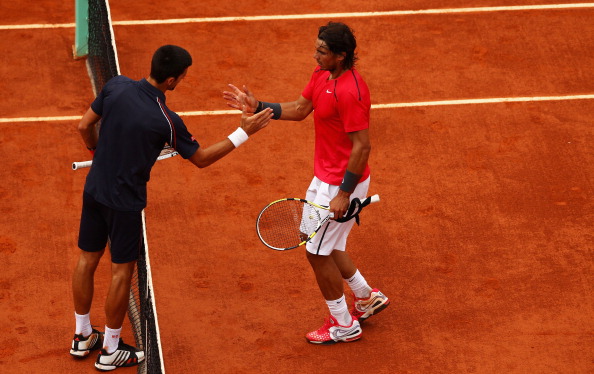 Overall H2H: 15 – 19
Clay H2H: 3 – 12
Grand Slam H2H: 3 – 6
H2H since 2011: 8 – 3
Surface of Play
Quite simply, Nadal is the undisputed king of clay. The heavy top spin of his shots and his jaw-dropping defensive skills have become the stuff of tennis legend. While Djokovic pales in comparison, he is no clay court slouch himself. After initially making a name for himself on the hard courts, he established his premier clay credentials a couple of years back by doing the unthinkable – beating Nadal on clay for back-to-back titles at Madrid and Rome. But the sheer volume of victories, the natural alignment of his game to the surface, and the return of warm, sunny days to Roland Garros, gives Nadal the edge here.
Edge: Nadal
Head-to-Head Match-up
Their personal history has had two distinct phases so far. Till the end of 2010, Nadal effectively owned Djokovic, especially on the big stage, with occasional minor uprisings from the Serb. This is reflected in Nadal's 16 victories in 23 encounters in that period. In 2011, Djokovic made his stirring run to the top of the table, and a major implication of that was on his head-to-head with Rafa. Since that period, Djokovic has won 8 of their 11 meetings, 3 of them in premier clay court finals, even forcing Nadal to acknowledge that Djokovic had 'got into his head'. Since Rafa's return to the circuit, it doesn't appear that he has quite shaken off the bug yet. One of his only two losses this year came at the hands of the Djoker at Monte Carlo, a tournament Nadal calls home with 7 titles. Rafa's fans, on the other hand, will look at their encounter from last year's French Open as a more appropriate indicator for Friday.
Edge: Djokovic
Occasion
To say the context of this match is huge would be an understatement. Nadal is looking to achieve an eighth title triumph at a single Grand Slam tournament, which would be unprecedented in the sport's history. Djokovic is aiming to achieve his personal Grand Slam by picking up the one trophy missing in his collection. Besides, the outcome of this match can be expected to have a huge bearing on the future dynamics of their rivalry. Given all that, it was interesting to hear what both of them thought about their semi-final in their press conferences. While Djokovic labeled it the 'biggest match of our campaign', Nadal was content to call it 'a match which would lead to getting into the final'. While these responses are typical of their individual personalities, it must be said that Djokovic has gone public on multiple occasions, stating that Roland Garros is his number one priority for the year. In addition, he went through the emotional upheaval of the loss of a dear coach earlier this week. And Djokovic tends to be inspired, rather than distracted, by events like that. Both players will be desperate for victory, but perhaps Djokovic a tiny bit more.
Edge: Djokovic
Trending Form
Both players have smoothly got into their grooves over the course of the last five matches at Roland Garros. While Nadal looked slightly off-colour in his first couple of rounds, and Djokovic was made to sweat by Kohlschreiber in the fourth round, their performances in the quarter-finals against worthy opponents were excellent and signaled the typical champion's tendency to find the best form when he needs it the most.
However, looking back at the rest of the clay court season that preceded the French Open, Nadal definitely did have the upper hand. Titles at Barcelona, Madrid and Rome capped off an incredible return to the game after a 7 month layoff for him. Djokovic, on the other hand, had a few puzzling losses in the lead-up tournaments, which must rankle. All will be forgotten, though, if he lifts the trophy on Sunday.
Edge: Nadal
Prediction: Nadal wins in a barn-burner of a 5-set match, which will write a whole new chapter in their rivalry
Random Point to Ponder: Along the lines of the Fedal rivalry, which term has a better ring to it – Rafole or Djodal?