How tennis judges people
1.09K //
15 Mar 2013, 09:48 IST
Tennis, by all accounts, is not a fair sport. It judges people rather cruelly. You can either be a hero or you will be presumed to be a villain.
Take my case for instance. Rafael Nadal is possibly one of the humblest souls you will ever find in tennis, but whenever I look at him, I get a feeling which is essentially the equivalent of what I get when I see Darth Vader or Lord Voldemort. Why? It is because he is the kryptonite to my Superman, Roger Federer.
Yes, there are some people out there who appreciate the beauty of the game, but then again, who are we kidding? Almost all of us are rooting for a particular person when we see a tennis match because we know, deep within ourselves, that at the end of the day, tennis cannot win the game despite all the clichés that claim otherwise.
Like tennis, the fans of the sport too are cruel. When Martina Hingis served underarm and displayed all her tantrums in that 1999 French Open finals against Steffi Graf, she was probably the most hated person in the tennis world. But go back ten years. When Michael Chang did the same against Ivan Lendl in the 1989 French Open fourth round match, he was hailed as a clever strategist and his tactics were applauded. Yes, Chang did survive severe cramps to register that victory and yes, Hingis was an arrogant, self-centered champion. But still, there were two very similar stories and yet were viewed through completely biased perspectives.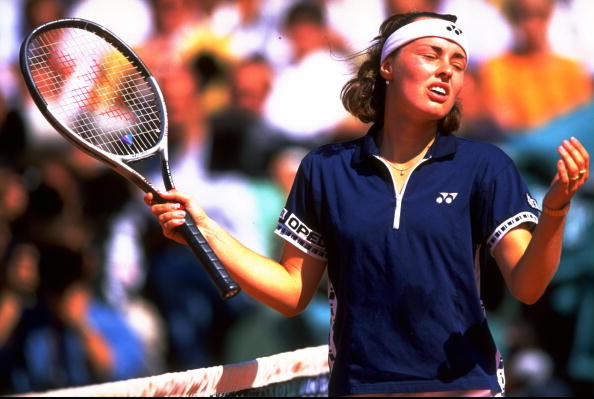 Steffi Graf was the tennis equivalent of Princess Diana. She was adored by millions. Hingis, too, was loved. She is probably, till date, the most gifted prodigy that any sport has ever seen!
You see, the trouble is, when you never lose, you never learn how to lose. In 1999, Steffi Graf had all but announced her retirement. She was already a larger-than-life figure even before the game began. At that time, Hingis was the World No. 1 and was the odds-on favorite to win against a 30-year-old Graf. But she didn't. She abused the referee's calls, she wasted time, she served underarm, and was at the receiving end of one of the worst booing sprees that I've ever seen on a tennis court.
The same thing happened with Michael Chang and Ivan Lendl in 1989. Lendl, at that time, was a three-time French Open champion. Sports Illustrated claimed that he was "the champion that nobody cared about". People outside Europe hated him for his antics towards the media. And when Michael Chang, a 17-year-old American youngster, did the same which Hingis did against Graf, he was applauded. In the final set, to distort Lendl's concentration, Chang moved up and stood well inside the baseline and almost touched the T-line. Lendl double faulted and lost the match.
Similar stories but different approaches and perceptions. Why?
Victoria Azarenka is undoubtedly a great player. But when she faced off against Sloane Stephens, a 17-year-old American who was on a fairytale run at the Australian Open this year, she lost the support of the people. Azarenka took an untimely medical timeout after wasting several match points, and the crowd jeered. Many people have taken medical time-outs for no reason whatsoever, which never made headlines like this. But people wanted Sloane Stephens to win. Why?
To us tennis fans, the game symbolizes something that we all like to believe in – seeing the good guy win. Then again, there is this confusion – who is the good guy? That depends on the circumstances.
In WWE, they make story lines, faces and heels to keep the people engaged. In tennis, these things happen automatically. One small mistake could make you a heel and that reputation will stick with you for the rest of your life.
Tennis is cruel – it judges you, and it is unfair. But what is the fun in seeing two good guys fight it out? Harry Potter needs Lord Voldemort, Sherlock Holmes needs Professor Moriarty, Alfred Borden needs Robert Angier, and Batman needs Joker. The great thing about tennis, more than all these rivalries, is that you can't differentiate the good guy from the bad till the last moment.