How to deserve a victory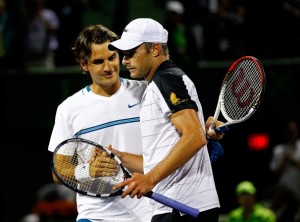 A Slam winner is, even after years of toil and ridicule and hopelessness, a Slam winner. Is that what those wrinkled, grey-haired tennis pundits say, to knowing nods of agreement, when they sit around their coffee tables discussing the sport? If they don't, they darned well should. Andy Roddick may have seen some very frustrating days in the last few years, repeatedly falling short of the standards set by Federer, Nadal and Djokovic, but there's one thing that no one can take away from him: his lone Major victory at the 2003 US Open. That Slam-winning experience is probably the single biggest reason that Roddick was able to fend off every desperate comeback attempt by Federer in the dying stages of their match yesterday. As Federer threw everything at Roddick, trying to break the American's serve at 1-2, 2-3, 3-4 and finally at 4-5, Roddick held steady, serving huge and refusing to blink. And that, as the pundits would say at their coffee tables, is the hallmark of a Slam champ.
Roddick has always had the reputation of being a torrid server with no other major weapons, but this victory, only his 3rd in 24 matches against Federer, was shaped almost as much by his forehand as by his serve. He stood toe-to-toe with Federer in the baseline exchanges of the first set, hitting his backhand with conviction and more importantly, using his forehand as a point-ending weapon. The Roddick forehand has had a life of its own over the years, starting out as a flat, hard missile but gradually evolving into the modern topspin loop. Conventional wisdom may suggest that this transformation should have helped Roddick hold his own against modern baseliners slugging it out on the slow courts of present-day tennis. But 'holding his own' came at a price: having given up his raw offensive weapon and lacking the defensive elasticity of his more athletic peers, Roddick had to settle for a place in the middle tier of the ATP's elite. His game, apart from that cannonball serve, ended up being neither here nor there. Which is probably fine for a permanent place in the top 10, but not quite good enough to win Majors, as Roddick found out the hard way.
Yesterday, though, Roddick made his forehand go all Benjamin Button on us. He took it on the rise, flattened it out and hit it with more depth and penetration than I've seen from him since he lost that 2004 Wimbledon final to Federer. The aggressive strategy worked like a charm in the first set, but backfired spectacularly in the second. Which is why it is all the more impressive that despite the 2nd set setback, Roddick stuck to the plan when it mattered most: in the 3rd set, with Federer serving at 1-all. Everything fell in place for Roddick in that game, as he unloaded on the forehand to produce 4 scorching winners that left the partisan home spectators roaring in delight. Federer was broken through no real fault of his own, and suddenly all that Roddick had to do was take care of his serve. And take care of his serve he did, unleashing one missile after another to handcuff Federer. The Slam veteran's experience had been summoned, and the call was answered decisively.
In many ways, Roddick's win was similar to the kind of victories that seasoned players have been known to 'steal' from their rookie opponents. Federer had a higher winning percentage than Roddick on both his first and second serve, he broke Roddick thrice as opposed to being broken just once, and he won more total points, 87 to 82. If I didn't know better, I might have said that Federer deserved to win more than Roddick. But there's that 'playing the big points' factor which, shockingly, went in Roddick's favor this time. At 4-3 in the first set tiebreaker, he somehow managed to get hold of a Federer overhead and rifle a passing shot past his stranded opponent for the set-clinching minibreak. At 0-40 down in the second game of the 3rd set, Roddick came up with 3 big serves to shut out Federer's hopes of getting a potentially decisive early break. At 15-30 in the last game of the match, Roddick again came up with the goods on his serve, firing back-to-back service winners to Federer's backhand. Usually, it is Federer who raises the level of his game in the crucial moments of the match to snatch the initiative away from his befuddled opponent, and God knows he's inflicted serious psychological damage on Roddick by doing exactly that almost every time they've played each other. Yesterday, Roddick returned the favor with elan, and Federer, for once, was left without any answers.
But even if Roddick hadn't played out of his mind on the big points, can anyone honestly claim that he didn't deserve to win? When you've suffered a defeat as cruel as that 2009 Wimbledon final, you probably deserve to win every match you play after that.