Carlos Alcaraz explained why he didn't retire from the 2023 French Open semifinal on Friday, even though he was dealing with severe cramps.
Alcaraz lost to Novak Djokovic in the 2023 French Open semifinal, 3-6, 7-5, 1-6, 1-6, failing to reach his first-ever Roland Garros final. The competitiveness of the match was stained by the Spaniard's cramps early in the third set. This caused him to be unable to give a 100% in the third and fourth sets.
Although it was clear that the 20-year-old was miles from his best, he didn't want to retire from the match. In the post-match press conference, he explained why.
"Well, I would have felt sorry about myself if I would retire, you know. I'm in a semifinal of a Grand Slam. If I retired from that, it could have been really tough for me," Alcaraz said.
The Spaniard revealed he thought that he had a "1% chance" to make a comeback, but he still stayed on the court.
"Of course in the third set, no, but thinking about the fourth set, I thought that probably I have 1% chance, you know, to come back. It was really tough," Carlos Alcaraz explained.
"But, you know, in the fourth set I had breakpoints in the first game (smiling). But, you know, after that, I just continue playing, you know. In my mind, in the fourth set, it was not the retirement," he added.
---
Nick Kyrgios: "I feel for Carlos Alcaraz"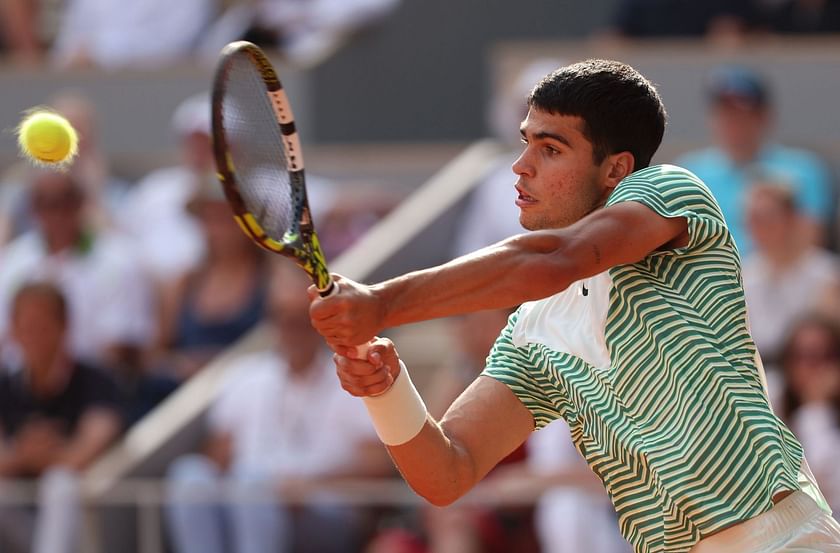 Nick Kyrgios, the 2022 Wimbledon finalist, took to social media to comment on the semifinal of the 2023 French Open between Carlos Alcaraz and Novak Djokovic.
In the semifinal, Alcaraz was dealing with severe cramping from the third game of the third set. This caused him not to be as competitive as he would have wished in the remaining two sets.
Kyrgios explained that the Spaniard was cramping due to being nervous, which Alcaraz himself later admitted to being at least partially true.
"Feel for Alcaraz. Just a big learning process, pretty sure every tennis player goes through this feeling. Cramping due to nervous energy and the anxiety of playing a match with this magnitude," Kyrgios wrote on Twitter.
The Australian then highlighted that "we should be scared" after the 20-year-old learns to deal with those kinds of things.
"He will learn how to deal with this in the future for sure. Then we should be scared," he added.
Nick Kyrgios is currently recovering from injuries himself that caused him to miss the entire 2023 season so far. The 2022 finalist should be ready for this year's Wimbledon and the grass court season.