Marc Lopez recently revealed that the transformation from friend to coach of Rafael Nadal was not an easy one. He said it was made even more difficult since it involved critiquing a player whose game was virtually perfect.
Lopez was a late addition to Nadal's entourage and the move has worked wonders for the Spaniard. Since his appointment as coach in December 2021, Nadal has yet to lose a competitive match. Going 7-0 in 2022, he already has one ATP tour title under his belt and is three matches away from a record 21st Grand Slam.
Speaking in an exclusive interview with ATPTour.com, Marc Lopez expanded on the new professional relationship he has undertaken with his long-time friend. The 39-year-old revealed that after the initial shock, he gradually grew accustomed to his coaching role.
The Spaniard now feels more comfortable pointing out things the World No. 5 needs to change in his game. This came from the understanding that it was for Nadal's own good.
"I've shared many moments with Rafa, but as a friend. Now it's different. I found it a bit difficult to give instructions to a player who is close to perfection. Although I always say that from the outside, there are things that can be improved," Lopez said. "I know Rafa very well. I've been watching his matches for many years and I know what he's thinking when he plays. I feel obliged to tell him things because I want the best for him."
Lopez regards the two roles he has served in the 20-time Grand Slam champion's life as equally essential. Despite being a coach, he stressed that it was important to alleviate Nadal's doubts as a friend off the court.
"Off court, Rafa is a person who has his [own] thoughts and doubts. My role is to try and give him a hand with as much as possible," Lopez said. "On court I change my mindset and tell him what I'm seeing, and off court we have the same relationship as before. His surroundings are very important to him."
"I was going through a difficult time in my career when the opportunity to play doubles with Rafael Nadal came up" - Marc Lopez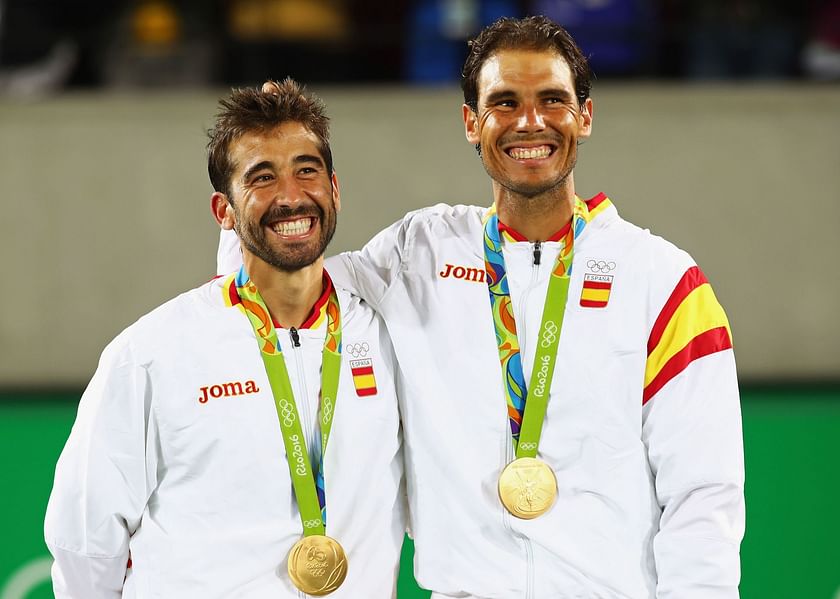 Marc Lopez also credited Rafael Nadal for being the spark that began his career as a doubles player. Lopez recalled how the opportunity to play doubles with Nadal came at a low point in his career when he was considering retirement.
From being a singles player up to that point, Lopez made the switch to playing doubles and ended up winning a Grand Slam at the 2016 French Open. Lopez attributed all his success to the first time he partnered with Nadal at the 2009 Qatar Open, a tournament the Spanish duo went on to conquer.
"When [the 2008] season was over, I was going through a difficult time in my career. I considered stopping. I didn't know what to do," Lopez said. "That's when the opportunity to play doubles with Rafa in Doha came up. That's when I realized I was good at doubles. We won the tournament, beating the World No. 1 pair on the way."
The most notable achievement of Lopez's career was a doubles gold medal at the 2016 Rio Olympics, which he won with Nadal as his partner. The Spaniard called it his favorite memory with the World No. 5 and hailed Nadal for making the effort to play doubles for his country.
Lopez referred to their time together as "two amazing, intense weeks," made sweeter by a gold medal at the end.
"My favorite memory with Nadal is the Olympic gold medal. Rafa made a huge effort to play in both disciplines, and he put his trust in me. People don't realize, but all the tennis players were in one apartment," Lopez said. "I slept in a room with Rafa with two small beds. It was really amazing, two intense weeks that ended perfectly with that gold medal."
What is the foot injury that has troubled Rafael Nadal over the years? Check here
Edited by Nihal Taraporvala