Indian Wells 2012: The metaphysical and the mundane
856 //
19 Mar 2012, 14:53 IST
After Roger Federer's stunning run to the Indian Wells title, there's just one question that's boring on everyone's minds – what does it all mean? With this record-equaling 19th Masters' trophy, Federer has extended his winning streak to 16 matches. He's won 39 of his last 41 matches, and 6 of his last 8 tournaments. He's defeated almost every top-10 player during this run (with the notable exception of Novak Djokovic), and although all of these wins have come on hardcourts, they've come on 4 different types of hardcourts – fast indoors at Basel/Paris/Rotterdam, slow indoors at London, fast outdoors at Dubai and slow outdoors at Indian Wells. He's done just about everything, and defeated just about every type of opponent, in the last 6 months. So does this run indicate that after a long and seemingly irreversible barren period Federer is once again primed to challenge for the Slams and establish his dominance over the men's tour? Or has it just been a case of Federer picking up the spoils while his rivals have been busy worrying about bigger things (read Slams)? If only we had a crystal ball to answer these kinds of questions.
Irrespective of whether Federer is on the cusp of dominance or merely cleaning up on the (relatively) smaller stages though, his recent streak has reminded us in painful detail exactly what we will be missing whenever he decides to hang his boots. Yes, we've all grown tired of listening to eulogies extolling his elegant court coverage and his aesthetic shot-making. But in his recent string of wins, Federer has shown a willingness to change his game to suit the occasion, which has brought all the artistry at his disposal into even sharper focus. At times in the past (his semifinal matches against Djokovic at the 2010 US Open and 2011 Australian Opens and match against Juan Martin del Potro at the 2009 US Open immediately come to mind), Federer has shown an exasperating stubbornness to try and beat his opponents 'at their own game'. He's tried staying rooted at the baseline and trading blows with the likes of Djokovic and del Potro, he's tried to outfox Andy Murray with his cute little sleights of hand, and he's tried getting into spin-heavy battles of attrition against Nadal, all of which predictably resulted in painful losses for the Swiss. Now, however, Federer is showing signs that he's willing to let go of his natural stubbornness and do whatever it takes to get the win.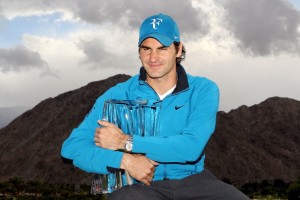 And have we been witness to the whole gamut of tennis skills while he's been at it. Against the slow-moving, big hitters (he's faced, and demolished, del Potro 4 times in this run) Federer has tried moving the opponent in non-rhythmic, zig-zag directions by liberally using the dropshot, often to devastating effect. Against the aggressive, erratic shot-makers (think Thomaz Belluci and Nikolay Davydenko) he's been patient enough to weather the storm of his opponent's blazing strokeplay, eventually allowing the opponent to self-destruct. Against the clever touch artistes like Murray and Bernard Tomic, he has imposed his offensive game, hitting flat, hard and assertively to rob the opponent of time. Against big servers (hello, Milos Raonic and John Isner), he's got a high percentage of serves back into play without going for too much on the return, in the process getting into enough neutral rallies to outgun the opponent. And against Rafael Nadal (he's in a separate category all on his own), he's diligently stuck to the attack-the-backhand strategy, which has helped him defeat his legendary Spanish rival twice out of 3 tries, even if the one loss did come in the most important match.
Federer has given new meaning to the word 'adaptation' in this run of victories. And he has plenty of silverware to show for his efforts. So what if there's no Slam trophy in that collection of silverware? With Federer, we've gone past, or at least we should have gone past, the stage of analyzing his future prospects and dissecting every result that he puts up. At this point, it's not Federer who should be thanking his lucky stars that he can still compete with the big boys as a 30-year-old. It's us who should be the thankful ones. That's what it all means.
*******************************************************************************************************
While the biggest question left by the Indian Wells men's result on everyone's minds is the metaphysical conundrum 'what does it all mean?', the question arising out of the result on the women's side is much more mundane – when will Victoria Azarenka lose her first match of 2012? The streak is at 23 matches now, and the scary part is that at the moment, no high-profile player seems even remotely capable of challenging the Belarussian. Sure, Azarenka hasn't had to play the Williams sisters or Petra Kvitova in this sequence of wins, but she has faced off, twice, against 3-time Slam champion and current No.2 in the world, Maria Sharapova. And while the match yesterday between the top 2 players in the world wasn't as embarrassingly one-sided as the Australian Open final, it was as much a foregone conclusion 5 games into the match as the Melbourne clash was.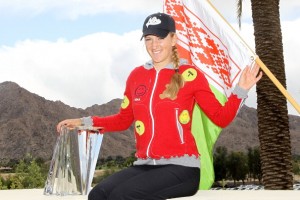 Is Azarenka really miles superior to all of her current rivals? We may not know the answer to that until the completion of the next couple of Slams, but for the moment at least, Azarenka seems to be in a whole different league altogether. She's doing just about everything better than everybody else on tour right now. Ironically, nothing about Azarenka's play really stands out as a game-changing weapon that cannot be countered. Which is probably why we keep expecting a big hitter or a consistent counterpuncher to throw Azarenka off her game and snap the streak. But she keeps defying our expectations, not unlike Djokovic kept doing last year. Azarenka's game is more than the sum of its parts, and she's doing an excellent job of showcasing that to the world.
For Sharapova, it's back to the drawing board, at least as far as coming up with a winning strategy against top-5 players is concerned. She seems to coast her way through matches against lesser-ranked players on the strength of her baseline missiles alone, but repeatedly comes up short against the likes of Azarenka and the Williams sisters for want of viable alternative options. One small consolation: she seems to have put her serving woes behind her, at least for now. Thank God for small mercies, because that pre-Melbourne 2012 serve was an abomination.
Coming back to Azarenka – when will she lose her first match of 2012? I'm betting on the clay season. That said, Serena Williams and Kim Clijsters will likely be joining the field at the Sony Ericsson Open which starts this week in Miami, and Kvitova has probably gotten her customary early-tournament departure out of the way, so it won't exactly be a walk in the park for Azarenka there. Is it actually true that the women's tournament at Miami holds more tantalizing possibilities than the men's version this time? Now that's a sentence I never thought I'd get to hear in my lifetime.