Madrid Open: Roger Federer falls to Nick Kyrgios in the second round
1.37K //
07 May 2015, 12:22 IST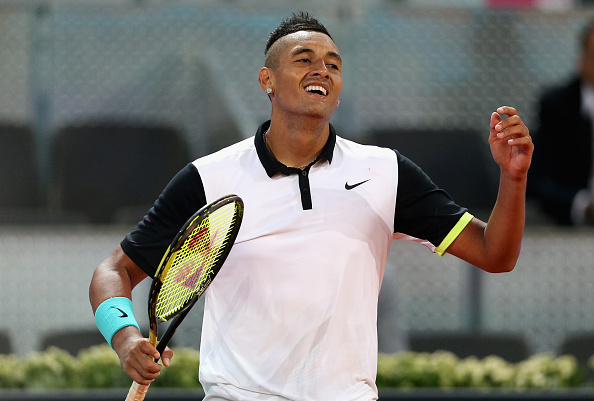 Nick Kyrgios saved two match-points as he caused the biggest upset at the Madrid Open thus far by knocking out World Number two Roger Federer in a nerve-wracking contest.
Federer, a three-time winner at Madrid, went down to an aggressive Kyrgios, 7-6 (2), 6-7 (5), 6-7 (12). The top-seeded Swiss came into Madrid Open on the back of earning his 85th career title at Istanbul.
For 20-year-old Kyrgios, it was sheer delight as he romped to his second win over a top 10 player in his career. The Australian became the third player to be born in the 1990s to register a win against Federer, the other two being Milos Raonic and Federico Delbonis.
At Wimbledon last year, Kyrgios, who was ranked 144, dealt Rafael Nadal to become the first player ranked outside the top 100 to register a win against a World Number one in a Grand Slam since 1992.
Kyrgios had to survive some tense moments in the final set, when he faced two match points at 6-7 and 10-11, albeit on his own serves. Federer, on the other hand, did not make it any easier for his young opponent, as he saved five match-points himself, but his efforts failed to yield him a win.
Following his shocking defeat, Federer admitted that Kyrgios's serve had been a tad too strong for him to handle. "My problem was I couldn't return his first serve ; [It] was just a horrible performance on the return", said the Swiss, who was successful in dominating play on his own serve.
Kyrgios expressed his delight at having registered one of the biggest wins in his career and also at having won such a tight match. "I was definitely thinking about the finish line, which is probably not the greatest thing, especially against Federer; he's going to take advantage of that", he said.
"But I thought as I was saving match points and he was saving match points, that I just had to go through [my] routine and pick a spot on [my] return, and try and do whatever you can [to win]", Kyrgios added.
Murray, Nadal advance
In what was a rematch of the Munich Open final, Andy Murray saw off a spirited Philipp Kohlschreiber in yet another three-set contest. The German, who came mighty close to denying Murray his first clay court title, pushed the Scot hard, taking the second set and pushing the match to a decider. However, the determined Scot ramped up his game in the final set and closed out the match, 6-4, 3-6, 6-0.
Rafael Nadal got his quest for a fifth title at Madrid off to a blazing start, as he raced to a 6-4, 6-3 win against Steve Johnson in the second round. Nadal will face Simone Bolleli, who prevailed in a close match against Luca Vanni, in the third round.
Nadal, who is only three shy of Guillermo Vilas's record of 49 titles on clay, has switched back to his old racquet frame and showed no signs of sluggishness against Johnson, as he struck 14 winners in the course of his win.
Nadal opined that avoiding 'complications' helped him a great deal in winning the match. "I went out there to do a simple game with no complications; I tried to play easily. I know how things work out when you come from losing a couple of matches. I know that you're a little bit nervous whenever you finish a game, as I finished the other day with [Fabio] Fognini in Barcelona", said Nadal.
"I tried to start from the bottom and just go up. I think, especially the last three games, I finished pretty well. I managed to do a couple more things with my backhand", he added.
With Novak Djokovic not participating in the event and with Federer's early knock-out, Nadal will now fancy his chances of winning the title a great deal more given Murray's not-so-impressive record on clay.