The din in the arena was incredible. It was hard to believe this was Centre Court, Wimbledon, home to polite applause and dignified cheers. In its place, a football match atmosphere prevailed. It was 40-30, 8-7 in the fifth set as the tall, lanky player in whites made his way back to the service line. Championship Point. Goran Ivanisevic was visibly shaking and choking back the emotions as he stepped up to summon his monster serve one last time, a weapon which had deserted him over the last half hour or so. True to current form, he turned in a double fault. Deuce. The crowd gasped.
It was 2001, the Men's Singles Final at the Championships, Wimbledon between Patrick Rafter and Goran Ivanisevic. The match had quickly built up into an epic. And while the tension was keeping the audience on the edge of their seats, there was also a sense of inevitability to the incredulous scenes being witnessed, a full awareness that one of the most improbable runs ever by a tennis player was reaching its climax, and the most unlikely of results was actually turning into reality. If human drama and context ever played a defining role in a tennis match, it was on this day.
Goran Ivanisevic, the big-serving Croat, had been marked out for greatness at Wimbledon more than a decade earlier. His power game, built around a fearsome first serve, was custom-made for grass. And if the nature of his game led to it being accused as 'boring' and a 'snooze fest', he more than made up for it with an eccentric, emotional, passionate-bordering-on-wild personality. He was known as much for his serve-and-charge approach to the net as for his colourful rants at himself on the tennis court, for his service games that lasted less than a minute as for his brooding interviews laced with doleful humour. At Wimbledon, he had made it thrice to the finals earlier, each ending in heart-breaking losses, once to Andre Agassi, and twice to his bête noir Pete Sampras. By the end of 2000 however, Ivanisevic was 29, nursing a persistent shoulder injury, and had dropped out of the top 100. He seemed to be, for all purposes, a spent force, and it appeared certain he would remain one of the best players never to win a tournament seemingly designed for him. In 2001, he applied for a wild card to enter Wimbledon, and the organizers duly complied, solely on the basis of his past credentials at the tournament. It turned out to be an inspired decision, as Ivanisevic returned to the venue that most defined him, and played with a freedom that belied the wear and tear on his body. As he rolled through his matches over the fortnight, defeating players like Carlos Moya, Andy Roddick and Greg Rusedski, people began to sit up, take notice and start wondering about the possibilities. He did it all with a sense of incredulity himself, scarcely believing the roll he was on, and in the process, got countless fans hoping against hope for him. He received good news in the form of his arch rival of multiple Wimbledon battles, Pete Sampras, being taken out by a young Swiss upstart, Roger Federer – an intriguing storyline in itself. He then proceeded to script an epic in the semi-finals, taking out the home crowd favourite Tim Henman over five excruciating sets in a match that took three rain-filled days to complete. Goran Ivanisevic's improbable context was in place for the finale.
Across the net he now faced Patrick Rafter, the Australian who embodied everything good about his country's approach to sports and attitude to life. Rafter was the last of a dying breed – a compulsive serve-and-volleyer, and had been, for some time now, among the title contenders at Wimbledon. The third seed was also a genuine crowd favourite, with his soft-spoken demenour off-court contrasting with his competitive spirit on it. In his semi-finals, he had just beaten an ageing star in Andre Agassi in five enthralling sets. The match was a purists' delight, with Rafter's instinctive forays to the net pitted against the baseline solidity of Agassi. The adventurous, grass-court style worked in the end, and Rafter entered his second consecutive Wimbledon final. The previous year, he had played as a definite underdog against Sampras for the championship; this time, he knew he was in with much more of a chance. He had also refused to quell rumours about the year being his last on tour, and hence, entered the match with substantial public support on his side as well. Patrick Rafter's sentimental context was in place for the finale.
What is Wimbledon without the rain? This year, the rain gods decided to play a particularly central and dramatic role in proceedings. Partly as a result of the protracted semi-final that took three days to complete and left the United Kingdom mourning the end of British presence in the tournament, the men's final was scheduled to take place on the third Monday of the tournament. This was only the third time in the tournament's history that such an event had ever happened. Significantly, this resulted in 10,000 final match Centre Court tickets going up for grabs on the preceding day. Long, serpentine queues of tennis fans, who would have otherwise never hoped to get a look-in, spent a night in advance outside the ticket booths, and the final Wimbledon crowd ended up being a much more diverse and voluble one than normal. The usual blazers, ties, hats and all-round stifling politeness was replaced with war-paint, red-checked and blue-green outfits, and rowdy cries of "Go-ran!" and "Pat-rick!". The crowd atmosphere was in place for the finale.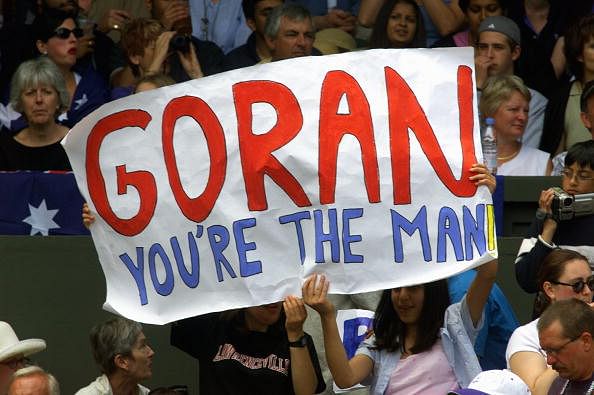 With this kind of build-up, the match had all the makings of a classic even before it started. And when the players began to trade unreturnable serves and breathtaking volleys, the intensity of the match shot right up. Ivanisevic began in the comfortable groove he had established over the fortnight, and pounded down his customary basket of aces to take the first set. But Rafter came back strongly, with deft touches at the net, to level the match at one-set all. As the contest progressed, the level of play came down slightly, replaced with two players running on emotion and intensity, and thus, more prone to errors amidst the occasional stroke of genius. But the vociferous crowd, with an equal sprinkling of Aussie and Croat supporters and a British majority who rooted for both sentimental favourites equally, did not seem to mind at all. Towards the fag end of the fourth set, Ivanisevic's temperamental side began to make an appearance. A foot fault followed by a close line-call on his serve riled him, and he ended up spontaneously kicking the net in frustration followed by a long, heartfelt discussion with the chair umpire. Not surprisingly, he lost the fourth set to tie the match at two-sets apiece.
Now this was the typical moment when Ivanisevic mentally packed up in a tennis match and proceeded to lose it, but then again, this was no 'typical' tennis match. Contrary to expectations, and seemingly guided by the invisible hand of destiny, he stayed toe-to-toe with Rafter across a breathless fifth set. As they moved deep into the set beyond the 6-6 mark, their games became more erratic, and Ivanisevic was visibly riding on pure emotion. His first serve deserted him, he became even more animated with himself, and the crowd was now a solid roar after every point. Inspite of it all, the Croat managed to break Rafter in the 15th game of the set, and now had the opportunity on his racquet to serve out ten years of disappointment.
And he double faulted. Visibly shaking and looking up to send earnest prayers , he got to Championship point again. And double faulted again. On his third attempt, Rafter sent a brilliantly placed lob above the the Croat at the net to keep himself in the hunt. Ivanisevic's visage was now progressively becoming darker with every point. On his fourth Championship point, his serve landed in, and Rafter's reply did not cross the net. Ivanisevic was finally flat on his stomach, sobbing and embracing the grass which had, till then, marked the scene of his most disappointing losses, but had now become the signpost of one of the most incredible victories ever. Rafter was at the net to give him a warm hug, flash a cheerful smile and ruffle his hair in a congratulatory air. It was typical of the Australian to ignore what had been his best chance yet to win at Wimbledon, and instead acknowledge the feat of his colourful opponent. But victory and defeat mixed easily in the heady atmosphere of the day. Ivanisevic managed to keep his date with destiny 6-3, 3-6, 6-3, 2-6, 9-7.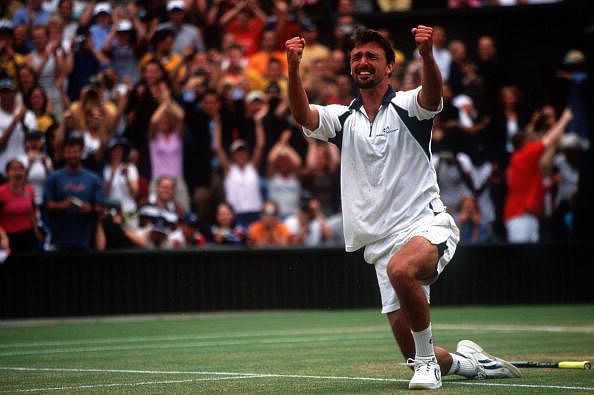 People's Monday ending up presenting a very special tennis spectacle for the people. In many ways, it was an event that transcended tennis and defined a common fan's relationship with sport as a whole. If sport is meant to be a microcosm of life, the Wimbledon final of 2001 served to highlight the best truths of life. Hope is a good thing to have, however far-fetched the dream might be. And in having a protagonist as human as Goran Ivanisevic playing the lead successfully, perhaps we could all find that little bit of inspiration to have hope in our own dreams.