Miami 2012 men's preview: Swinging into sunny Florida
858 //
21 Mar 2012, 17:24 IST
Followers of tennis can't afford to have long-term memories. To have any hope of properly following the tumultuous tennis calendar, you have to have an incredibly short-term memory: the moment one tournament gets over, you've got to hit the reset button, and immediately move on to the next noisy tournament. The BNP Paribas Open at Indian Wells has barely been put to bed, and we're already in Miami, looking up match schedules, checking TV listings, maybe even trying our hand at those tricky draw challenge contests, all the while being completely oblivious to the earth-shattering happenings at Indian Wells which had promised to completely transform our lives. Which is probably just as well, because traditionally, it's always been Miami, and not Indian Wells, which has been flatteringly referred to as 'the fifth Major'. So which players are likely to go deep at the Sony Ericsson Open, battling both their opponents and the heat of the Sunshine State?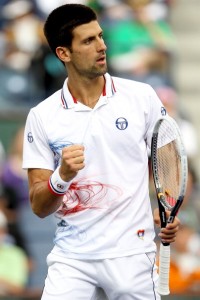 First Quarter: Dominance, interrupted
If the first 3 months of 2012 have told us anything, it is that Novak Djokovic is not going to repeat his stupendous run from 2011. Last year, the Serb hadn't lost a match going into the French Open; this year, he's lost two matches in his first 3 tournaments. But before we conclude that the Year of the Djoker was a flash in the pan, it'd be wise to note that in the only tournament that Djokovic hasn't lost in this year, which was also, incidentally, the only tournament that really counted, his performance was otherworldly. Is Miami going to be the stage where Djokovic remembers who he is, and reasserts his dominance over the men's tour? In any case, it's not going to be a walk in the park for him. He's been handed a potentially problematic opener against streaky Marcos Baghdatis, after which he'll likely have to deal with Victor Troiki in the 3rd round and Richard Gasquet in the 4th.
David Ferrer headlines the bottom half of the quarter, but this should really be called Juan Martin del Potro's section – the Argentine can, apparently, only be defeated by Roger Federer these days. Fortunately for him, there's no one here with nearly the kind of variety to frustrate the big man the way Federer does. Wait, scratch that. Young Bernard Tomic will be sneaking around in this section, and although he'll have to get past Ferrer in the 2nd round, his Australian Open showing was too good for his results to remain mediocre for too long.
The pick: Djokovic def. Del Potro
Dark horse: Bernard Tomic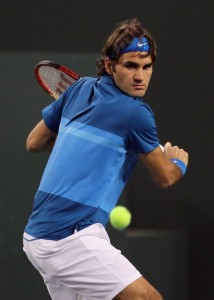 Second Quarter: America vs the world
American hopefuls, from the past, the present, and the future populate this quarter. While Ryan Harrison, the supposed future of American tennis, is slated to meet Federer in the 2nd round, Andy Roddick, the past of American tennis, will likely run into Federer in the 3rd round. A little away from this dangerous territory are Mardy Fish, the highest-ranked American on the planet, and the pair of Donald Young and Sam Querrey, who can only be called the Forgotten Hopes of American tennis. Or should that be Futile Hopes? Also here are Spaniards Nicolas Almagro and Fernando Verdasco who will likely engage in an epic Battle of the Headcases in the 3rd round. And what of Gael Monfils? Even after all these years, the super-talented Frenchman continues to remain an enigma, and being struck down by a virus last week won't make him any less upset-prone.
The pick: Federer def. Almagro
Dark horse: Kevin Anderson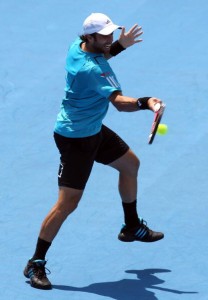 Third Quarter: The Gonzo strikes, one last time
Fernando Gonzalez has announced that Miami will be his last tournament as a professional tennis player, and it's intensely unfortunate that we'll probably not even get to watch that atomic forehand scorch the court one last time. First round matches at Indian Wells and Miami are usually ignored by TV broadcasters in India, and it's unlikely that they'll deign to air the first round clash between Gonzalez and Frenchman Nicolas Mahut. Hopefully Gonzalez will do us one last favor and actually win that match, so that we can watch him take a crack at Tomas Berdych in the 2nd round. Andy Murray is the highest seed here, but he'll likely have to face Milos Raonic in the 3rd round, which is possibly the worst matchup for Murray right now. Meanwhile, Berdych, assuming he gets past Gonzalez/Mahut, has a fairly cushy draw, with only one out of Alexandr Dolgopolov, Janko Tipsarevic and David Nalbandian potentially standing in his path.
The pick: Berdych def. Raonic
Dark horse: David Nalbandian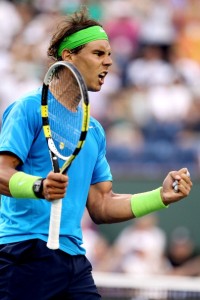 Fourth Quarter: Bringing the heat
Rafael Nadal had only just started to warm up at Indian Wells before he ran into the wind and an unusually inspired Roger Federer. Now that he's got a fairly decent amount of matches under his belt, it's unlikely that he'll be even remotely as easy to subdue here. And not that he needs it, but he's in a relatively soft section of the draw too. Neither Kei Nishikori nor Marcel Granollers seems to have the firepower to counter the Spaniard's unique brand of topspin and tenacity, and the only likely threat, John Isner, is placed in the other half of the quarter. Isner will bring the heat on his serve, but whether he'll also bring the miles to run past Jo-Wilfried Tsonga (4th round) and Nadal in succession is anybody's guess. I'm guessing he won't.
The pick: Nadal def. Isner
Dark horse: Thomaz Belluci
Semifinals
Semifinal 1: As impressive as Federer's recent string of wins has been, his charmed run is bound to end sooner or later. And if he's going to go up against Djokovic, the one man he hasn't faced in that run, will it be that unthinkable for the World No. 1 to end the Swiss's winning streak?
The pick: Djokovic def. Federer
Semifinal 2: Berdych gave Nadal all he could handle in the Australian Open quarterfinals, but he hasn't exactly been setting the courts alight since then. More importantly, Nadal came away with the win in Melbourne despite Berdych's near-flawless display. You do the math.
The pick: Nadal def. Berdych
Final: Djokovic def. Nadal