Murray scripts a thrilling fightback to reach Wimbledon semis
1.02K //
04 Jul 2013, 00:41 IST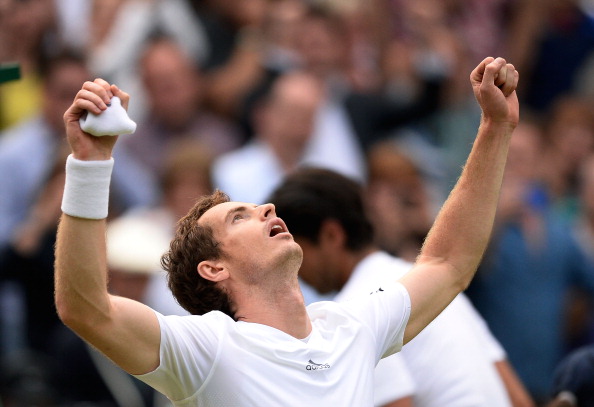 Andy Murray may have yet to win Wimbledon, but he sure has earned a theatre on the grounds that can play the innumerable moments of drama provided by the Scot. The AELTC could even consider building one on the famous Murray mound which saw an eruption as soon as Murray completed a thrilling comeback to clinch his spot in the semi-finals for the fifth year running. The Scot lost the first two sets of his match against Fernando Verdasco before riding the collective will of a praying nation to script a memorable 4-6, 3-6, 6-1, 6-4, 7-5 victory in three and hours of an emotional ride on a centre court filled with mostly doting British fans.
Murray, runner up last year to Roger Federer, hadn't lost a set arriving to the quarter-finals. Besides, the Scot had an 8-1 edge over his opponent. But this was their first match on grass and Verdasco, who was lumbering in the wilderness for much of this year, has rediscovered some of his 2009 magic. The Spaniard had almost decided to give the grass a complete miss, after recently changing his racquet.
A couple of weeks ago, he arrived in Eastbourne wanting to get a feel of his new equipment. Not only did he feel good, he embraced what the racquet offered with renewed confidence. And it showed, as soon as he took court against Murray. The Spaniard was under constant pressure, but despite the forehand misbehaving at times, Verdasco held steady to stay even at 3-3.
This was Murray's first match against a lefthander since playing Feliciano Lopez in the third round of the US Open last year. It took a while for him to get his lines right against the leftie, but once he did, Murray had no hesitation in running behind the slice to knock away the volley winner. The crowd was uncharacteristically mild inside centre court, but the ninth game woke them out of their mid-week stupor.
Verdasco though, was calm, in an almost disconnected way. He survived a brilliant point at the net by Murray and a double fault to somehow hold serve and keep his nose ahead at 5-4. There was barely anything between the two till then – but out of the blue, Verdasco stung with a venomous forehand to earn a set point. A clearly rattled Murray made an untimely double fault to offer the set on a platter to his opponent. It was a heavy penalty for Murray, who made just three unforced errors compared to fifteen by his opponent.
Even as the centre court turned quiet again, Murray gave them something to cheer when he struck with his forehand to break Verdasco in the third game of the second set. When Murray consolidated in the next game to take a 3-1 lead, it did feel like a turnaround was already underway. But what is sport without twists and turns?
Murray provided exactly that – first sending an overhead straight back to Verdasco, who extracted an error off the backhand at the net to earn a break point in the sixth game. Murray made it easy again, sending a forehand wide to see the set slip back to 3-3. It slipped further away, when Murray conceded another break in the eighth game.
Murray ran with great desperation to win a point from a situation of no hope, and that energised him to three break points in the next game. Verdasco chipped away with his forehand in response to reel back Murray and win five points in a row to assume control of the match. The crowd consisted of retired legends – Rod Laver and Alex Ferguson, whose expressions painted a grim picture for Murray.
Verdasco had Murray on the mat and he sought to keep him pinned down. Murray survived a couple of deuce points to hold serve before turning the tables on his opponent. Verdasco had been using his backhand slice to draw Murray wide before taking the point with the forehand along the line. With his back to the wall, Murray made some changes – stepping into the court to take the ball early and deny Verdasco the chance to set up his killer combination.
Murray broke serve in the second and sixth games to ease himself back into the contest by taking the third set in a breezy 32 minutes. Murray flirted with danger in the second and sixth games of the fourth set. But he managed to save two break points in each of those games to avoid falling into an abyss. Lifted by the chanting crowd and his own understated streak of determination, Murray forced deuce in the seventh game before converting his only break point of the set.
The door was open again and Murray strode into the house with confidence – holding at love in the tenth game to force the match into a decisive fifth set. It was a match of two halves and incredibly, the third and fourth combined took exactly as much time as the first two sets. The British fans were crying hoarse by now, thrilled by the spirited fight back from the resurgent Murray.
In the early stages of the fifth set, both players treaded carefully, ensuring that they did not let the advantage slip to their opponents. But in sport, you can only live a truce for so long. At 0-30 in the eighth game, Murray was under desperate pressure. An intelligently place serve wide off the Verdasco backhand allowed Murray to catch his breath and steady his nerves. Murray won four points in a row to keep the set on serve at 4-4.
By now there was a sense of urgency in Verdasco, who was teeing off on his shots with intensity and beastly power. But a brilliant rally swung in Murray's favour when Verdasco was caught off balance at the baseline, causing an error off the backhand and surrender a fatal break point. Murray accepted it with a singing forehand that Verdasco could barely reach.
Serving for the match, Murray asserted himself with a powerful backhand cross court to get within two points of a famous victory. He inched closer to the finish line with an ace on the next to gain three match points. The match was his when Verdasco, trying as hard as he can, overcooked a backhand after a short rally to draw the curtains on a dramatic quarter-final.
In the semis, Murray will play Jerzy Janowicz. The Pole was overcome with joy, sinking in a deluge of tears after dismissing his compatriot Lukasz Kubot in straight sets.