Aryna Sabalenka's magical run at the 2023 Australian Open has garnered immense applause from the entire tennis fraternity. The 24-year-old edged reigning Wimbledon champion Elena Rybakina in a high-quality demanding battle that stretched to three sets 4-6, 6-3, 6-4, to claim her maiden Grand Slam title on Saturday.
Aryna Sabalenka and Elena Rybakina displayed extraordinary tennis skills, reportedly hitting groundstrokes harder than their male counterparts. The tennis world, including coaches and their colleagues, were in awe of the pair's incredible drive to get their hands on the trophy, and congratulated the Belarusian for a well-deserved win.
Aryna Sabalenka's best mate and former World No. 2 Paula Badosa was ecstatic about the 24-year-old's win.
"Giiiiiiiiiiiiiiirl. Dreams do come true!!!! So happy for you! See you soon and celebrate soon b****," Paula Badosa wrote on her Instagram story.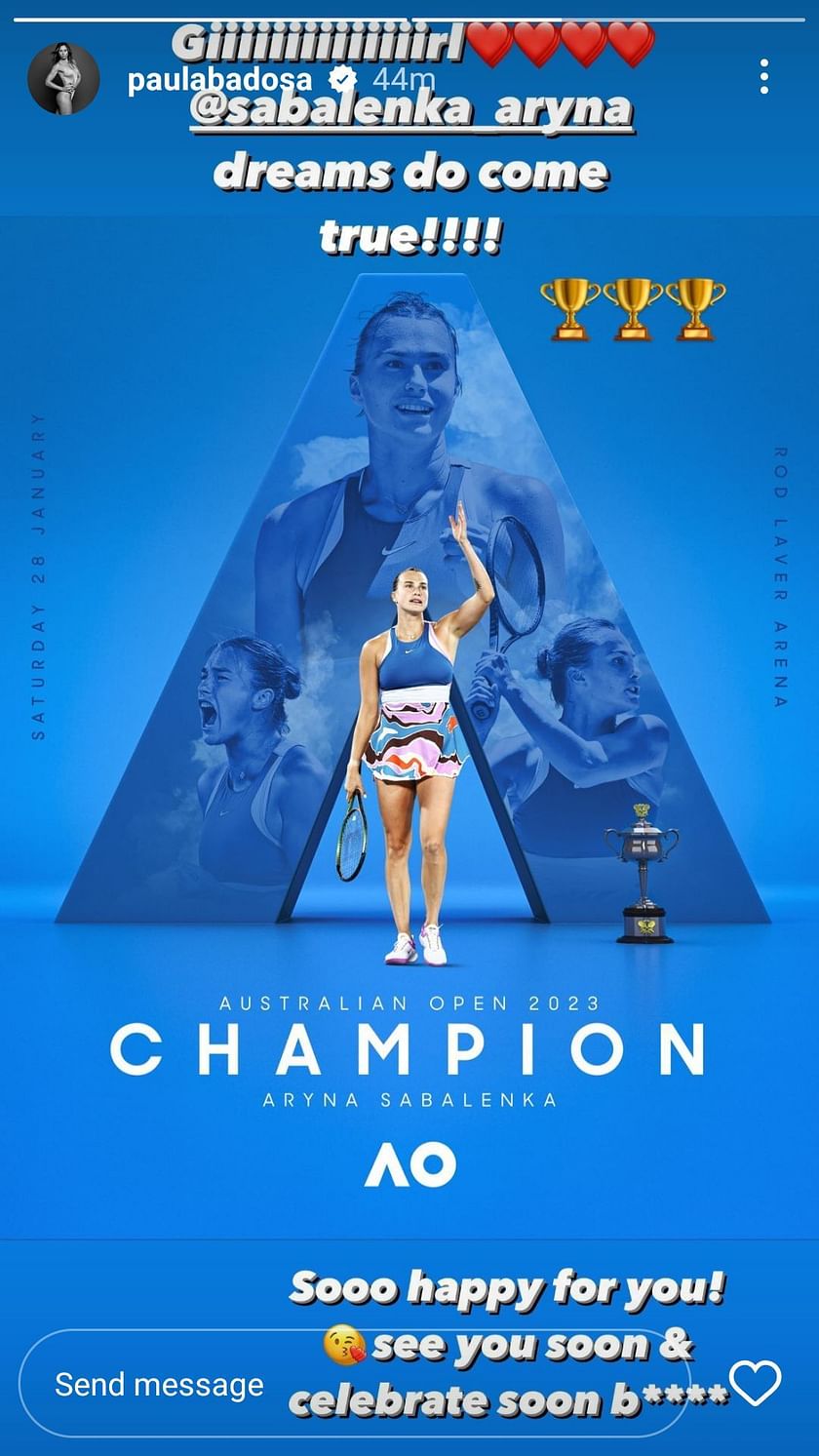 2021 French Open champion and former World No. 2 Barbora Krejcikova, who was present to watch the match live, appreciated both competitors for leaving it all on the court in the nail-biting encounter.
"Nail biter until the end! Congrats Aryna Sabalenka for winning this night. Great battle Elena Rybakina. Hats off," she wrote.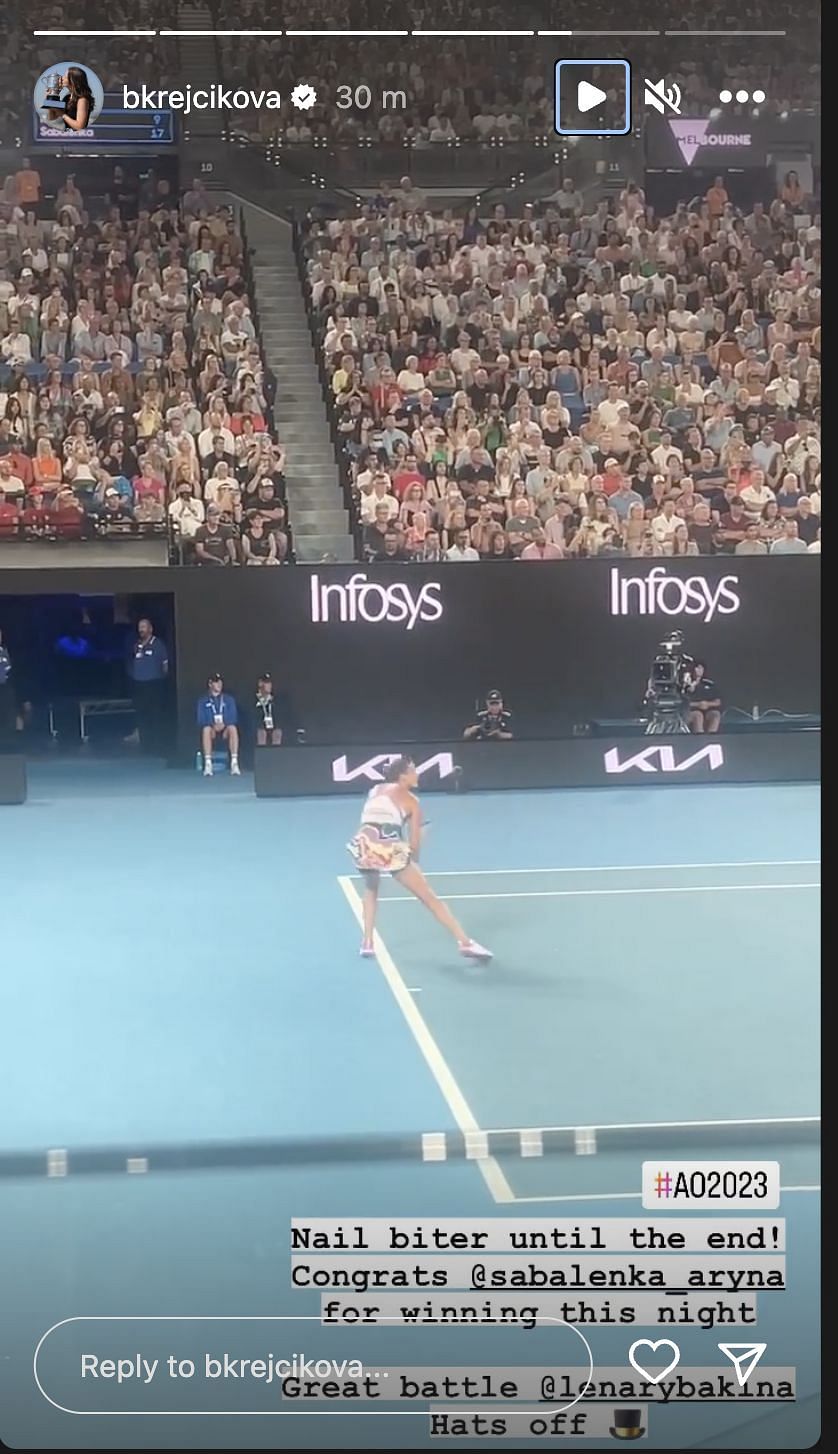 Renowned tennis coach Patrick Mouratoglou mentioned the former World No 2's mind-boggling stats to support her deserved title win.
"Deserved win for Sabalenka : 17 aces 65% of first serves 51 winners for only 28 UNF. She has been able to deliver her best tennis in the final," he remarked.
The Belarusian champion's compatriot and two-time Australian Open champion Victoria Azarenka poured in her wishes.
"Amazing! Congratulations! What a well deserved win and the entire tournament! Impressive," she wrote.
Here are a few more reactions from the tennis fraternity and the 2023 Australian Open champion's colleagues:
---
Aryna Sabalenka reinstated to her career-high ranking of World No. 2 after 2023 Australian Open win
Aryna Sabalenka experienced an uncharacteristic season in 2022. Despite playing three WTA finals, the 24-year-old failed to lift a single trophy last year. She additionally created a record for all the wrong reasons, calling herself the "Queen of double faults" and producing 428 double faults throughout the 2022 season.
Sabalenka's woes are, however, behind her, as she remains unbeaten in 2023, having started the year with a title at the Adelaide International 1 and her latest Grand Slam win at the 2023 Australian Open. The Belarusian, who was ranked World No. 5 at the start of the Melbourne Major, is thus slated to return to her previous career-high ranking of World No. 2, come Monday.