Andy Roddick and his wife Brooklyn Decker cut a stylish figure at the 2023 Met Gala on Monday, May 1.
Known as "fashion's biggest night out," the Met Gala is an annual fundraising event for the Metropolitan Museum of Art's Costume Institute in New York City. The prestigious event is put on by Vogue every year on the first Monday in May and is a star-studded affair as celebrities flock to the red carpet.
The theme of the 2023 edition of the Met Gala was "Karl Lagerfeld: A Line of Beauty," to honor the late German designer who worked with iconic fashion houses in Balmain, Fendi, Chanel and Chloe. The event was co-chaired by Roger Federer, alongside Michaela Cole, Dua Lipa and Penelope Cruz.
At the event, Andy Roddick and Brooklyn Decker looked absolutely dazzling. The couple posed hand-in-hand and wore stunning outfits that complemented each other perfectly.
Roddick chose to wear a classic black tuxedo and loafers, while Decker opted for a white crochet dress by Chanel that was in line with the event's theme. She paired her dress with a pearl tiara by Sean Gilson for Assael and layered necklaces.
Tennis Channel commentator Steve Weissman, who frequently hosts the former World No. 1 for interviews, commented that he couldn't wait to hear about Roddick's night on Tennis Channel Live the following day.
"Yes!!! Can't wait to hear all about it on TC Live tomorrow!!," Weissman tweeted.
Andy Roddick pens heartfelt note to wife Brooklyn Decker on 14th wedding anniversary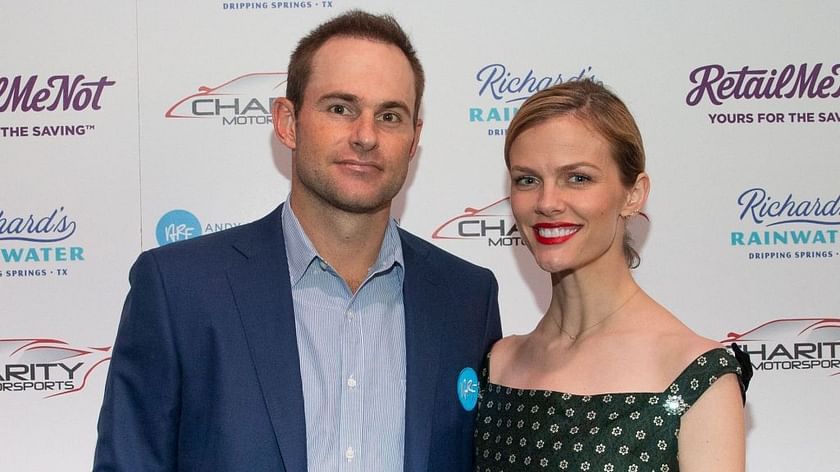 On April 17, Andy Roddick took to social media to celebrate his 14th wedding anniversary with his wife Brooklyn Decker. Posting a picture of the pair knee-deep in a lake, the American complimented his "strong, compassionate and driven" wife and expressed his love for her.
"14 years later, nobody I'd rather be on this adventure w. Strong, compassionate, driven, and puts up w me most of the time :) Love you lady," Roddick captioned his tweet.
Brooklyn Decker too celebrated the momentous occasion with a social media post.
"May he be this excited to take pictures with me for the next 14. Happy Anniversary to my husband who is not on Instagram so will never see this," she captioned the post on Instagram.
Andy Roddick and Brooklyn Decker began dating in 2007 and tied the knot on April 17, 2009. The couple now have two children together, a son named Hank and a daughter named Stevie, who were born in 2015 and 2017, respectively.