World No. 5 Aryna Sabalenka recently revealed that she didn't watch the 2022 Wimbledon Championships ahead of her clash against reigning Wimbledon champion Elena Rybakina in the Australian Open final.
Sabalenka advanced to the Australian Open final with a 7-6(1), 6-2 victory over unseeded Pole Magda Linette on Thursday, January 26, extending the Belarusian's unbeaten start to the year and setting up a final clash with Elena Rybakina.
Sabalenka, the 2023 Adelaide International 1 champion, has not dropped a set en route to 10 wins in 2023, and she will be looking to win her first Grand Slam title in the first Major of the year.
Aryna Sabalenka revealed in the post-match press conference that she didn't watch the 2022 Wimbledon Championships "at all," a tournament she was barred from competing in due to Russia's invasion of Ukraine.
However, she did say that she watched the final match between Elena Rybakina and Ons Jabeur a little while working out in the gym and thought it was "great tennis."
"Oh, no, I didn't watch Wimbledon last year. I was feeling really bad about that, and I didn't watch Wimbledon at all. I mean, little bit the final just because I was working out in the gym. I saw a little bit. It was great tennis," Sabalenka said.
The Belarussian was then asked about the differences between her and her upcoming opponent Rybakina's gameplay, given that they are both power players. She replied that it is different because the Kazakh plays a bit "flat" while she adds more "spin" to her game.
"I don't know. Maybe you tell me what you think (laughter). Probably. I think it's just different. Like she play a little bit, like, flat, I maybe spin a little bit more. I think that's the different," Aryna Sabalenka said.
---
"It's a final, it's not going to be easy match" - Aryna Sabalenka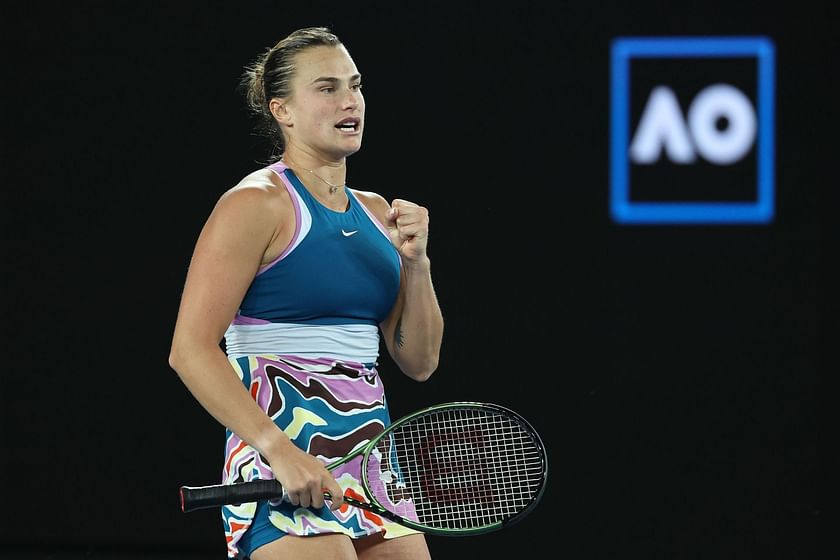 Ahead of the Australian Open final scheduled to take place on January 28 at the Rod Laver Arena, Sabalenka said she is happy to have made it to the summit clash.
She added that while it will not be easy, she will work hard to take home the year's first Major.
"Well, it's not going to make things easier. It's a final. It's not going to be easy match, you know? But I just happy that I made this, like, next step. I know that I have to work for that title," Sabalenka said.
When asked how she feels about the possibility of becoming the first Grand Slam champion with a neutral flag, the 24-year-old joked that she will discuss it after and if she wins the title.
"Let's talk about that if I going to win it. If, if, if, I don't like to speak about 'if'. I just want to work for it, yeah, do my best. If I win, you can ask that question and I will answer (smiling)," Sabalenka said.