Tennis journalist Christopher Clarey has drawn a comparison between the power exhibited by Aryna Sabalenka and Serena Williams.
Despite never having taken a set off Iga Swiatek on clay on three previous occasions, Sabalenka recently defeated the World No. 1 to lift her second Madrid Open title. She secured her tour-leading third title of the season after defeating the Pole 6-3, 3-6, 6-3 in two hours and 26 minutes.
Christopher Clarey joined host Mitch Michals on the Tennis Channel Inside-In podcast to discuss Aryna Sabalenka's recent triumph over Swiatek in Madrid.
Clarey praised the improvements in the Belarusian's game and revealed that tennis legends Martina Navratilova, Chris Evert, and Tracy Austin had foreseen the World No. 2's rise to prominence several years ago. He also acknowledged the remarkable power in Sabalenka's game, comparing it to the level of power exhibited by Serena Williams.
"She's obviously got a little bit more stability in her game now and that's the difference," Clarey said. "But I remember talking about, three four years ago when she really emerged for the first time, talking to some of the greats in Navratilova, Tracy Austin, Chris Evert and they all saw the upside there. They all could see that, I wouldn't call it next-level power because it's kind of Serena level power I would say. But it's Serena level power."
Clarey credited the 25-year-old for fixing her serving woes. He also highlighted a marked improvement in her movement, stating that it was likely a necessary response to Iga Swiatek's exceptional performance in 2022.
"And the serve back in those days was pretty stable and pretty good so she had this time in the wilderness she spent and now she's out of that," he added. "One swipe of the racket, her movement has clearly improved. I think she had to given the way Iga Swiatek was playing last year. But I think Aryna Sabalenka's package is a potent one."
Aryna Sabalenka is a triple-surface threat, says Christopher Clarey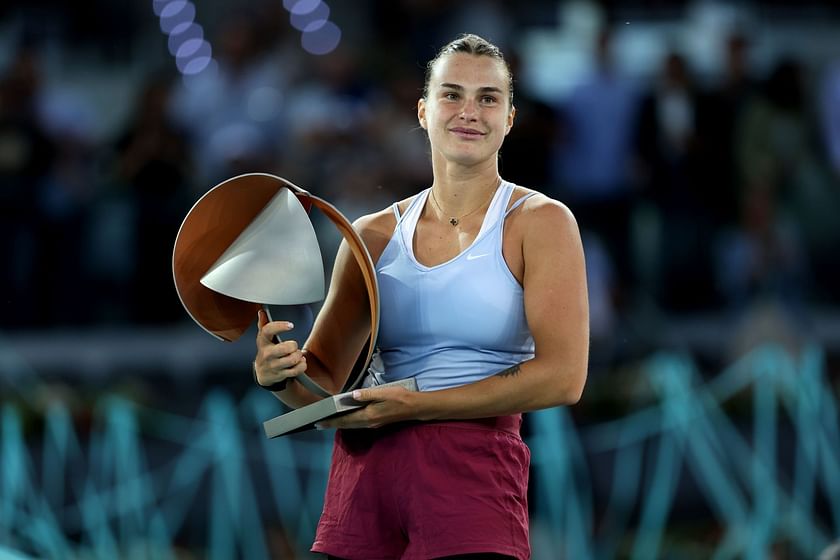 During the same podcast, Christopher Clarey stated that Aryna Sabalenka's clashes with Iga Swiatek and Elena Rybakina have sated his long-awaited desire for exciting rivalries on the WTA tour.
"I feel like I've been asking for a rivalry on the WTA side for so long and I really feel like the sport needs it and who knows, but you can certainly see it with Sabalenka- Rybakina and Sabalenka-Swiatek. The WTA has had better matchups than the ATP this year," Clarey said.
Clarey also lauded Sabalenka's abilities as an all-court player, deeming her a "triple-surface threat," alongside Rybakina.
"You look at her as an all-court player I mean. I like her game on grass and her mentality on grass a lot more than Iga Swiatek. At this point in time, we'll see how Iga builds forward on grass but Sabalenka probably with Rybakina not far behind is a triple-surface threat really," he added.