Carlo Agostinelli recently reacted to Emma Raducanu inspiring kids with financial empowerment lessons.
Raducanu collaborated with HSBC UK to introduce an initiative with the goal of providing children with lessons in personal and financial resilience.
This initiative, named 'Fairer Tales,' introduces a digital storybook by award-winning author Emma Dodd that offers a contemporary twist on traditional fairy tales. It portrays self-reliant princesses who harness their financial knowledge to realize their aspirations.
Raducanu posted a couple of pictures on Instagram on Thursday, September 21, in which she can be seen gifting the book to kids in a primary school in Brighton.
"Yesterday was wholesome with these cuties 🥺starting @hsbc_uk 's launch of fairer tales in a primary school and then going to play with these @lta youth girls in Brighton 🙏 days like this are so warming ♥️," Raducanu captioned the post.
Agostinelli commented on the post with two 'pleading eyes' emojis.

Carlo is the son of Robert Agostinelli, a prominent private equity billionaire and former Goldman Sachs banker. His mother is Mathilde Favier-Meyer, the head of public relations at Dior Couture, where Raducanu is a brand ambassador.
Carlo graduated from Stanford University and is also a collegiate soccer player.
Emma Raducanu and Carlo Agostinelli were previously spotted vacationing together in Greece and Mexico City, where the tennis player attended the Dior Cruise show.
---
"Next season I'll be back" - Emma Raducanu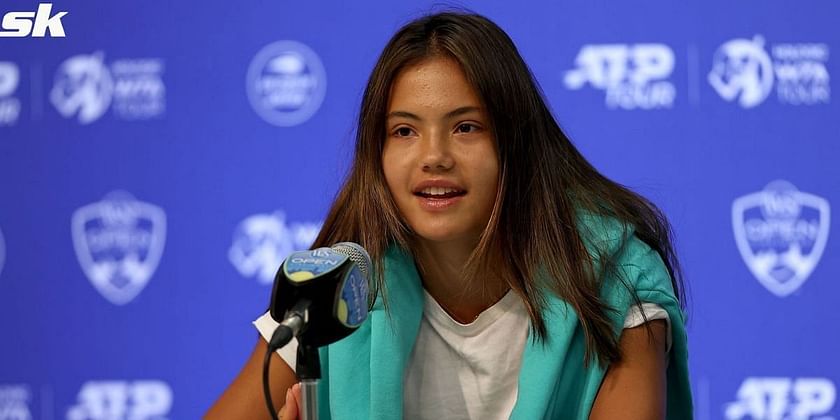 Emma Raducanu recently confirmed that she will return to the court next season.
The 20-year-old, who made history in 2021 by becoming the first qualifier in the Open era to win a Grand Slam title at the US Open, has struggled to maintain her fitness since then. She has undergone multiple surgeries to address her wrist and ankle injuries.
In a recent interview with BBC London, Raducanu said that she is on track to return to competition next year.
"Next season I'll be back," she said.
The Brit's last appearance on the WTA tour was at the Porsche Tennis Grand Prix in Stuttgart in April, where she lost in the first round to Jelena Ostapenko. She has since missed the French Open, the Wimbledon Championships, and the US Open.
"This season all the Slams were finished so it was difficult to watch them go by but I was trying to stay in my lane as much as possible and keep focused on my recovery," Raducanu added.
Emma Raducanu's ranking has dropped to 214th in the world. She has played only 10 matches this season, with a win-loss record of 5-5.