World No. 1 Carlos Alcaraz will face Novak Djokovic in the semifinals of the French Open on Friday.
The Spaniard booked his place in the final four of the claycourt Major with a comprehensive 6-2, 6-1, 7-6(5) win over fifth seed Stefanos Tsitsipas on Tuesday. Novak Djokovic, meanwhile, beat 11th seed Karen Khachanov 4-6, 7-6(0), 6-2, 6-4 to advance to the semis.
In his post-match press conference, Carlos Alcaraz said that he was among the many that were expecting a semifinal fixture between himself and Djokovic ever since the men's singles draw for the French Open was released. Alcaraz also said he would have to beat Djokovic if he wanted to be considered "the best."
"Well, yeah, I would say since the draw came out, everyone was expecting that match, you know, the semifinal against Novak. Myself as well. I really want to play that match. Since last year I really wanted to play again against Novak," Alcaraz said.
"You know, we both are playing a great level, and as I said before, if you want to be the best, you have to beat the best. So I'm really looking for that match. I'm gonna enjoy it. Of course for me, it's amazing to make history, you know, playing a semifinal with such a legend like Novak. So it's going be a great match for me," he added.
Novak Djokovic and Carlos Alcaraz will lock horns for the second time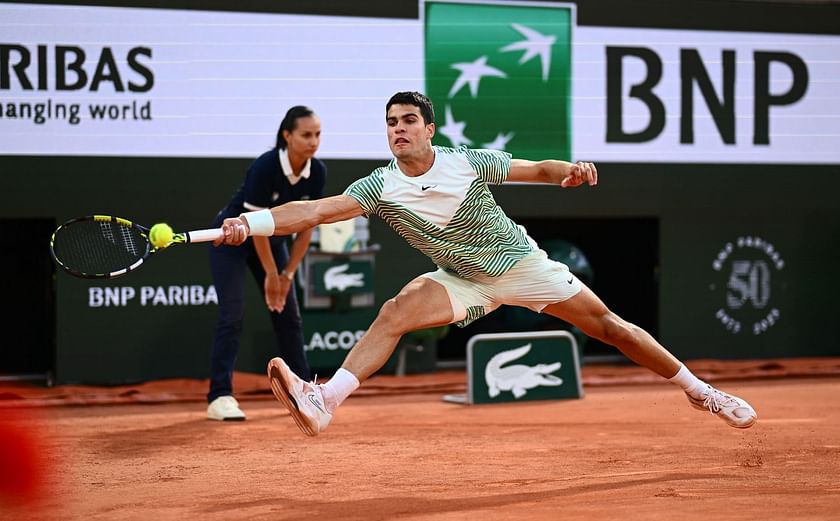 The French Open semifinal between Carlos Alcaraz and Novak Djokovic will be the second meeting between the two. They previously locked horns in the semifinals of last season's Madrid Open, with the Spaniard coming out on top 6-7(5), 7-5, 7-6(5) in a thriller that lasted three hours and 38 minutes.
Alcaraz, however, doesn't feel that that fixture will affect their semifinal clash at Roland Garros.
"I would say the match we played last year doesn't affect too much to this one. You know, it was one year ago. I would say both learned a lot from that match, so it's gonna be totally different, and let's see what happen on Friday," the Spaniard said.
If Alcaraz comes out on top, he will reach his second Grand Slam final. If Djokovic wins, it will be his 34th Major title clash.
Victory for the Spaniard would also be enough to see him stay as the World No. 1.