According to Tim Henman, Carlos Alcaraz certainly enjoyed the carnival-like atmosphere at the French Open.
Top-seeded Carlos Alcaraz cruised through his first-round match at the French Open against Italian Flavio Cobolli, brushing aside the qualifier 6-0 6-2 7-5. The only resistance from Cobolli came in the third set when he took five games off the World No. 1. The plucky Italian even managed to break Alcaraz's serve in the third set.
Alcaraz was quick off the blocks, winning the first eight games on the trot against the hapless Italian, leaving former British No. 1 Henman impressed.
A quarter-finalist in Paris last year, Alcaraz has enjoyed a phenomenal year on clay this season, winning three of his four 2023 titles on the surface. Henman feels Carlos Alcaraz has clearly relished the 'party atmosphere' at his first-round French Open game.
"[He] is just so exciting… it's like a party atmosphere out there, and it seems Alcaraz is the one enjoying that party the most. It's incredible to watch," stated Henman while talking to Eurosport.
According to Henman, Carlos Alcaraz is the obvious favorite, and though it can be unpredictable playing a first-round match, Alcaraz barely put a foot wrong in the game.
"He's a massive favorite, and in the first round, we talk about sometimes how it's a little bit tricky, but he was faultless," Henman added. "For two sets and then up in the third set, he barely put a foot wrong."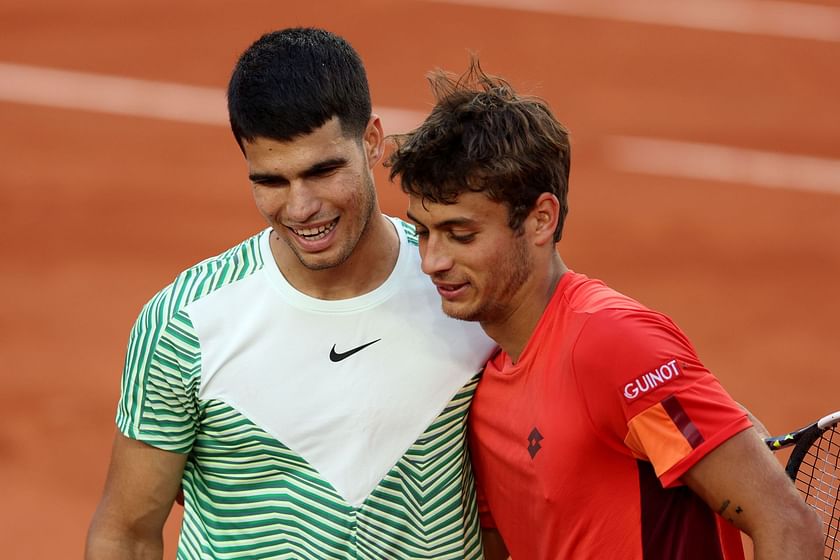 Carlos Alcaraz, Novak Djokovic cruise into second round of French Open
World No. 1 Carlos Alcaraz began his French Open campaign and quest for a second Grand Slam title on Monday, dispatching Italian qualifier Flavio Cobolli 6-0, 6-2, 7-5 in the first round.
Alcaraz, 20, is a top contender for the French Open title. He is also favored to take over the mantle of his Spanish compatriot and 14-time Roland Garros champion Rafael Nadal, who withdrew due to an injured hip.
Next up, Alcaraz faces Japanese Taro Daniel, who eased past Australian Christopher O'Connell 6-0, 6-2, 6-4.
Earlier in the day, Novak Djokovic embarked upon his campaign in what could be a record-breaking 23rd men's Grand Slam singles title with a 6-3, 6-2, 7-6 (1) first-round victory over debutant Aleksandar Kovacevic.
The two-time French Open champion breezed through the first two sets before encountering resistance from Kovacevic, whose lack of experience hampered his game in the third set tiebreak.