American singer and songwriter David Anthony Burke, better known as d4vd, recently expressed his delight upon learning that Coco Gauff was enjoying his songs during SZA's SOS Tour concert at the Kaseya Center in the city of Miami, Florida.
The SOS Tour represents SZA's second concert tour and her initial foray into arenas. This highly anticipated tour aims to promote her latest studio album, SOS (2022).
To start the Miami concert, d4vd graced the stage as the opening act. Gauff took to social media to share a few remarkable moments from d4vd's performance.
"Talented. @d4vddd," Gauff captioned her Instagram story.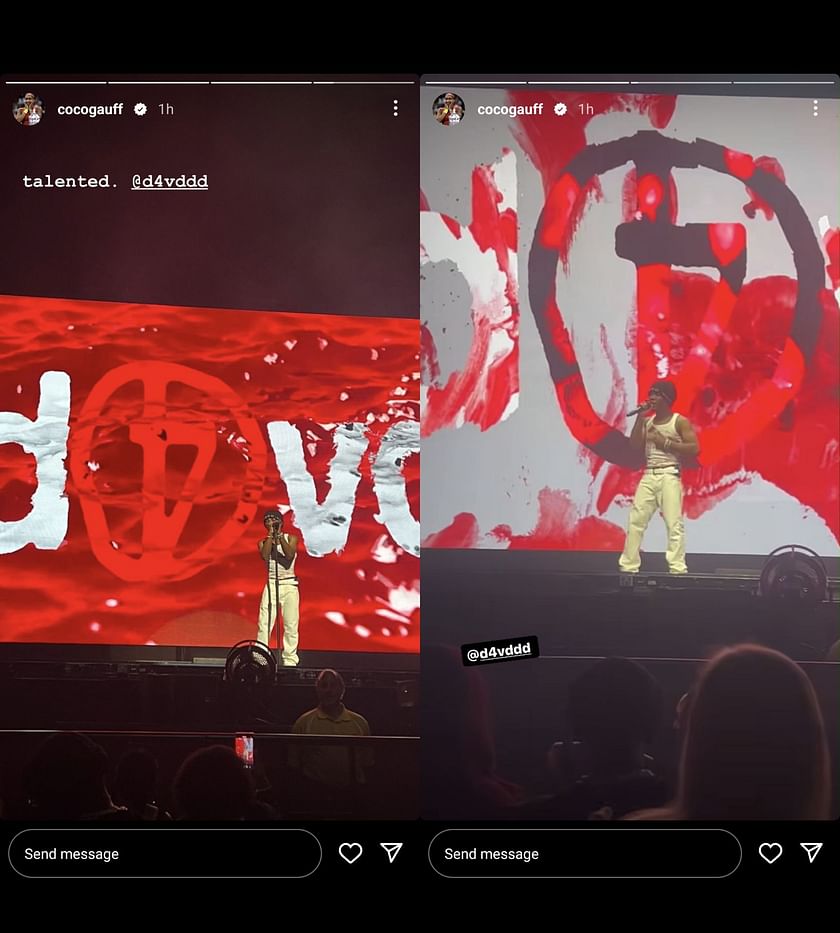 d4vd also re-shared the World No. 3's story dedicated to him, expressing his deep admiration for Coco Gauff.
"COCOOOOOOOOO ILYYYYY," he captioned his Instagram story.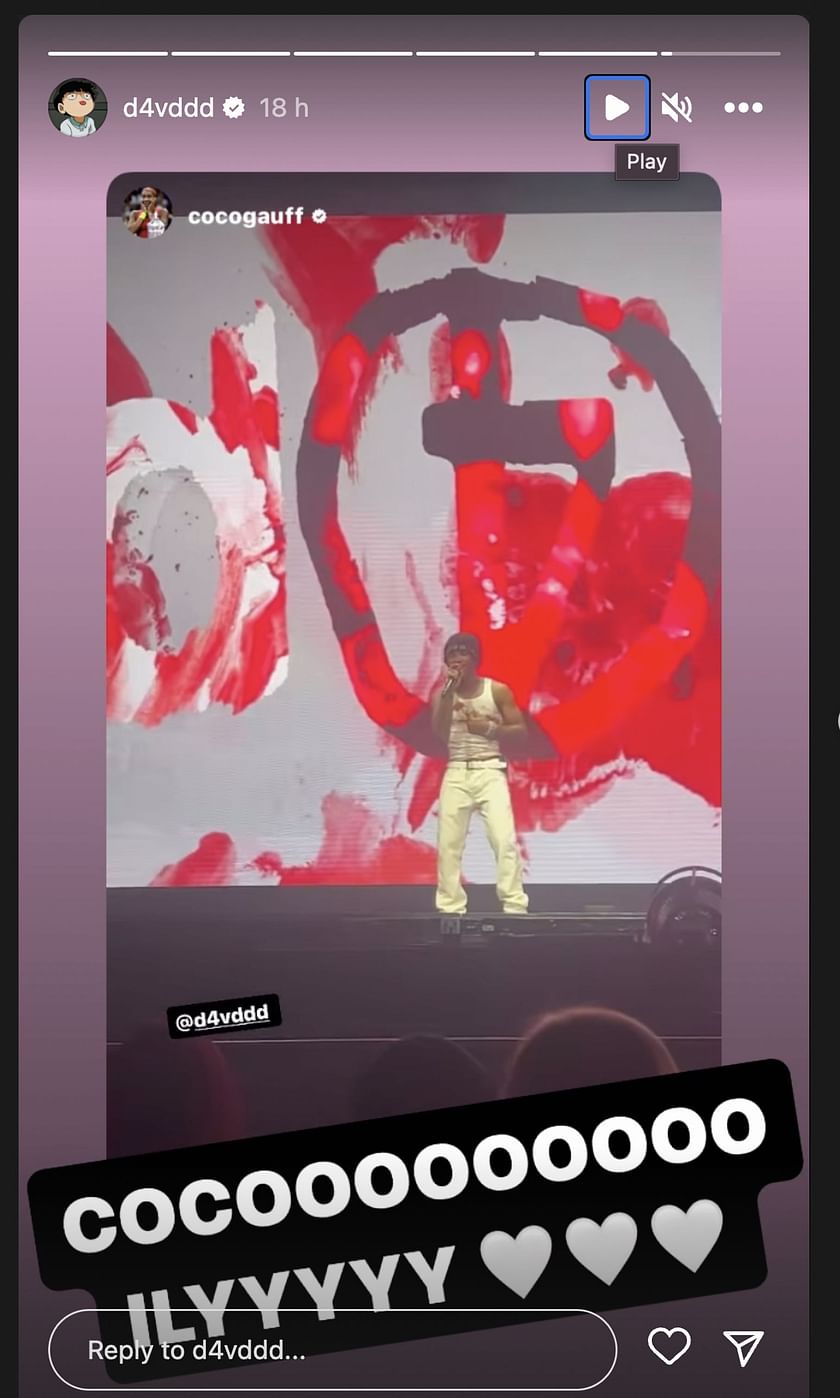 "Coco Gauff was under so much pressure, much like Serena Williams" - Rennae Stubbs revisits youngster's US Open triumph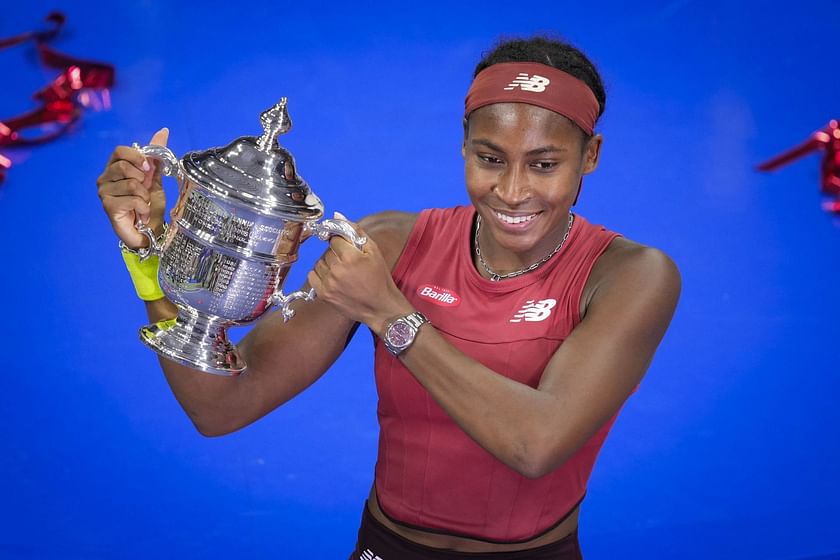 Rennae Stubbs recently gave her thoughts on Coco Gauff's remarkable victory at the 2023 US Open championship match. Stubbs acknowledged the tremendous pressure that the young American had to endure, drawing parallels to the challenges faced by the legendary Serena Williams throughout her illustrious career.
Gauff defeated Aryna Sabalenka 2-6, 6-3, 6-2 in just over two hours on the Arthur Ashe Stadium in the summit clash. By doing so, she became the first American teenager to claim a Grand Slam singles title in the 21st century.
The last American teenager to win the New York Slam was Serena Williams, who accomplished this feat at the 1999 US Open when she was just 17 years old.
During a recent conversation with Racquet Magazine co-founder Caitlin Thompson, Rennae Stubbs expressed her deep admiration for Coco Gauff's remarkable US Open triumph.
Stubbs wholeheartedly acknowledged the immense pressure that Gauff had to confront right from the beginning of the tournament and also stated that it was similar to what Serena Williams encountered during her playing days.
"She [Coco Gauff] was under so much pressure from the very beginning of this tournament, very much like Serena [Williams], in a little bit different ways everybody thinks Serena was supposed to win everything," Stubbs said in a recent episode of 'The Rennae Stubbs Tennis Podcast.'
"But the fact that Coco had for the first time real pressure on her shoulders to actually came out and won the tournament."
Stubbs also mentioned that Gauff experienced some shaky moments during her US Open campaign, but such occurrences are to be expected. She emphasized that Brad Gilbert, the coach of the World No. 3, played a significant role in the youngster's victory by greatly improving her forehand and backhand skills.
"She [Gauff] had some whoopsie-daisies every now and again in the matches but that's going to happen, that's just technique wise she's going to have those moments. The fact that I think Brad has helped her win ugly in some respects by getting a forehand into court and using her speed and her backhand is so good," Rennae Stubbs added.