Boris Becker has congratulated Daniil Medvedev on his latest Italian Open 2023 title victory.
On Sunday, May 21, Daniil Medvedev outclassed Holger Rune in straight sets (7-5, 7-5) in the final of the Italian Open. In doing so, Medvedev, who is a self-proclaimed hardcourt specialist and has listed clay as his least favorite surface, lifted his maiden trophy on red dirt.
The Russian's victory stunned the tennis world, as he was rightfully the underdog at the Masters 1000 event, having failed to score a single win in all his previous appearances in Rome.
Tennis legend Boris Becker was present at Foro Italico to witness the title clash on Sunday. He was impressed by Daniil Medvedev's clay breakthrough and congratulated him on his success by calling him the "Emperor of Rome."
"Congratulations to the Emperor of Rome," Boris Becker wrote on his social media.
Becker had previously revealed that he enjoys Daniil Medvedev's personality after the Russian celebrated his Italian Open semifinals victory over Stefanos Tsitsipas with peculiar dance moves.
"Like his personality!!!" he had said.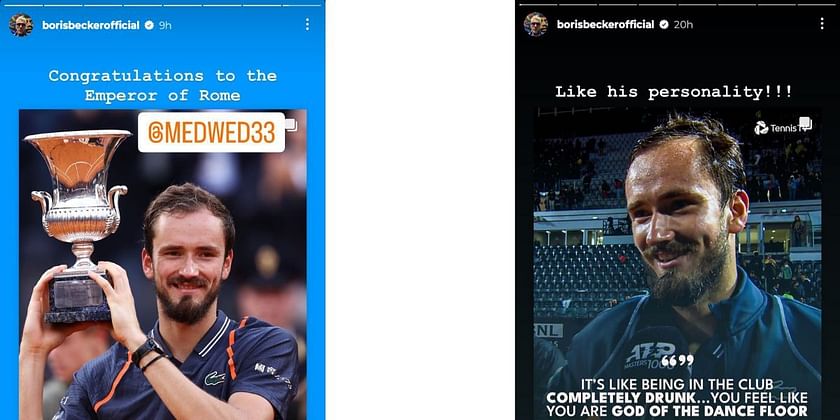 ---
"Wow, that must be the toughest draw I have ever seen" – Daniil Medvedev on his hard-fought Italian Open campaign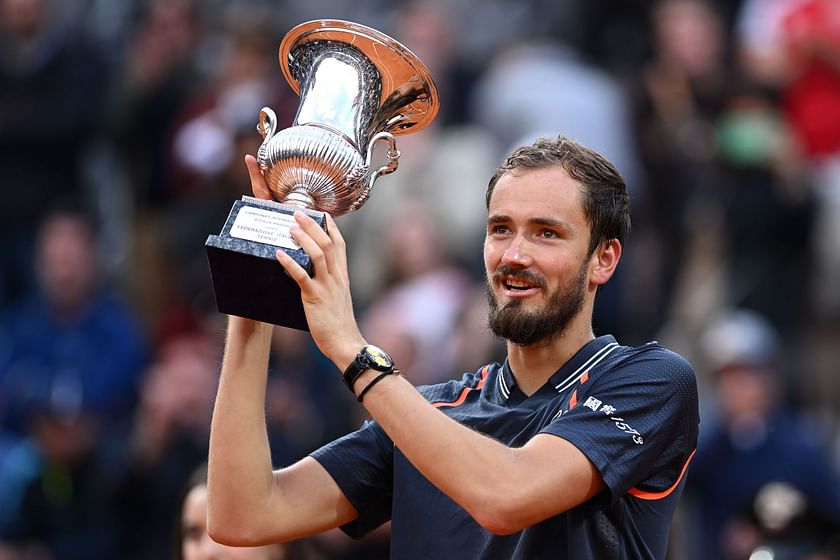 Daniil Medvedev clinched his fifth title of the season at the 2023 Italian Open. Although the former World No. 1 has had an excellent win rate this season, with trophies in Rotterdam, Qatar, Dubai and Miami, he was not expected to make a deep run in Rome.
Added to that, Medvedev confessed that he believed his chances were bleak after being handed a tough draw.
"When I saw my draw here, I think I was in the car, was it in Madrid or already here in Rome, I was with my wife, maybe one other tennis player or a friend, and I was looking at my draw. I was like, Wow, that must be the toughest draw I have ever seen for me." Medvedev said in his post-match press conference.
The 2021 US Open champion's Italian Open campaign included victories over Emil Ruusuvuori, Bernabe Zapata Miralles and Yannick Hanfmann, but more notably over claycourt experts Alexander Zverev, Stefanos Tsitsipas and Holger Rune.
Owing to his latest Masters 1000 title, the 27-year-old is now one spot away from reclaiming his World No. 1 ranking. Medvedev expressed that he is relieved to be entering the 2023 French Open ranked World No. 2.
"If I would be No. 3, I would definitely play one of Alcaraz or Novak if I am in the semifinal. You definitely have one of them in your draw. I guess it's better to be No. 2 and get the chance. Carlos and I don't play for sure before the final, and Novak maybe 50% chance he's not in your draw," the Russian said about his good fortune at the upcoming claycourt Major.