Elena Rybakina said after her Australian Open final loss to Aryna Sabalenka on Saturday (January 28) that things won't feel different for her next week when she breaks into the top ten.
In a high-quality title match on Rod Laver Arena, the reigning Wimbledon champion made a brisk start, pocketing the opening set for the loss of four games. However, Sabalenka - playing her first Grand Slam final - came storming back, conceding three games to restore parity.
A keenly fought third set saw Sabalenka engineer a late break. The fifth seed held off a late charge from Rybakina, converting her fourth championship point to end the near 2.5-hour contest and become the newest women's singles Grand Slam winner.
Thanks to her run to the final, Rybakina will break into the top ten next week, something she would have done last year after winning Wimbledon had the Championships carried ranking points.
The Kazakh said in her post-match press conference on Saturday that the rankings don't mean much for her, except being seeded at tournaments:
"I don't think tomorrow I'm going to feel different just because of the ranking now. But, I mean, for sure it's going to be different on the smaller tournaments, I would say. I'm going to be seeded. Maybe in some tournaments I'm not going to play first round. So of course there is some benefits out of this. But for sure I don't really look for the numbers ranking so much."
About her inability to step up in the second set after taking the opener, Rybakina credited her opponent while also lamenting her lack of aggression, saying:
"I think Aryna raise her level in the second set. She played really well, aggressive, a bit less mistakes. I should have been also more aggressive in some moments."
Rybakina is set to debut in the top ten at #10 next week, while Sabalenka will move up to #2.
---
"That's the goal, to be in the second week of Grand Slam, to play finals" - Elena Rybakina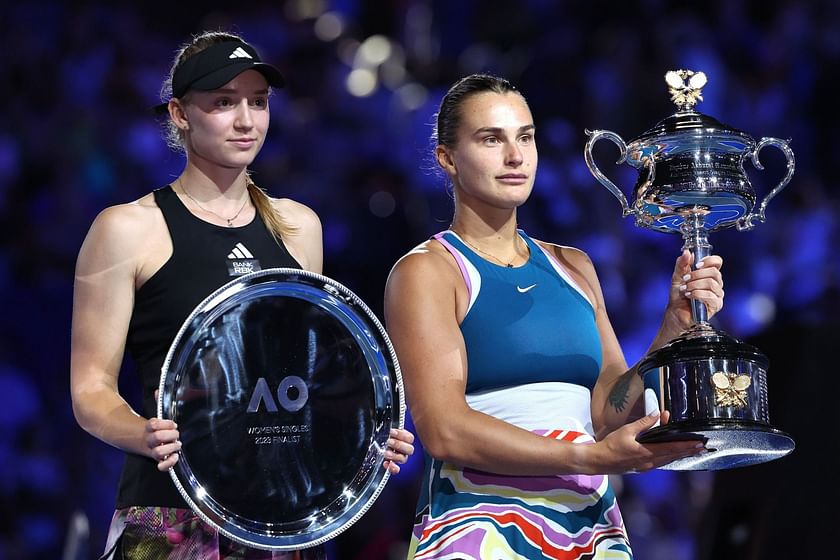 Elena Rybakina hopes that her run to the Australian Open final would be a portend of good things to come. She wishes to consistently feature at the business end of Grand Slams and play finals, thanks to her renewed confidence, saying:
"That's the goal, to be in the second week of all the Grand Slam, to play finals. Yeah, I mean, now I have more confidence of course even after this final. Yeah, I just need to work hard, same as I did during pre-season and actually throughout the years, be healthy, and for sure the results are going to come."
She added after falling short in the Australian Open final:
"It's just confidence to go forward, to keep on working. Yeah, I feel now good physically also. I know if I'm going to keep on working, the results are going to be."
Elena Rybakina is now 7-3 on the season.