Roger Federer made his return to the Laver Cup on Friday (September 22), receiving a standing ovation from the crowd in Vancouver, Canada. During the event, the Swiss maestro sat down for an on-court interview with Jim Courier, where he was asked a question from a familiar face.
Coincidentally, Courier was the one that had conducted Federer's farewell interview at the Laver Cup last year following his retirement, in what was a very emotional moment for not only the Swiss but the entire tennis universe as well. This time around, however, their interview marked a special occasion, as the 42-year-old hasn't been in the news much in 2023.
Roger Federer was soon informed during the segment that a fan had an important question for him. This fan turned out to be Rafael Nadal, who appeared on the big screen in Vancouver to a rapturous applause from the crowd.
The 20-time Major winner himself couldn't contain his laughter at the Spaniard's appearance. The 37-year-old shared his pleasantries with his good friend, before asking him who his favorite doubles partner was with a rather flirty wink.
The Swiss had a rather cheeky reply to Nadal. He claimed that his wife Mirka, who had teamed up with him during her career as a pro, was his favorite doubles partner until his Laver Cup stint with Rafael Nadal.
"I mean, I thought it was my wife until this guy showed up. So yeah, yeah, Rafa can have it. Last year was on an another level special, so yeah," he said while smiling.
Roger Federer teamed up with Rafael Nadal in his last-ever outing on a tennis court at Laver Cup 2022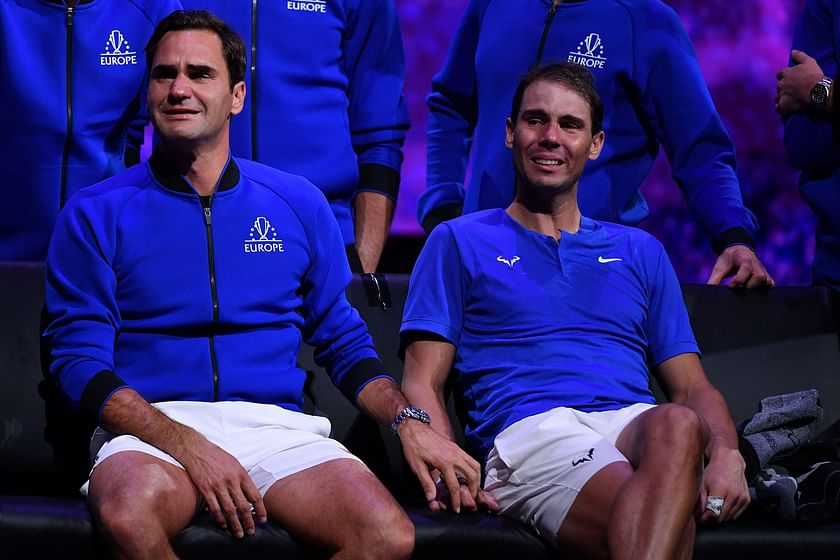 Roger Federer retired in 2022 due to a chronic knee injury. The Swiss maestro had undergone a double arthroscopic surgery to address the issue, before making his comeback to tennis in 2021. The Fed Express' return, however, was short-lived, as he soon realized that his best days were behind him.
He subsequently decided to play his final match on Day 1 of the 2022 Laver Cup, partnering Rafael Nadal against Team World's Frances Tiafoe and Jack Sock in a marquee doubles match. The Swiss subsequently displayed his delectable chops as he entertained fans in a three-set affair, which he and Nadal lost 4-6, 7-6, [11-9].
An emotional Federer was then honored in an on-court ceremony following the match, reducing most of his fans and colleagues to tears. He was admittedly elated at how his 24-year-long career came to a close back then, as he said:
"We'll get through this somehow, will we? Right? I'm happy, I'm not sad. It feels great to be here and I enjoyed tying my shoes one more time. Everything was the last time. The match was great, I couldn't be happier. It's been wonderful."
Edited by Sudeshna Banerjee