Aryna Sabalenka did a Rafael Nadal by taking a bite at the Australian Open trophy after beating Elena Rybakina in the final on Saturday (January 28) to win her first Grand Slam title.
In one of the best women's singles finals at Melbourne Park in recent years, Sabalenka and Rybakina provided a thrilling high-quality contest. After the Wimbledon champion edged the opener, Sabalenka restored parity.
The fifth seed rode a lone break in the decider before surving a late onslaught from Rybakina, converting her fourth championship point to join the pantheon of Grand Slam champions.
Sabalenka did a Nadal by biting on the trophy during the presentation ceremony as she celebrated her first Grand Slam title.
The unmissable celebration elicited a response from Bianca Andreescu, who commended Aryna Sabalenka for the win and also joked that 'no sugar' might have helped. The Belarusian saw the funny side of things, responding with a few emojis:
"Ahahaha Imagine how much I'm going to eat right now?"
The win over Rybakina was Sabalenka's fourth in as many meetings, with all four matches going the distance. With her first Grand Slam title, the Belarusian will return to her career-best ranking of World No. 2, while Rybakina will make her top-ten debut at #10.
---
"I'm super happy that I was able to handle all those emotions and win this one" - Aryna Sabalenka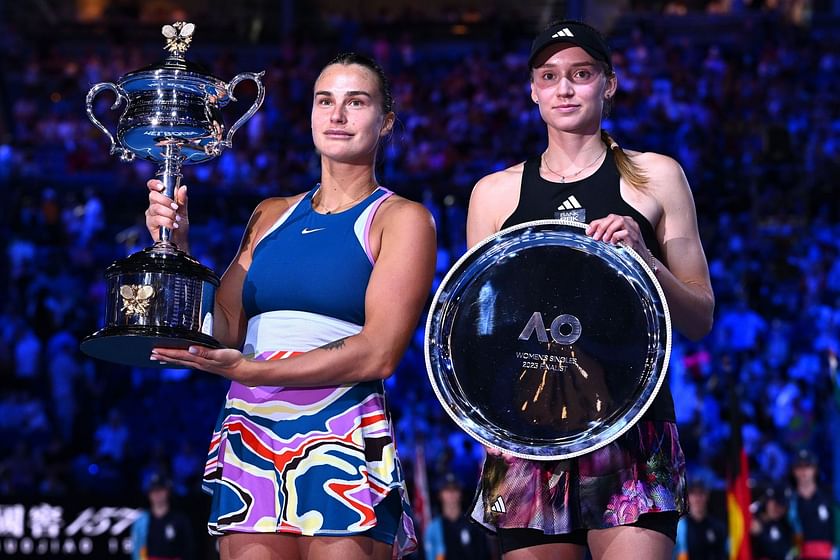 Aryna Sabalenka went through a gamut of emotions during her thrilling win over Rybakina, as she had to earn the victory the hard way.
Down a set in her first Major final, Sabalenka could have been overwhelmed by the occasion against an opponent who stood on the winner's podium at Wimbledon last year.
To her credit, though, the 24-year-old regrouped to work her way back into the contest before edging a close third to earn the biggest win of her career.
An ecstatic Sabalenka commended her team in her post-match press conference.
"I'm super happy that I was able to handle all those emotions and win this one. "I'm still shaking and super nervous. My team -- the craziest team on tour, I would say. We've been through a lot of ups and downs the last year. We worked so hard. You guys deserve this trophy, it's more about you than me," she said.
Aryna Sabalenka is the 29th different player to win the women's singles title at the Australian Open in the Open Era.