A day after winning the Australian Open on Sunday (January 28), Aryna Sabalenka dazzled in a glamorous photoshoot along the Yarra River in Melbourne.
Playing her first Grand Slam final, Sabalenka made a slow start against reigning Wimbledon champion Elena Rybakina, finding herself a set down. To her credit, though, the fifth seed clawed her way back into the contest to restore parity.
In a competitive third set much like the rest of the match, Sabalenka went up a late break. She then withstood a furious fightback from Rybakina in the decider, seeing three championship points come and go in the tenth game before serving out the biggest win of her career. The 24-year-old is the 59th different player to win a women's singles Grand Slam in the Open Era and the 29th different champion at Melbourne Park.
Following her win, Sabalenka wore a gorgeous pink dress at her photoshoot along the scenic Yarra river, with champagne flowing freely and the Australian Open trophy glistening brightly under the Melbourne sun.
Here are the pictures from her photoshoot on Sunday:
With her win, Sabalenka will return to her career-best ranking of World No. 2 on Monday, while Rybakina will break into the top ten (at #10) for the first time.
---
"I'm super happy" - Aryna Sabalenka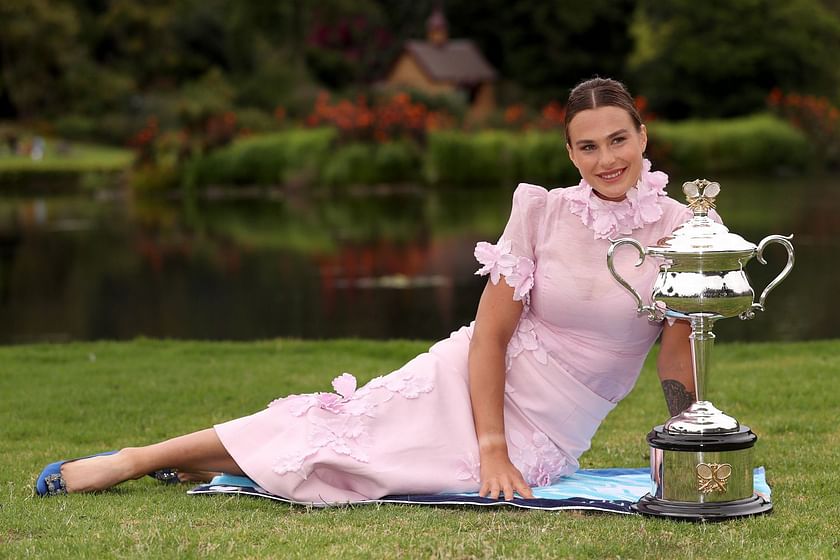 Aryna Sabalenka and Elena Rybakina provided one of the best ladies' singles finals in recent memory on Saturday.
Rybakina drew first blood, pocketing the opening set, but Sabalenka recovered well to force a decider, where she converted her fourth championship point to end the 148-minute gladiatorial battle.
Sabalenka admitted to feeling nervous after the eventful last game of the match, while also thanking her team for her success.
"I'm super happy that I was able to handle all those emotions and win this one. I'm still shaking and super nervous. My team -- the craziest team on tour, I would say. We've been through a lot of ups and downs the last year. We worked so hard. You guys deserve this trophy, it's more about you than me," she said.
The Belarusian also commended Rybakina for providing a stern challenge during the final.
"I would say that not many girls can put me really under the pressure. Against her, it's not easy because she has a great serve and she plays really aggressive. Her ball is coming very heavy. There is maybe few girls who plays like this," she said.
Aryna Sabalenka is now 11-0 on the year.
Edited by Siddharth Dhananjay