Belarusian tennis player Aryna Sabalenka, who is bidding to win her maiden singles Grand Slam title at the 2023 Australian Open, recently discussed the political tensions that have been on the rise since Russia's invasion of Ukraine in February last year.
During the post-match press conference, Sabalenka, who beat Croatia's Donna Vekic 6-3, 6-2 in the quarterfinals, was asked if the war and the discussions surrounding it in the media have affected her game in the big tournaments.
The 24-year-old answered int he affirmative, stating that it continues to affect her every day. However, the Belarusian has changed her perspective, understanding that it is neither in her control nor her fault.
"Well, I would say that of course it affect me a lot. There was tough and it's still tough. But I just understand that it's not my fault. Like, I have zero control. If I could do something, of course I would do it, but I cannot do anything," Sabalenka said. "Just have this understanding really helping me to stay strong."
The 24-year-old was also asked if she dreamt of an all-Belarusian final at Melbourne Park, since her compatriot Victoria Azarenka has also reached the semifinals. Azarenka will have to down reigning Wimbledon champ Elena Rybakina to reach the summit clash.
Sabalenka admitted that she would very much like for it to happen, adding that she will do everything she can to ensure that she is in a position to meet Azarenka on Saturday and make history.
"I really want it to happen. I know that Vika (Azarenka) will do everything she can to make it happens. I will do everything I can to make it happens. That's, yeah, going to be history. That's going to be just like unbelievable and tough to realize that this is actually happens." she said.
"It was so great to play here" - Aryna Sabalenka on making her first Australian Open semifinal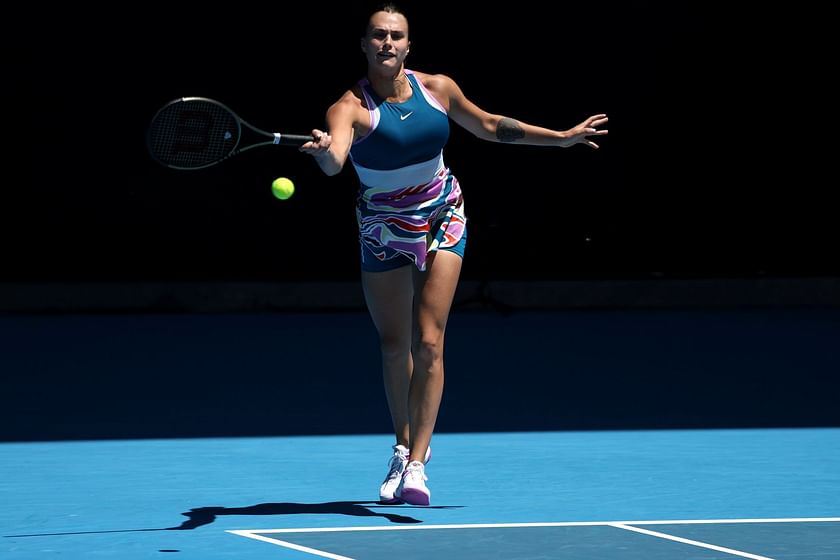 Aryna Sabalenka defeated Donna Vekic 6-3, 6-2 in the quarterfinals on Wednesday, reaching her first Australian Open semifinal. She had previously made it to the 2021 Wimbledon and US Open semifinals, followed by another semifinal appearance at last year's US Open.
During her on-court interview, when she was asked how she felt after the win, she said:
"I am super happy with the win and it was so great to play here and the atosphere was unbelivable, thank you so much guys."
Sabalenka had played Vekic 6 times before Wednesday and Vekic was leading the head-to-head 5-1. When asked if she knew the statistic beforehand, the Belarusian joked about how it was good that she did not know about it going into the clash.
"Its really good I didn't know that. I mean I knew, I remeber last few matches that she won, good that I didn't think about 1-5 down, now its 2-5 so three more to go." she chuckled.
Aryna Sabalenka now faces Polish player Magda Linette in the semifinal match on Thursday (26 January).