Tennis journalist Steve Flink has heaped praise on Novak Djokovic for his performance in the Australian Open final against Stefanos Tsitsipas on Sunday (January 29).
Djokovic produced some brilliant tennis to beat the Greek 6-3, 7-6(4), 7-6(5) and win his tenth title at Melbourne Park and a record-equalling 22nd Grand Slam title. The win also saw the Serb dethrone Carlos Alcaraz at World No. 1.
While speaking on the Court-Side with Beilinson Tennis podcast, Flink spoke about Djokovic's winner on match point and heaped praise on the 35-year-old for measuring the shot well. He also called the Serb a great match player:
"At 6-5 in the tiebreak in the third set, they're having what looks like a pretty neutral rally. Novak steps around and hits a forehand very near the sideline but beautifully controlled, not dangerous. He kept it fairly low and had Tsitsipas on the stretch, and Stefanos missed a forehand cross-court, the match was over."
He continued:
"So he knows how close to the lines, he knows how to measure his shots and even on that one, he didn't try to hit it that hard, but his placement was perfect, and it's uncanny what a great match player Djokovic is."
Djokovic is now 12-0 on the year and has won his last 28 matches at the Australian Open.
---
"I wasn't really liking my chance in this tournament"- Novak Djokovic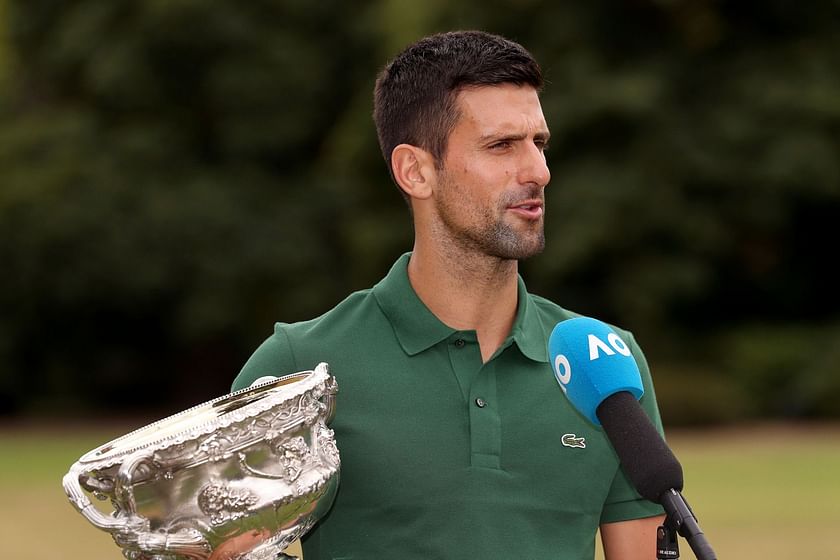 In his post-match press conference after beating Tsitsipas, Novak Djokovic said that he didn't like his chances of winning the tournament due to his troublesome leg. The Serb, though, added that the extra day between matches helped him recover and be in good shape:
"If I turn back the time two and a half weeks ago, I wasn't really liking my chance in this tournament with the way I felt with my leg. Then it was just a matter of survival of every single match, trying to take it to the next round."
He added:
"The good thing about the Grand Slam here is that you have a day between the matches, so it allowed me to have more time than normally in some other tournaments to recover, to try to do all the treatments in order to get myself in somewhat of a good state and condition to play and eventually win," he added.
Djokovic said that his leg didn't bother him from the fourth round onwards and that his movement was much better:
"From the fourth round onwards, I feel the leg was not bothering me as much. I felt my movement was much better. I played some of my best tennis, honestly, in Australian Open. The fourth round, quarterfinal, semifinals, just really comfortable on the court, hitting the ball great."
Novak Djokovic dropped his only set of the fortnight in the second round, in a dominant title triumph.