Named after Michael Jordan and having the example of his good friend Frances Tiafoe's recent run, there is a lot to be inspired by for American tennis star Michael Mmoh.
Considered to be among the most talented players in the country since his junior days, Mmoh aims to use that inspiration to join the likes of Frances Tiafoe and Taylor Fritz among the biggest names in world tennis.
The American youngster, who once clocked a serve in the 130 mph range as a 13-year-old, was among the young talents identified by none other than the legendary coach Nick Bollettieri. Now seeing some of his peers making it big at some of the biggest tournaments in 2022, Mmoh too wants to cement his name among the best.
Among his fellow Americans' big successes, Frances Tiafoe's run to the US Open semi-final, which included a win against 22-time Grand Slam champion Rafael Nadal, has been huge even for Mmoh.
"You know, definitely when I see Frances get to the semis of the US Open, he's one of my closest friends, like that definitely inspires me," Michael Mmoh said in response to Sportskeeda, during a press conference at the ongoing Tata Open Maharashtra.
The 24-year-old admitted that his strong run of form towards the end of the 2022 season, during which he won two titles on the Challenger Tour, has quite a bit to do with Tiafoe's career-best performance.
He now aims to build on the momentum and emulate the success of Tiafoe, Fritz, and others.
"And right after he got to the semis, I kind of went on a roll. So I feel like part of that is due to, you know, just me being motivated by some of his success. So, you know, hopefully I can keep that going and continue to close the gap."
Michael Mmoh opens up on his camaraderie with likes of Frances Tiafoe and Taylor Fritz, reveals the 'Michael Jordan' connection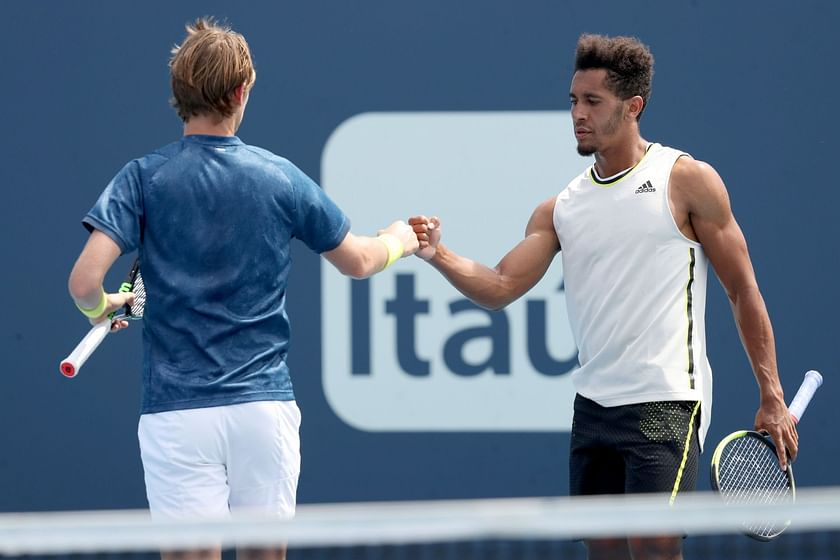 Michael Mmoh also threw light on his camaraderie with the likes of Frances Tiafoe, Taylor Fritz, and Tommy Paul, ever since they first met at the beginning of their respective tennis careers. Mmoh expressed that there always existed a healthy sense of competition between him and his peers, which is the case even today.
"I grew up with all those guys, Frances (Tiafoe), Taylor (Fritz), Tommy (Paul), and, you know, we were all you know, neck and neck. Even when we first got on tour, we were neck and neck," Mmoh said on the same.
The World No. 113 also touched upon the fact that he was named 'Michael' after Michael Jordan. Mmoh has his father Tony, a former Top-110 singles player himself, to thank for that special connection with the legendary Jordan.
"My dad was a huge Jordan fan. He would wake up at like four in the morning every night, because he used to live in Saudi Arabia. So the games are on late and he would wake up in the morning every day to watch Michael and then he called me after Michael," Mmoh revealed on the origin of his name.
Mmoh's bid to close the gap on Frances Tiafoe, Taylor Fritz, and others in 2023 will begin with the 2023 Tata Open Maharashtra. His campaign got off to an ideal start on Monday with a win against 15-year-old Indian player Manas Dhamne. Mmoh will next face Filip Krajinovic in the round of 16 on Wednesday.