Daniil Medvedev's victory dance following his win over Stefanos Tsitsipas at the 2023 Italian Open semifinal has sparked some amused reactions from tennis fans.
Medvedev overcame a lengthy rain delay on Saturday to defeat Tsitsipas 7-5, 7-5 and advance to his first claycourt final since the Barcelona Open in 2019. The Russian was clinical in the match, converting each of his four break points and striking down 18 winners to notch up his eighth victory over Tsitsipas.
Medvedev celebrated his win with a hilarious victory dance, seemingly mocking the Greek's victory dance from their clash in the 2022 Cincinnati Open semifinal.
Several fans were entertained by the pair continuing their historically contentious rivalry on tour.
"The absolute schoolyard contempt Medvedev and Tsitsipas have for each other is glorious. If Medvedev beats Rune in the Italian Open final tonight, he bumps off Djokovic to be No. 2 in the world and, presumably, No 2 seed in Paris," one fan tweeted.
"The Tsitsi Shuffle vs. the MeddyTwist. Oh this rivalry is gonna be good for a long time," another fan chimed in.
"I agree, it's the most hilarious feud in tennis as they are so childish. Stef has the moves for me although Meddy's bottom jiggle could potentially trigger a new dance craze," one user commented.
One fan joked that Medvedev and Tsitsipas should take inspiration from the musical West Side Story and settle their rivalry with a dance-off.
"They should settle their rivalry just like in West Side Story and have a dance off," the fan joked.
Serena Williams' former coach Rennae Stubbs also chimed in to say that a tennis player never forgets a slight against them.
"Lol! A tennis player NEVER forgets!!!," she tweeted.
Here are some more fan reactions to Medvedev's victory dance:
"It's like being in the club completely drunk" - Daniil Medvedev on his victory dance following Italian Open SF victory over Stefanos Tsitsipas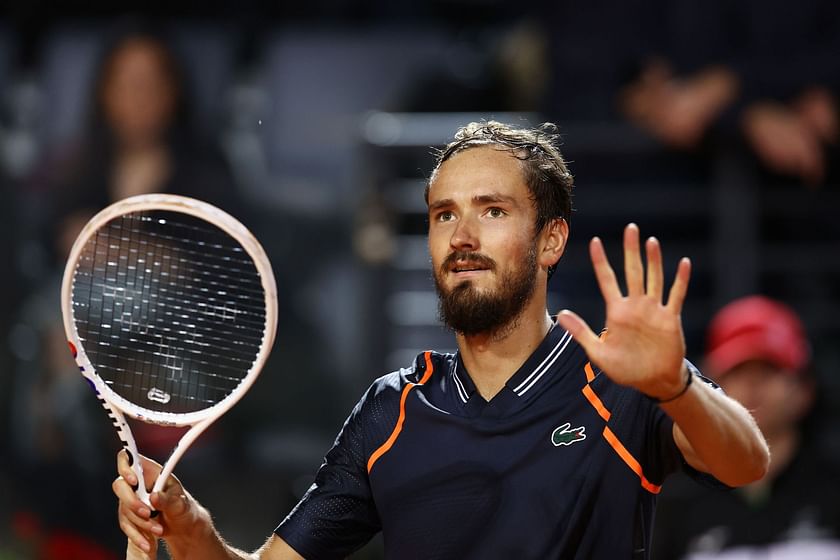 Daniil Medvedev jokingly compared his victory dance to being "completely drunk" in a club, where one feels like the "God of the dance floor." Medvedev said in his post-match interview:
"I did it once in the US Open, that was famous. I like the gif so let's see what comes out with this one. Because when you do it, it's like being in the club completely drunk. When you're dancing and I have a lot of friends like this, you feel like you're the God of the dance floor."
He added:
"But when they show you the video, you know, it was not the thing. So I don't know how did it go but I was just happy to be in my first clay Masters final and looking forward for tomorrow."
Medvedev will take on Holger Rune in the Italian Open final on Sunday, May 21. This will mark the pair's second meeting in the 2023 claycourt season; Rune defeated the Russian 6-3, 6-4 in the Monte-Carlo Masters quarterfinals.