Novak Djokovic's win in the third round of the 2023 French Open means that he has now surpassed Rafael Nadal as the male player with the second-highest win percentage at Grand Slams in the Open Era.
Djokovic defeated Spain's Alejandro Davidovich Fokina in the third round of the French Open 7-6 (4), 7-6 (5), 6-2. The win took the Serb to a 344-47 (87.98%) win-loss record at Grand Slams.
Djokovic is only bettered by Swedish great Bjorn Borg, who had a 141-17 (89.24%) record. Rafael Nadal is now third on the list, with a Grand Slam win-loss ratio of 314-43 (87.96%). Roger Federer occupies the fourth spot at 86.01%, while Australian legend Rod Laver is fifth at 85.71%.
Djokovic is also second on the list of male players with the most matches played in Grand Slams (391) and the most wins in Grand Slams (344). Roger Federer tops both these lists with 429 matches played and 369 matches won at Grand Slams.
Djokovic is now on the hunt for his 23rd Grand Slam title, which would make him the male player with the most Major titles in the Open Era. The World No. 3 is currently tied with Rafael Nadal on that list.
Novak Djokovic gets bananas, dates and water from Serbian journalist after 3R win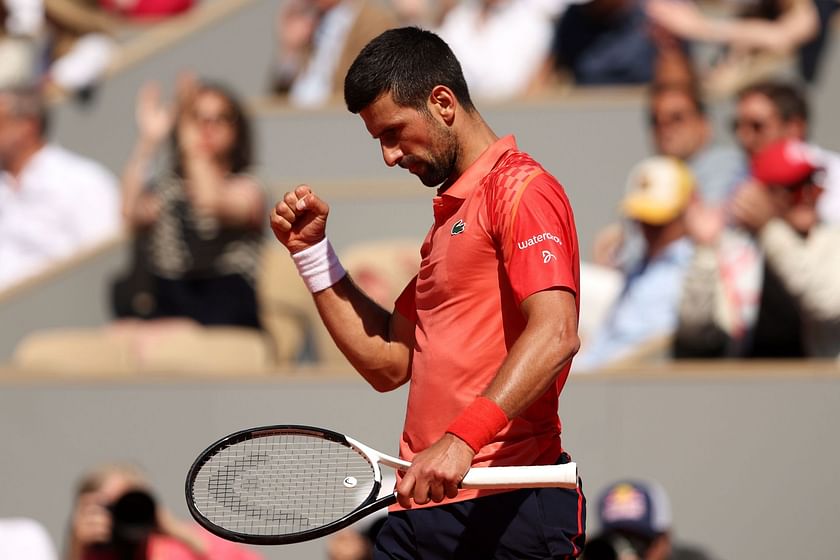 Novak Djokovic's third-round win against Alejandro Davidovich Fokina at the 2023 French Open was his longest-ever straight-sets win at a Grand Slam, lasting a total of three hours and 36 minutes.
In his post-match press conference, Djokovic was offered bananas, dates, water, and a magnet by Serbian journalists to help him recover ahead of his fourth-round match.
Djokovic had previously stated that his team had failed to comprehend his request for water, dates and bananas during his second-round match against Marton Fucsovics, leaving him with only magnets on his body. The Serbian journalists, therefore, decided to surprise the 22-time Grand Slam Champion with all the items that he mentioned.
Djokovic seemingly enjoyed the gag, even posing for photos with his gifts. He next faces Juan Pablo Varillas of Peru in the fourth round of the 2023 French Open on Sunday, June 3.
What is the foot injury that has troubled Rafael Nadal over the years? Check here
Edited by Siddharth Dhananjay