World No. 1 Novak Djokovic has called on his fans to join an all-week challenge to celebrate his 400 weeks as the World No. 1 in the ATP rankings. The Serbian defeated Italy's Jannik Sinner 6-3, 6-3 on Sunday to clinch his seventh ATP Finals title in Turin.
On Monday, 20 November, Djokovic replied to a tweet poll he posted on Wednesday, 15 November, asking his fans which challenge they should do together to celebrate 400 weeks as World No. 1. The X (formerly Twitter) poll included options such as a 400m run, 400 bounces on the racket, 400 keepie-uppies, or 400 jump ropes. By the end of the poll, 31% of the fans voted for 400 keepie-uppies, winning the poll.
Djokovic replied to his tweet in a hilarious manner and asked his fans to participate in an all-week challenge. He stated that they could engage in any of the physical challenges he mentioned in the earlier tweet or find any other fun way to celebrate the historic feat, using the #Nole400 tag.
Ok so let's do it all yes? Starting today all week post any of these physical challenges tagging #Nole400 or anything that's fun for you to celebrate.. drawings, dances, donations… can't wait to see idemooooooo," Novak Djokovic tweeted
The 24-time Grand Slam champion first achieved the World No. 1 ranking in July 2011 and has since held the year-end world No. 1 position a record eight times.
---
Novak Djokovic's 2023 ATP Finals triumph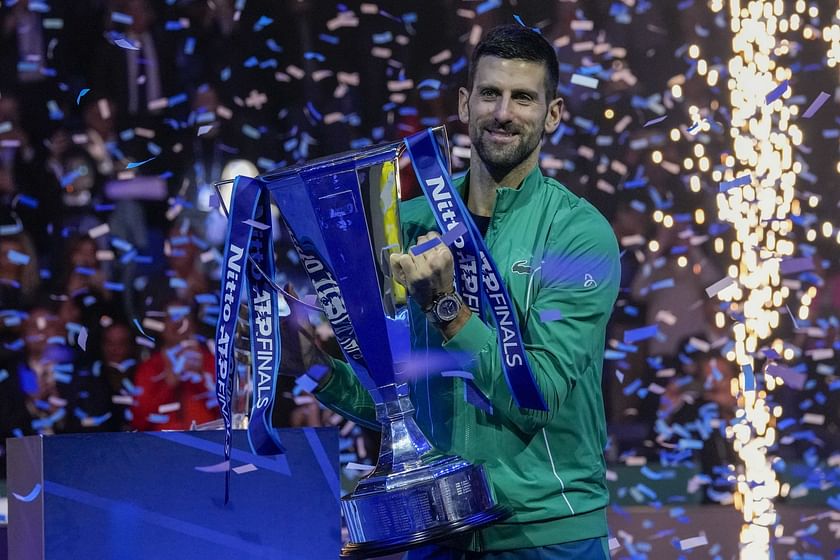 The 2023 season has been a great one for Djokovic. The Serb has won 7 ATP titles, including the Australian Open, French Open, US Open, Western & Southern Open, Paris Masters, Adelaide International 1, and recently, the Nitto ATP Finals.
At the Nitto ATP Finals, Danish tennis star Holger Rune was Djokovic's first opponent in the group stage, and he won the game 7-6(4), 6-7(1), 6-3. In the second group stage match, Djokovic faced world No. 4 Jannik Sinner but was defeated 7-5, 6-7(5), 7-6(2). Djokovic bounced back from the defeat and triumphed over Hubert Hurkacz 7-6(1), 4-6, 6-1 in the next match to qualify for the last four.
His opponent in the semi-final was Spanish tennis star and current World No. 2 Carlos Alcaraz. It was the fourth time the duo were meeting each other this year and their second semi-final face-off. Novak Djokovic won the game 6-3, 6-2. With Djokovic's win over the 20-year-old, he now leads their head-to-head 3-2.
The final of the Nitto ATP Finals was a rematch of the second group stage match between Djokovic and Sinner. The match ended 6-3, 6-3 in favor of Djokovic. Novak Djokovic now has a record 7 ATP Finals titles, surpassing Roger Federer with six titles.