Novak Djokovic claimed that winning the Calendar Slam (claiming all of the four Majors in the year) won't be too far away if he wins Sunday's French Open final.
The Serb booked his place in the title clash of the clay-court Major with a 6-3, 5-7, 6-1, 6-1 win over Carlos Alcaraz in the semifinals on Friday. The Spaniard struggled with a hamstring injury after the second set.
After the match, Djokovic, who already won this year's Australian Open, was asked if winning the Calendar Slam was on his mind. The Serb said that the feat would not be too far if he came out on top in Sunday's final. He also claimed that he was more focused on winning another Grand Slam than completing the Calendar Slam.
"Calendar slam is really far. But maybe it won't be that far if I win on Sunday. But let's see. You know, I'm not thinking about calendar slam. I'm thinking really just to win another Grand Slam title here on Sunday, and I'm so close," Djokovic said.
"I know it. I know the feeling. I've had this feeling quite a few times in my career. So I know how I need to handle myself, my emotions, my day tomorrow, and after tomorrow, and to approach the finals in the best possible way," he added.
Djokovic came very close to winning the Calendar Slam when he won the Australian Open, French Open, and Wimbledon in 2021. The Serb also reached the final of the US Open but was beaten by Daniil Medvedev in straight sets.
---
Novak Djokovic: "Having pressure is a privilege"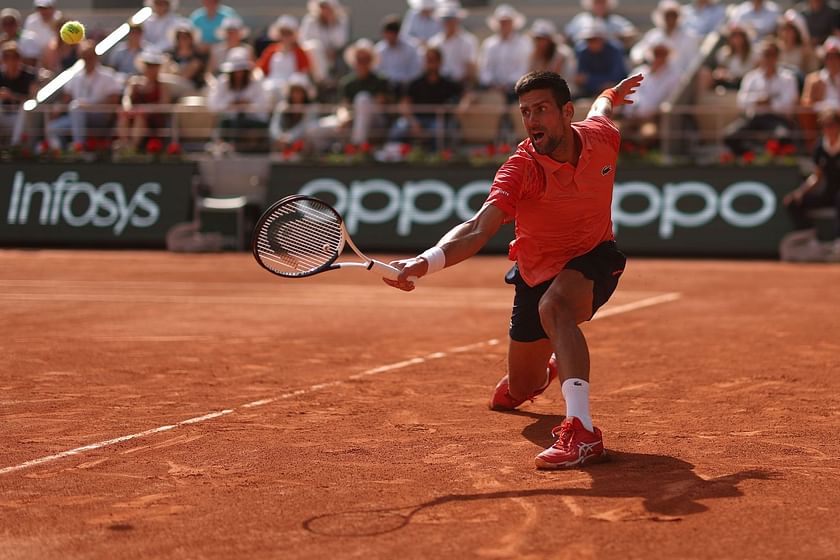 Novak Djokovic is just one match away from winning a record 23rd Grand Slam singles title with his win over Carlos Alcaraz. The Serb was asked if he felt any pressure as he did in 2021 when he was close to winning the Calendar Slam.
Djokovic replied that he is always under pressure, which is a privilege as it is a source of motivation as well.
"Pressure is always on my shoulders, so it's not going to be different. But it's part of my sport, part of my life, all that I do. I think that having pressure is a privilege. But it's a source of motivation, as well. Great motivation to play well and to reach Sunday," the Serb said.
Novak Djokovic is now 1-1 in the head-to-head against Carlos Alcaraz following his win at Roland Garros.
The Serb will face fourth seed Casper Ruud in Sunday's French Open final. The Norwegian reached the title clash of the clay-court for the second year in a row by beating Alexander Zverev 6-3, 6-4, 6-0.