Novak Djokovic stormed into the quarterfinals of the French Open for a record-breaking 17th time with a splendid 6-3, 6-2, 6-2 victory over Juan Pablo Varillas on Sunday, June 4.
Djokovic, who is a two-time title holder in Roland Garros, will be up against Karen Khachanov of Russia in Tuesday's big quarterfinal.
The Serb, who was visibly ecstatic following the win, revealed that having his children around inspired him to continue but added that they had to be back in Serbia because the school year wasn't finished yet.
"I'm so happy to be with my children. They have to be back in Serbia today because the school year is not finished yet, and that's much more important that Roland-Garros. When they're around, I'm different, inspired to continue," Djokovic told Marion Bartoli over the course of an on-court interview after the win.
Novak Djokovic was spotted alongside his kids watching Lionel Messi play his last match for PSG on Sunday. Much to the delight of the crowd who cheered him on on Court Philippe-Chatrier, Djokovic stated that his son Stefan may well play at Roland Garros one day.
"Maybe Stefan will play some day here at Roland Garros," he added.
Djokovic who took well over 3 hours to get past Alejandro Davidovich Fokina in the third round was in great form against Varillas, firing in 35 winners during the course of an emphatic performance.
The Serb, who is seeking a 23rd Grand Slam title, will also regain the World No. 1 ranking if he does manage to clinch the title at the 2023 French Open.
"Looking forward to a new challenge" - Novak Djokovic ahead of French Open quarterfinal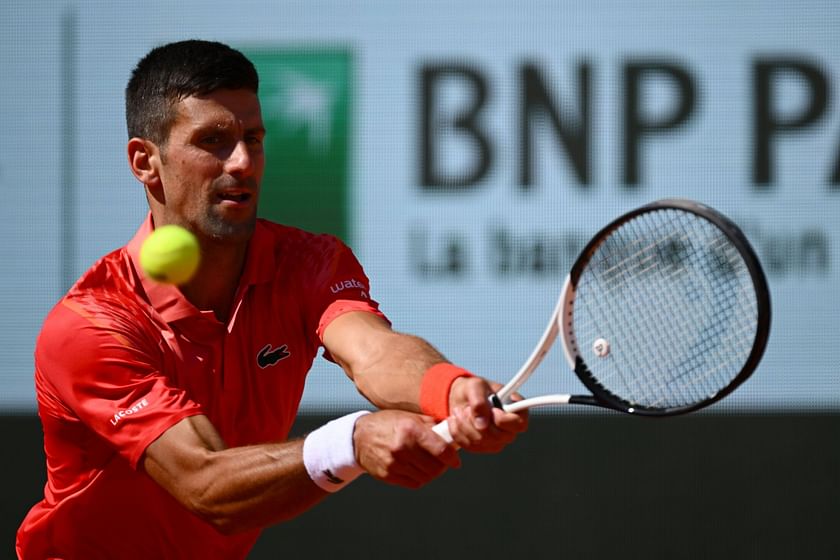 Novak Djokovic asserted that he enjoyed breezing past World No. 94 Juan Pablo Varillas while adding that the fourth round win was his best performance thus far and that it "came exactly at the right time".
The 36-year-old also declared that he was looking forward to a "new challenge" at a time when he liked the way he was playing.
"I really enjoyed it, best performance so far in the tournament came exactly at the right time as I'm coming into the second week and obviously playing another quarter-final match, it's going to get tougher, bigger challenges, but I like the way I'm playing, the way I'm feeling, so I'm looking forward to a new challenge," the World No. 3 stated.
A possible semifinal battle with top-seed Carlos Alcaraz looms large for the Serb, who is yet to drop a set at the tournament.
Novak Djokovic lost to Rafael Nadal in the quarterfinals of the French Open last year after having downed Stefanos Tsitsipas to win his second Roland Garros crown in 2021. His maiden win at the Paris Grand Slam came in 2016, when he got past Andy Murray in the title round.