Nick Kyrgios has sparked controversy with his comments on the ability of Pete Sampras, Andre Agassi and John McEnroe to compete in the modern era.
Kyrgios recently appeared on Logan Paul's podcast 'Impaulsive,' where he gave his take on the GOAT debate. When asked who he considers the greatest of all time, the Australian compared Roger Federer to Michael Jordan in terms of the influence they had on their respective sports but picked Djokovic as the overall GOAT.
"I think Federer and Jordan are very similar," Kyrgios said. "I think Novak statistically and all that type of stuff is better."
But when asked if Sampras, Agassi and McEnroe were part of the debate, Kyrgios was quick to reply in the negative. He claimed that while players such as Jordan and Federer could be competitive in the current era, Sampras, Agassi, and McEnroe wouldn't be capable of the same.
"Jordan could still play in this era," Kyrgios said. "Where like those guys would get absolutely snipped in this era."
Tennis fans did not take kindly to Kyrgios disparaging the achievements and abilities of some of the legends of the sport.
One fan, who identified themselves as a Kyrgios supporter, pointed out the incorrect nature of the Aussie's statement. They added that Sampras and Agassi in their prime would be very tough opponents for anyone in the modern era.
"I'm a Kyrgios fan but he's wrong here. Peak Sampras and Agassi would have caused all kinds of problems in this era," the fan opined.
Another fan contended that if Sampras and Agassi competed in today's era, they would have the benefit of modern science, nutrition and technology. They added that players like Kyrgios display their ignorance when they fail to acknowledge that societal advancements, rather than individual talent alone, contribute to players' success.
"If Pete and Andre lived in this era they would have todays technology abs todays science and nutrition. This isn't hard to understand. People with Nicks mindset don't realize they aren't better because of them they are better because of societies advancements," their tweet read.
Here are some more fan reactions to Nick Kyrgios' statements:
---
Nick Kyrgios says he's not the "bad boy of tennis" like he has been branded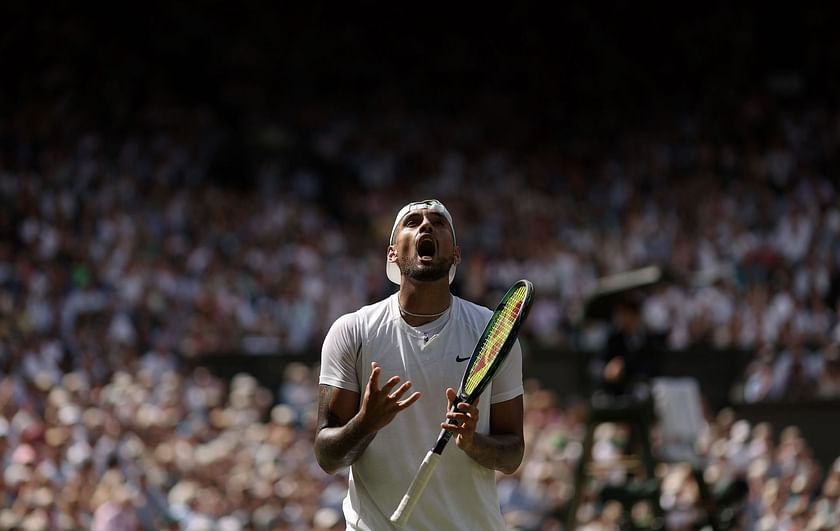 Nick Kyrgios also shared his thoughts on being called the 'bad boy of tennis' on Logan Paul's podcast 'Impaulsive.' He said that he feels like he has been branded as such ever since he debuted on the ATP tour, even though he doesn't engage in any crazy behavior.
"I'm definitely not, like I just, I don't know, they just branded me this ever since I came on tour. Honestly, like, I don't do anything crazy," he said.
Kyrgios did, however, acknowledge that he has broken over a thousand rackets over his career. He said that while he does not endorse racket breaking, he believes that a player should show frustration and break a racket rather than accept defeat without resistance.
Nick Kyrgios also cited a hypothetical situation of watching his son play, and said that he would prefer to see his son showing a dislike for losing rather than accepting it silently.