According to Eric Hubbs of Barstool Sports, Spanish tennis sensation Carlos Alcaraz is better placed to win the French Open 2023 than veteran Novak Djokovic.
Alcaraz has carried his momentum from 2022 into this year, and will go into the Clay Slam as the top seed. The 20-year-old has added four titles to his tally this year, including ATP Masters 1000 titles at Indian Wells and Madrid.
Meanwhile, 22-time Grand Slam champion Novak Djokovic has struggled with an elbow injury throughout the 2023 clay season. The 36-year-old will head into the French Open without a single title on clay.
American tennis journalist Eric Hubbs recently picked Alcaraz over Djokovic as his favorite for the 2023 French Open, calling the young Spaniard "an absolute machine." In a conversation with Mitch Michals on the Tennis Channel Inside-In podcast, Hubbs stated that there were doubts about Djokovic given that he has struggled with the elbow.
"There's a question on Novak man like, what is his situation? His elbow is all out of sorts. He's had elbow issues in the past," said Hubbs.
"So my pick is Carlos because he's an absolute machine, and if you pick against him, you're just not gonna have a good time. Maybe you end up being right by picking against Carlos, but it's not fun," the American added.
Eric Hubbs also stated that it was easy to root for Carlos Alcaraz as there is no one else like him in tennis right now. He also wants to see the World No. 1 rack up Grand Slam titles in the coming years.
"You'd rather root for Carlos when he's doing his stuff, even when he seems down and out," Hubbs said. "And then he switches momentum, there's nothing like it right now in tennis. So he's an easy guy to root for. I want him to win the French, start racking up those Slams, and go up that list because we're stuck at one. But let's get higher."
---
"Djokovic's ability to put defeats aside is incredible" - Carlos Alcaraz ahead of the French Open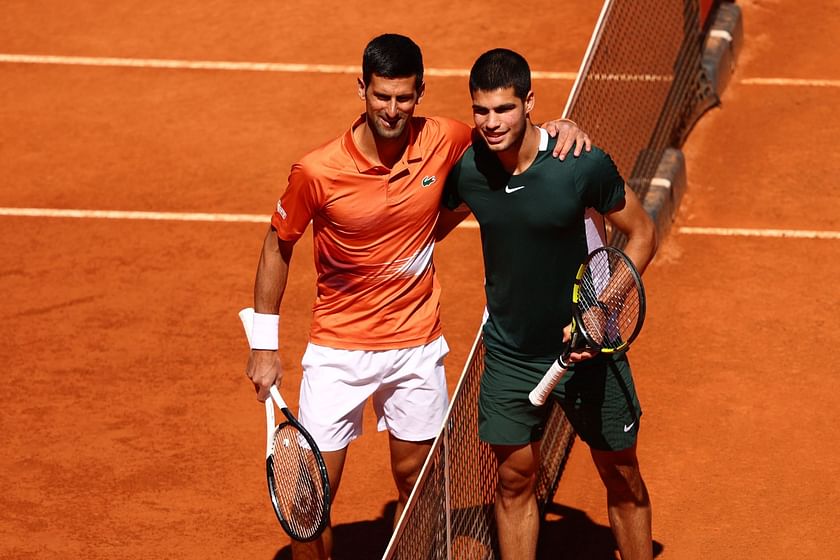 Carlos Alcaraz recently stated that Novak Djokovic cannot be ruled out of contention for the title in Paris given the Serb's ability to bounce back from defeats.
Alcaraz put himself among the favorites to lift the clay Major, but admitted that despite his struggles, Djokovic is a serious contender at the French Open.
"Djokovic has been at the top for more than 15 years, and his ability to put defeats aside and bring out his best version is incredible. He will surely arrive in Paris with a lot of energy," the World No. 1 said.
Alcaraz has won two titles on clay this year and boasts a win-loss record of 30-3 for the season overall. Meanwhile, Djokovic heads into the clay Slam without a title on clay and an overall win-loss record of 20-4.