Marin Cilic echoed the thoughts of most tennis fans on Roger Federer, saying that he never wanted to see the Swiss great bid farewell to the sport. Cilic, however, is among those who know exactly how the tennis tour will be affected by Federer's retirement.
Cilic, who shared a thrilling rivalry with the Swiss master, believes the sport will certainly experience a huge change going forward. At the same time, he stressed that the tour is fortunate to still have the presence of Rafael Nadal, Novak Djokovic, and Andy Murray.
The 34-year-old will soon go head-to-head against the trio at the Australian Open, on the road to which he is set to open his 2023 campaign at the Tata Open Maharashtra.
"Yeah, I mean, obviously we all never wanted Roger to leave, because he's a great guy," Cilic said in a press conference ahead of his Tata Open Maharashtra campaign.
Himself among the very few to have won a Grand Slam singles title in the Big-4 era, Cilic believes Nadal, Djokovic, and Murray are crucial to the enthusiasm within the sport in the post-Federer era.
"So definitely difficult to see him go and the tour is definitely going to be different. But I will say that we are still lucky to have Rafa [Nadal], playing, Novak [Djokovic] playing, also Andy [Murray] playing," continued Cilic.
"They're still keeping this enthusiasm of tennis up there. It's not the same without Roger but I think the guys right now. Also, that the tour doesn't feel that, 'okay, everything is on next gen'."
The Croat further shared his thoughts on the 20-time Grand Slam champion's legacy, suggesting that it will keep reflecting on the tour going forward despite his retirement through the "Next Gen."
"Obviously incredible inspiration not only for us on the tour, but for many kids around the world, and also to many of these Next Gen guys that are now at the top, he was, and probably still is, an idol," the Croatian added.
A look back at the exciting rivalry between Roger Federer and Marin Cilic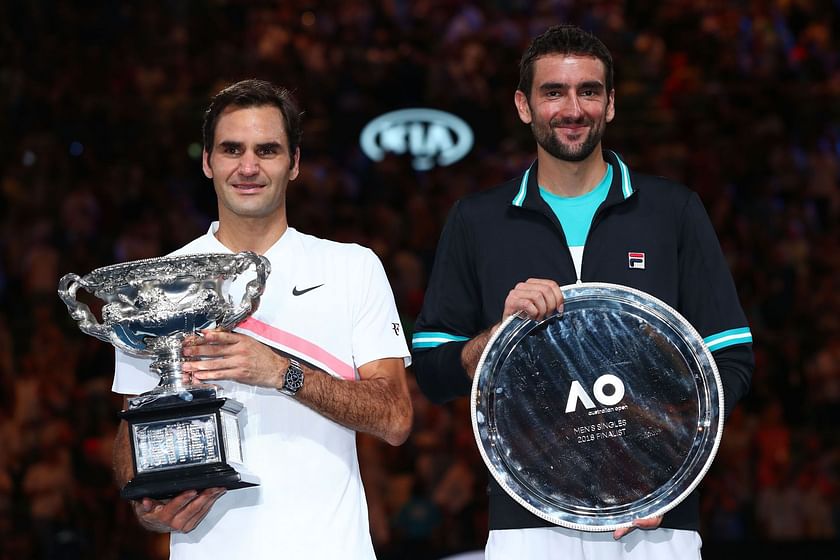 Over the span of their rivalry of 11 matches, Marin Cilic was able to record just a solitary win against Roger Federer. However, that victory is among the biggest of his career as it came in the semifinals of the 2014 US Open, en route to the biggest title of his career. Cilic beat the five-time US Open champion in straight sets on the day.
At the same time, the Croatian great has lost two tough five-setters to Federer, the first of which was the 2016 Wimbledon quarterfinals, when the Swiss made a comeback from two sets down, and then in the 2018 Australian Open final. Their last head-to-head battle came in the second round of the 2021 French Open, where Cilic again stretched the 20-time Major champion to four sets.