18-time Grand Slam champion Chris Evert recently praised Aryna Sabalenka's looks, adding to the accolades that the 24-year-old has received in the last few months.
Sabalenka has been in exquisite form lately, chalking up 14 wins from her last 16 matches. The Belarusian has put together title-winning runs at the Adelaide International 1 and the Australian Open to start the 2023 season.
Evert took to social media on Wednesday to add a gracious comment in response to a post highlighting Sabalenka's remarkable achievements over the past few weeks.
"And she's gorgeous," Chris Evert said.
Sabalenka, who was the fifth seed at the Australian Open, had not lost a single set in 2023 before her encounter against Elena Rybakina in the final. The Kazakh impressed with a quick start in the summit clash, racing to a 6-4 lead in the opening hour. But Sabalenka found her bearings as the match progressed, and she eventually completed a comeback 4-6, 6-3, 6-4 win.
Evert, a two-time Australian Open champion herself, had in 2019 predicted a bright future for Sabalenka. In an interview that year, Evert expressed her belief that the Belarusian would go on to win more than one Major title; the American has always been a fan of the bold and confident attitude of Sabalenka.
"I have no reason to believe that Sabalenka will not win more than one Grand Slam. Why? I see two things. I see hunger and I see boldness. Whether that's fearlessness or what, it's tied-up, the boldness, fearlessness, confidence. I see that swagger. Like this girl wants it. You can see it in her eyes, she's pretty intense," Evert had said in an interview with Eurosport.
"I still feel like I'm on another planet and trying to realize what happened" - Aryna Sabalenka shares her feelings after Australian Open triumph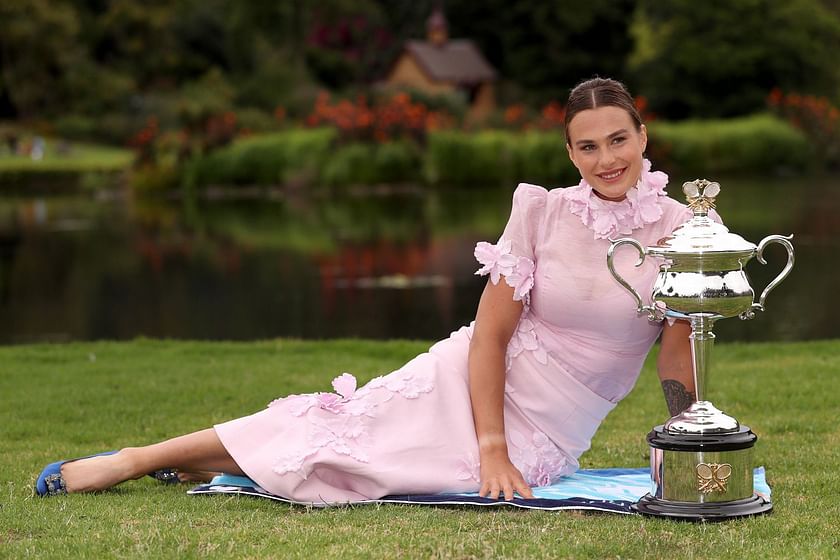 Aryna Sabalenka is on cloud nine after capturing her first ever Grand Slam title at the Australian Open.
The 24-year-old looked cheerful and content during her glamorous trophy photoshoot alongside the Yarra River in Melbourne. She reflected on the biggest achievement of her career so far and gave her fans an insight into how she celebrated her success.
"I still feel like I'm on another planet and trying to realize what happened. Everyone was so happy, I celebrated with my team, a little bit of pizza, a little bit of sweets, a little bit of champaigne, it was a little bit of everything," the Belarusian said.
The World No. 2 also spoke about her schedule on the main tour and how she was looking forward to some rest before resuming her 2023 season.
"It's going to be different, that's why I think I'm only going to play Dubai because I need some time to rest, to relax and calm down from whatever happened and start all over again," she added.
Edited by Siddharth Dhananjay