Novak Djokovic has commenced his mind games with Stefanos Tsitsipas ahead of Sunday's Australian Open final after beating Tommy Paul in straight sets in the second semifinal on Friday.
Djokovic suffered an uncharacteristic implosion in the first set against the American, squandering a set point at 5-1 as his opponent drew level. However, the Serb won the next seven games, leading 7-5, 5-0, before Paul got on the scoreboard in the second set.
It was more of the same in the third, with Djokovic riding two breaks of serve to beat the first-time Grand Slam semifinalist. In the process, the Serb reached his tenth final at Melbourne Park.
The 35-year-old will now take on Tsitsipas in a rematch of the 2021 Roland Garros title showdown, which he won from two sets down. He told Jim Courier in his on-court interview that his energy level is 110%:
"It's (energy level) great, perfect, 110%."
Courier interjected:
"Stefanos, turn your TV off. Put the volume down. Turn away. Give us the real answer."
The Serb responded:
"Stefanos, see you in 2 days."
He said that he has fond memories of his 2021 Roland Garros final with Tsitsipas, saying:
"Well I won that match. So my recollections are pretty positive. But I was two sets to love down. For the first time I came back from two sets to love down in a Grand Slam final. It was also his first Grand Slam final.It was a really physical, emotional, mental battle. It always is with Stefanos."
Speaking about the Greek's improved level of play, Djokovic said:
"I respect him a lot. He has improved a lot over the years. I actually think he's one of the most interesting guys on the tour, with his interests off the court, his hairstyle and all. But it's all business on Sunday for both of us. Let the better player win."
The winner on Sunday will usurp Carlos Alcaraz as the World No. 1.
---
"Super blessed and grateful" - Novak Djokovic after reaching 10th Australian Open final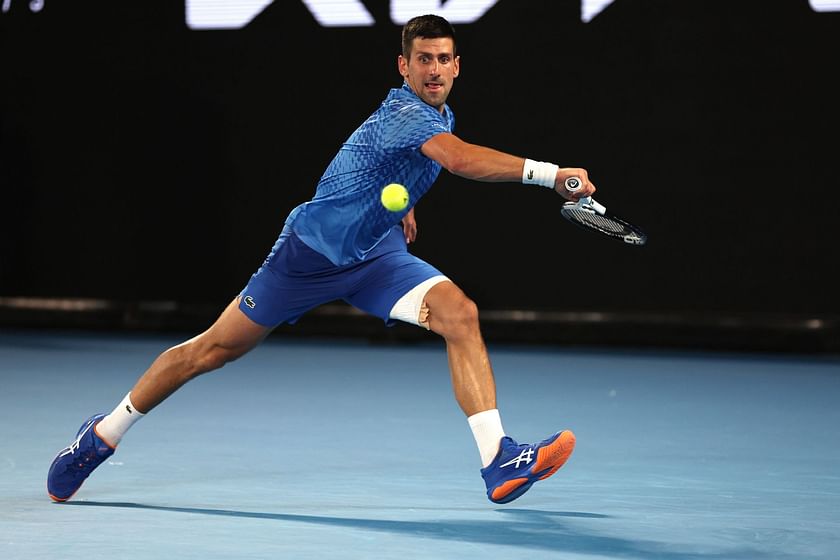 Novak Djokovic is a record nine-time winner at the Australian Open, having never lost a final at Melbourne Park.
The Serb will look to maintain his perfect record on Sunday, 15 years after making his first final at the tournament.
The 21-time Grand Slam winner looked back with gratitude at the stupendous success he has had at the Australian Open, telling Courier:
"I have a pretty vivid and strong imagination, but I don't think I imagined things to be the way they turned out. Super blessed and grateful, that's what I can say. Trying to marvel and cherish every moment."
As for the battle for No. 1, he said:
"Winning a Grand Slam and being No. 1 are two of the biggest peaks you can climb as a professional tennis player. Let's see what happens."
Victory on Sunday will draw the Serb level with Rafael Nadal for most Grand Slam singles titles (22).
Edited by Shubham Banerjee