Roger Federer recently chose Rafael Nadal as his best doubles partner over his wife Mirka, which had tennis fans reacting with much amusement.
Federer, a 20-time Grand Slam champion, was a guest of honor at the 2023 Laver Cup on Friday (September 22) in Vancouver, Canada. During a media interaction, a massive screen above the tennis court flashed the face of Nadal, who asked the Swiss:
"Who is your favorite doubles partner?"
Federer responded with a chuckle that while it was initially his wife Mirka, who used to be a tennis player herself, Nadal eventually came into his life and took her place.
"I mean, I thought it was my wife until this guy showed up, so yeah, Rafa can have it," he replied.
In light of this, tennis fans took to X (formerly Twitter) to express their feelings. One user stated that seeing Roger Federer and Rafael Nadal interact once more meant a lot to the fans.
"Meant a lot to the fans to see the Fedal interaction. Thank you," the user wrote.
Another user wrote:
"This bromance. Perhaps we should take out the 'b'."
One account posted:
""I thought it was my wife until this guy showed up" is insane i love them so much fedal is BACK people."
Here are a few more reactions from tennis fans:
---
Roger Federer played the last match of his career alongside Rafael Nadal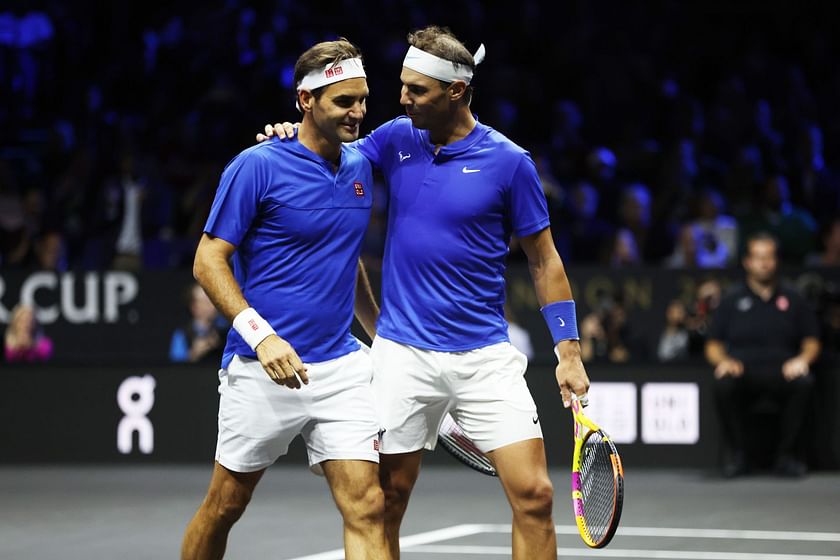 Roger Federer retired from tennis in 2022 at the O2 Arena in London, after losing his doubles match alongside Rafael Nadal at the Laver Cup. His farewell saw several emotional moments between him, Novak Djokovic, Nadal, and other top players.
During a press conference at the tournament, Federer discussed his life after retirement. He said that while he had a great time on the tour, it was now time for him to do different things and spend more time with his family.
"No, everything around, you know, the people, the fans, interactions, and sometimes the travels. It's been a great fun time on the tour, but I feel super ready to do different things in my life and take time away and speak to my family and see where we want to go from here," he said.
The 20-time Major winner added that he has made many friends on the tour, including Novak Djokovic, Rafael Nadal, and Andy Murray. He also admitted that while things would be different for him going forward, they would be different in a good way.
"I had a wonderful time on tour. Made so many friends, as well, you know, along the way. Being surrounded by my biggest rivals like Novak and Andy and Rafa, I mean, was truly unique, and I can never thank them enough for being there and staying there and going through it with me," Federer said.
"Now, moving forward, yeah, it's going to be different but good different. I got a taste of it the last few years, so I'll be fine (smiling)," he added.