Roger Federer was seen styling a shiny black tuxedo suit during the black carpet event of the 2023 Laver Cup in Vancouver. He was asked to share a couple of tips and advice for the upcoming tennis stars on how to don a perfect suit at a red or black carpet event.
The retired legend shared his perspective as he said that the very first step would be to stay calm and cool rather than sweating too much. Federer even made it easier for the newbies as he advised them to take the black carpet event similar to a casual walk on the carpet of their houses. Talking to the press at the Laver Cup Black Carpet event, Federer said:
"Don't sweat it. It's just another carpet. You know like at home, like you walk on carpets at home. So try not to overthink the moment and try to wear the tuxedo you're wearing or the suit and not let the suit wear you. That's the biggest advice I can give, you know."
"Sometimes when we always walk around in tracksuits, the moment we put a suit on, we feel like, 'Oh my God,' you know like, 'I can't move and it's uncomfortable,' you start sweating, and it's tight around the neck. But you got to embrace it, and say like, 'You know what? Finally, I really look exceptional.' So, you know, walk it with confidence," he added.
The Swiss maestro sounded like a professional when he let out his emotions while speaking about the steps to don a tuxedo.
---
Roger Federer's Laver Cup career in a nutshell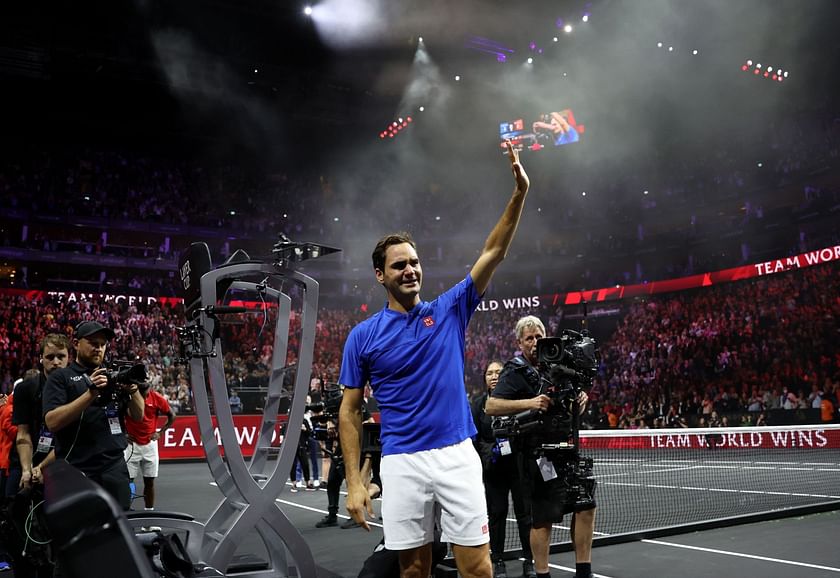 Roger Federer featured in the Laver Cup on four occasions and missed just one season due to a knee injury. He led Team Europe to three consecutive victories over Team World in the first three years of the tournament. With victories in 2017, 2018, and 2019, the Swiss icon chose the stage of the Laver Cup to be the concluding chapter of his long and illustrious career.
After failing to win the last match of his career, that too alongside his longtime rival-cum-friend Rafael Nadal in a doubles matchup against Jack Sock and Frances Tiafoe, Federer bid the sport a final goodbye last September.
The 42-year-old played a total of 12 Laver Cup matches, including six singles and six doubles. He remained undefeated in singles but could only taste victory twice from the six doubles matches.