Casper Ruud, Felix Auger-Aliassime, Andrey Rublev and others recently took part in a fun game called the 'Fork Challenge'.
The ATP set up a challenge in which tennis players were given some coins and a fork placed on a fable. The players basically had to roll a coin into a fork with only 60 seconds to do so.
Besides Ruud, Rublev, and Auger-Aliassime, other players who took part in the challenge were Denis Shapovalov, Alejandro Davidovich Fokina, Alexander Zverev, and Frances Tiafoe.
The challenge is not as easy as it sounds, as none but one of them were able to ace it. They were unable to grasp the tactics at first, and except for Zverev, none of them succeeded.
The German emerged victorious after countless attempts as he successfully inserted a coin into a fork within 60 seconds.
Check out the full video here:
---
Casper Ruud believes Rafael Nadal is the favorite to win the French Open 2023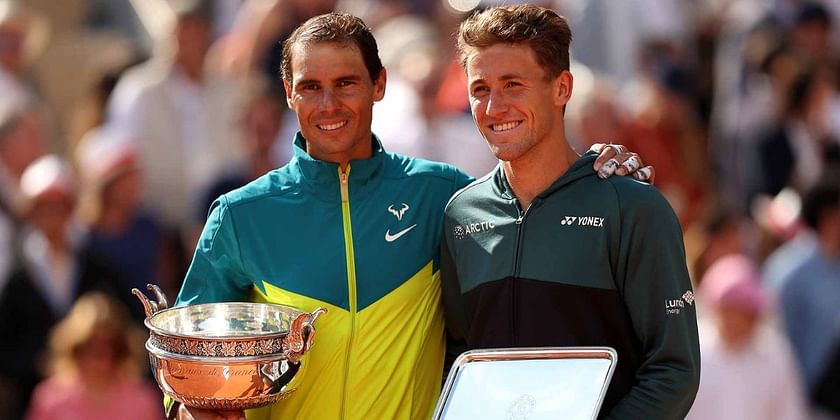 Casper Ruud and Dominic Thiem recently sat down for an interview with Eurosport where he talked about Rafael Nadal's chances at the 2023 French Open.
He pointed out how, in recent years, there has been talk about Nadal winning the Major at Roland-Garros for the last time every time he plays. Still, the Spaniard keeps proving everyone wrong by producing spectacular performances.
"The last five-six years, there has been talk that, 'This will be the last year that Rafa wins Roland Garros, someone else is going to win this year, he's tired, he's hurt, he's old'. It just seems like he's built for those conditions, playing best-of-five sets. I remember the 2019 final against Dominic [Thiem] and I was thinking, 'What the hell can you do to beat him [Nadal]' because Rafa just had an answer to everything."
"The final of 2020 was also ridiculous, destroying Novak 6-0, 6-2, 7-5. In 2021, he lost to Novak, struggled a bit with the foot, I guess. And the final last year with me was obviously not very enjoyable score-wise for me but the match against Novak in the quarterfinals, just the level, it's just incredible," he added.
Ruud also stated that he and Thiem wouldn't be surprised if the 22-time Grand Slam winner performed at a "ridiculous level" once again to win his 15th French Open title in 2023.
"So I think Dominic and I can say that we wouldn't be surprised if Rafa came up with some ridiculous level once again and won for the 15th time because he will probably use these weeks and these months to prepare for Roland-Garros. The only thing that is probably on his mind these days is just to be fit, be healthy, and be ready for Roland-Garros."
Edited by Akshay Saraswat