| | |
| --- | --- |
| Full Name | Casper Ruud |
| Date of Birth | December 22, 1998 |
| Nationality | Norwegian |
| Birth Place | Oslo, Norway |
| Height | 1.83 m |
| Weight | 77 kg |
| Networth | $5 million USD |
| Rank | 5720 |
| Coach | Christian Ruud Joachim Bjerke |
| Partner | Maria Galligani |
Casper Ruud: A Brief Biography
Casper Ruud: A Brief Biography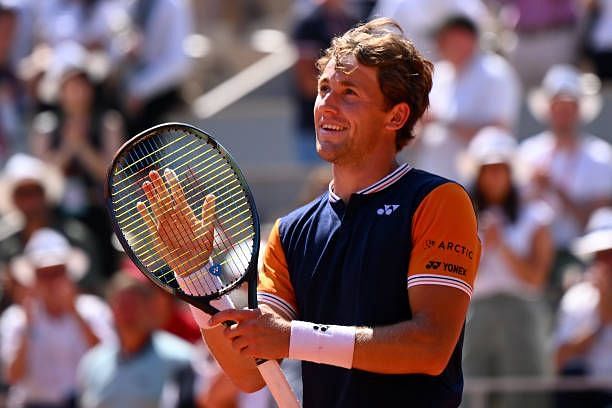 Casper Ruud is a Norwegian professional tennis player who achieved a career-high singles ranking of No. 2 in September 2022. He is currently ranked No. 5 by the ATP. Ruud was born to Christian Ruud and Lele Ruud on December 22, 1998 in Oslo, Norway. His father also played tennis professionally and is his current coach.
Ruud is considered as one of the best clay court players on tour, and has won 10 ATP titles till date, including nine on clay. He is also a three-time Grand Slam finalist (Roland Garros in 2022, 2023 and the US Open in 2022). Ruud's tennis idol growing up was Rafael Nadal, and he has even trained at the Rafa Nadal Academy in the past.
Casper Ruud has two siblings (both sisters) - Charlotte and Caroline. He also shares an interest in golf, and can be seen golfing during the off-season and in his free time.
Casper Ruud Personal Information
| | |
| --- | --- |
| Name | Casper Ruud |
| Age | 24-Years-Old |
| Date of Birth | 22 December 1998 |
| Nationality | Norwegian |
| Mother Name | Lele Ruud |
| Father Name | Christian Ruud |
| Profession | Professional Tennis Player |
| Net Worth | $7.5 Million |
| Height | 6' 0" |
| Weight | 170 lbs |
| Education | WANG Toppidrett, Oslo |
| Relationship Status | In a relationship (w. Maria Galligani) |
Casper Ruud Early Life
Casper Ruud was born on December 22, 1998 in Oslo, Norway. His parents are Christian Ruud and Lele Ruud. While there is not much information about his mother's professional life, Christian is a former tennis player and his son's coach. Ruud began playing tennis at the age of four, in his home club - the Snarøya Tennisclub.
Casper Ruud Personal Life
As mentioned above, Casper Ruud grew up with his family and enjoys playing golf in his spare time. Ruud has also stated that he loves boating when he is not on the tennis court. The Norwegian has also appeared in two tennis docu-series: 'Rafa Nadal Academy' on Amazon Prime Video and 'Break Point' on Netflix.
Casper Ruud Family
Casper Ruud's parents are Christian Ruud and Lele Ruud. They are both of Norwegian descent. He also has two sisters - Caroline and Charlotte. While Caroline is his elder sister, Charlotte is the youngest of the trio.
Casper Ruud Girlfriend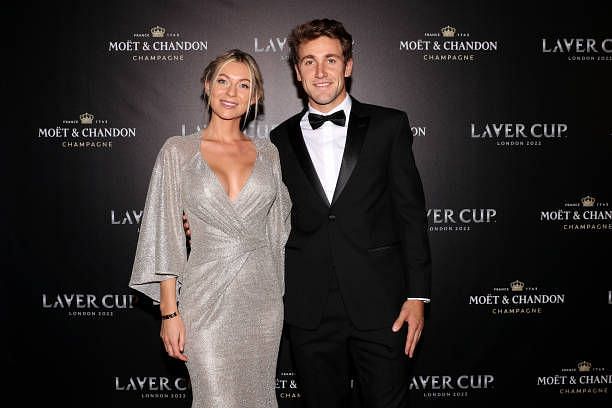 Casper Ruud is not married at the moment. He is currently in a relationship with Maria Galligani, who is pursuing a Masters in Psychology from the University of Denmark. The pair have been seeing each other since 2018, and she also features in the popular Netflix docu-series 'Break Point'.
Casper Ruud Kids
Casper Ruud does not have any children as of 2023.
Casper Ruud Social Media
Instagram: @casperruud
Twitter: @CasperRuud98
Casper Ruud Net Worth
According to multiple online sources, Casper Ruud's net worth is estimated at around $7.5 million. He primarily earns through tennis prize money and endorsements. According to the ATP website, Ruud has over $2.6 million so far in 2023. His career earnings from tennis are over $15 million till date.
| | |
| --- | --- |
| YEAR | NET WORTH |
| 2023 | $7.5 Million |
| 2022 | $5 Million |
| 2021 | $3.5 Million |
Casper Ruud Sponsors and Endorsements
Casper Ruud has some noteworthy endorsements and sponsors. This includes brands such as Yonex, Artic, Porsche and others. Speaking about his merchandise and racquet sponsor Yonex, Ruud has said, "It's a very serious and professional brand, and they always follow up on me and provide me with anything I would need. I feel privileged to have them on my team, and hopefully they will be with me for many more years!"
Ruud's exact earnings from his endorsement deals are not available in the public domain.
Casper Ruud Investments
There is no sufficient information about Casper Ruud's investments. However, he has partnered with Royaltiz and The Arctic Group, which are investment-based companies.
Casper Ruud Records and Achievements
Casper Ruud's ATP singles record stands at 199-109 as of September 2023.
Some of Casper Ruud's achievements and records include:
Highest ranked tennis player in Norwegian history.

3x Grand Slam Finalist.

10x ATP 250 tournament winner.

Winner of Stefan Edberg Sportsmanship Award (2022).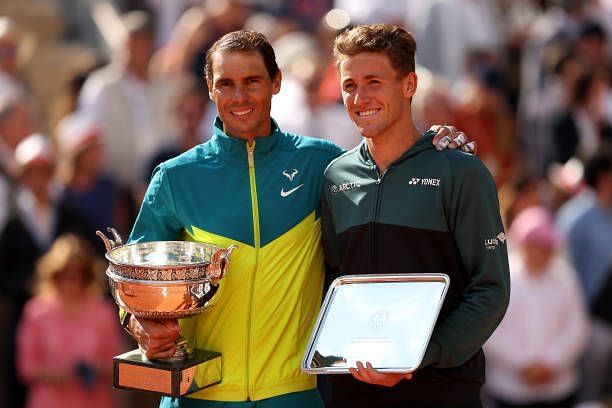 Casper Ruud Coaching Staff
Casper Ruud's coaching team includes his father Christian Ruud, Pedro Clar Rossello and Joachim Bjerke.
Casper Ruud Diet
Before a match, Casper Ruud eats white rice and chicken with olive oil. However, he has revealed that he enjoys spaghetti vongole when he feels like cooking for himself. Ruud's favorite cuisine is Asian, especially Pad Thai noodles. During a match, he occasionally munches on a banana or some bars.
Casper Ruud House
Casper Ruud resides in Snaroya, Norway. Besides this, there is no information available about his residence in Norway.
Casper Ruud Cars
According to online sources, Casper Ruud owns a Porsche, a Range Rover and an Audi.
A. Casper Ruud has not yet won a Grand Slam trophy as of 2023.
A. Casper Ruud uses the Yonex DR 100 Plus, although he endorses the Yonex Ezone 100.
A. No. Casper Ruud is not married. However, he is in a relationship with Maria Galligani since 2018.
A. Yes, Casper Ruud has trained with Rafael Nadal at his academy in Spain.
A. Yes, Casper Ruud is on Netflix. He has featured in the popular tennis docu-series 'Break Point'.
A. No. Casper Ruud is not a professional golf athlete, although he loves the sport and plays in his leisure time.