Aryna Sabalenka has revealed in a fun Tiktok video what she would have done had she not won the Australian Open final against Elena Rybakina on Saturday (January 28).
Sabalenka and Rybakina produced one of the best ladies' singles titles matches for the ages on Rod Laver Arena. In a high-quality match, it was the reigning Wimbledon champion Rybakina who drew first blood, taking the opener with the loss of four games.
Sabalenka, though, came storming back into the contest, conceding only three games as a decider ensued, where the level of both players remained high. The only break of the set went the fifth seed's way, who then squandered three championship points before serving out the biggest win of her career.
The 24-year-old took to TikTok where she talked about what she would have done had she finished second-best to Rybakina:
"Want to know what I would do if I didn't win? I guess we'll never know," with Sabalenka and her team celebrating in the background.
Here's the video:
Aryna Sabalenka will now return to her career-best ranking of World No. 2, while Rybakina will move up nearly 20 places to break into the top ten (at No. 10).
---
Aryna Sabalenka greets fans in the Australian Open photoshoot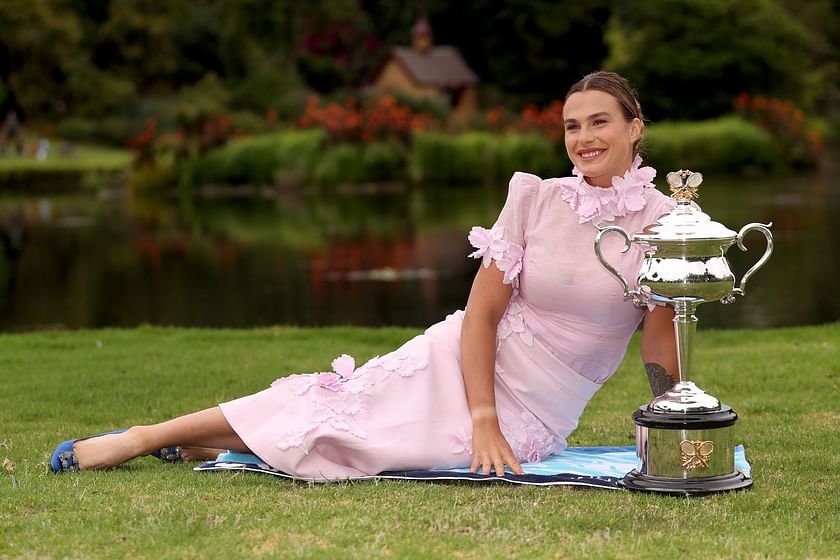 Aryna Sabalenka looked gorgeous in a pink dress during her photoshoot by the Yarra river on Sunday morning, with the sparkling Daphne Akhurst trophy glistening in the Melbourne sun.
Greeting fans from the riverbank, the 24-year-old said:
"Good morning everybody. Thank you so much for the support. Just amazing yesterday and super happy to be a Grand Slam champion, especially here in Melbourne. Thank you so much for your support. It was a great two weeks. Thank you guys. See you next year."
A day earlier, she described her Australian Open win as a dream come true, while also commending her opponent:
"It sounds like a dream. Like I'm still dreaming and I will wake up disappointed because it was all a dream. I'm super happy with this win because of the level of tennis. She played unbelievable tennis and I really fought so hard for this trophy. To get this win the way I got it, it's amazing."
Sabalenka continued:
"I didn't expect myself to cry. There were so many thoughts in my mind at that moment. I was super proud of myself, super happy for my team, it was just the best moment of my life so far."
Aryna Sabalenka emulated Victoria Azarenka as the only Belarusian players to win a singles Grand Slam.