Ashleigh Barty delivered the 2023 Australian Open women's singles trophy to a huge standing ovation from Rod Laver Arena.
Ahead of the final between reigning Wimbledon champion Elena Rybakina and fifth seed Aryna Sabalenka, Barty, who retired last year, brought the Daphne Akhurst Memorial Cup, the trophy awarded to the women's singles winner.
Barty, 26, won the 2022 edition of the competition but stunned the tennis world by announcing her retirement from the sport three months later. Making her first appearance on Rod Laver Arena since that run at Melbourne Park, the reigning champion grinned and waved to the crowd as seven members of the Original Nine watched on.
The three-time Major winner quickly made way for the two finalists but not before receiving a rapturous welcome.
Here's the video of Barty walking out with the Daphne Akhurst Memorial Cup to a standing ovation ahead of the Rybakina-Sabalenka final:
Barty won her third Grand Slam singles title - first Australian Open - last year by beating Danielle Collins in straight sets (6-3, 7-6) in the final. That marked the first time in 44 years Melbourne Park had a 'local' winner before Barty surprisingly left the sport to chase "other dreams."
---
"I've slipped quite seamlessly into this life, which is what I wanted" - Ashleigh Barty on life post-retirement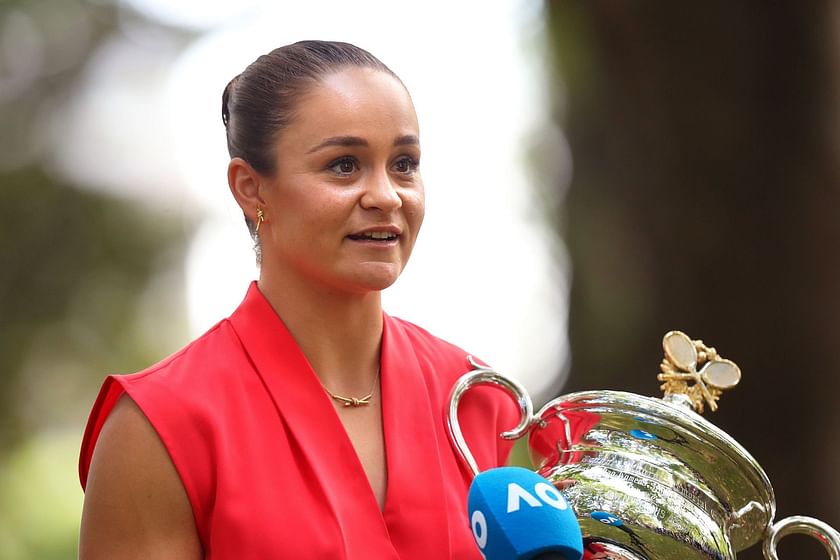 Ashleigh Barty's retirement came as a surprise to many, as she was at the peak of her powers and looked set to dominate the women's game for a while. However, Barty had other ideas, as she apparently lost her motivation to keep playing and wanted to pursue other goals.
In a recent interview with the New York Times, Barty said she has surprised herself by not succumbing to the fear of the unknown:
"To be honest, I think what has surprised me most is how comfortable I've been. I think there was probably a normal fear or uncertainty in not knowing what my life would look like after tennis after being so focused. I was a bit unsure how I would deal with that because I am a person who likes to be organised. There was probably a little bit of fear in that, but overall, that hasn't been an issue, a concern or a worry."
She continued:
"What's been most surprising in a good way is that I've slipped quite seamlessly into this life that's just like everyone else, which is kind of always what I wanted. The more time I've had to sit and think and absorb this year, I think it is never in the sense of me competing professionally again. But I'll never not be involved in the sport. So I think that's where I'll always get my tennis fix, that taste of the sport that gave me so much."
Ashleigh Barty is currently expecting her first child with her longtime partner Gary Cissick.